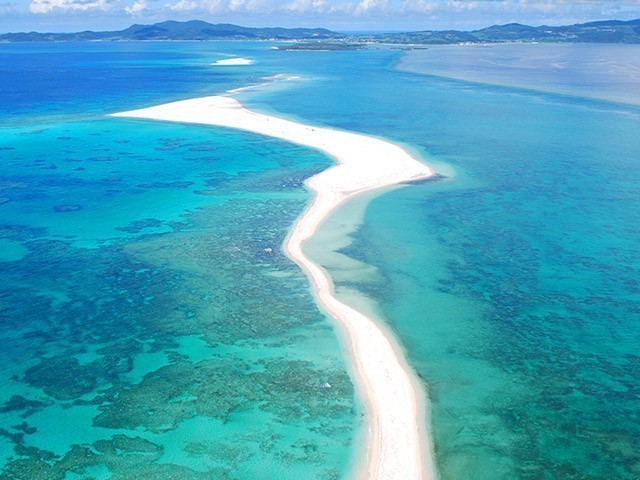 Kume Island was once called "Kumi No Shima" in ancient times. It meant, "the most beautiful isle in the Ryukyu Islands".
Should you find yourself visiting Kume Island, then Hatenohama is simply the place to be.
Never sinking even in full tide, it seems like a mirage straight out of a fantasy setting; a desert floating in the sea.
The combination of the sky, the sea and its white beaches… There are many no-man"s-islands in Okinawa but all of them do not hold a candle to the beauty and size of Hatenohama; Hatenohama is simply on another level.
In this occasion, please let us introduce the charms of Hatenohama, how it can be accessed, as well as picking tours in a smart way that is guaranteed to wow yourself!
<TABLE OF CONTENTS>
1. Hatenohama's Beautiful Sights
2. Setting Off Towards Hatenohama
2-1. Hatenohama Tour Schedules
2-2. Tips On Choosing Tours
2-3. Recommended Hatenohama Tours
3. Things to Know about Hatenohama
3-1. Accessing Tomari Fisharina
3-2. Regarding Bathrooms And Shower Rooms
3-3. Be Careful Of Sunburns And Heat Strokes!
4. In Conclusion
1. Hatenohama"s Beautiful Sights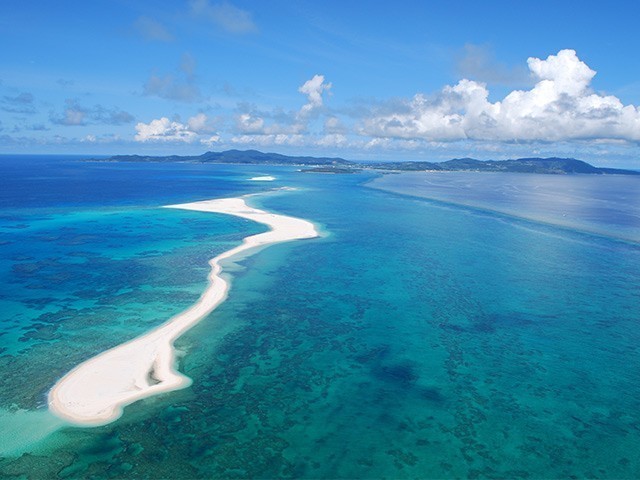 The other side of Kume Island! Let's set off towards Hatenohama
Hatenohama is actually the overall name of three islands floating in the northeastern quadrant of Kume Island.
The nearest to Kume Island is Maenohama (Maeno Beach), followed by Nakanohama (Nakano Beach) and finally Hatenohama (Hateno Beach) itself. That is also the order of the smallest to largest island, with Hatenohama being the largest.
*In order to avoid confusion with Hatenohama the overall location, we will now refer to the individual beach as "Hateno Beach".

Sand and sea for as far as the eye can see. Its uniqueness is simply incredible! (Hatenohama Beach)
At Hatenohama, sea-bathing and snorkeling are the primary water activities. There is a reason for that; in the crystal-clear depths of its emerald-green sea, there are many tropical fishes and sea-turtles to meet!

 Barren yet oh so very scenic! It feels like the start of an epic adventure! (Hateno Beach)
Though the beauty of the ocean can draw you in, try focusing on the shore. If you strain your eyes hard enough, you"ll be treated to a very wondrous sight; small, multicolored sea-shells, glittering under the sun!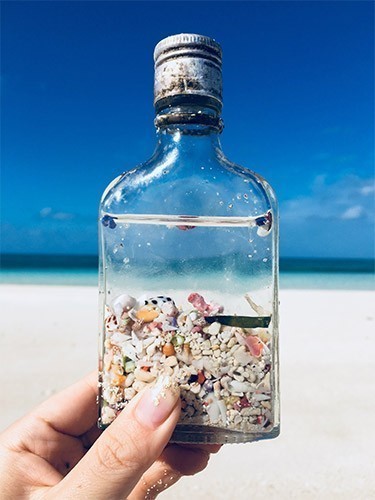 Okinawa Labo's most well liked photo on Instagram was taken in Hatenohama Island
The sea is good, but the open sky is also a beautiful sight.
Swimming, strolling, sleeping; in Hatenohoma, time passes by fast!
2. Setting Off Towards Hatenohama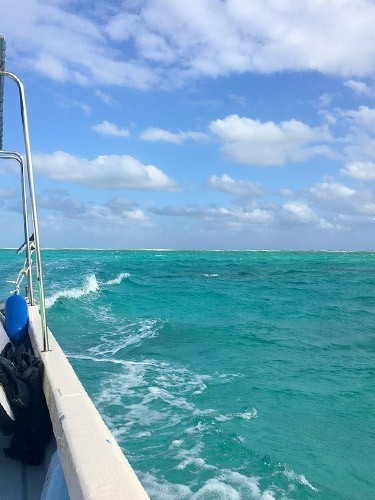 Kume Island's sea boasts a strong green tint. And the ship splashes through water so much you can't help but smile!
Going to Hatenohama"s "Nakano Beach" is often the case if you are on a Hatenohama tour. In the on-season of "Nakano Beach", there are portable bathrooms as well as stores, to the point of being called the central hub of Hatenohama.
Tour price estimates range as follows:
Sea bathing (simple round-trip to Hatenohama) – 4,000 to 5,000 JPY
Snorkeling – starts from 6,000 JPY
Diving – starts from 13,000 JPY
2-1. Hatenohama Tour Schedules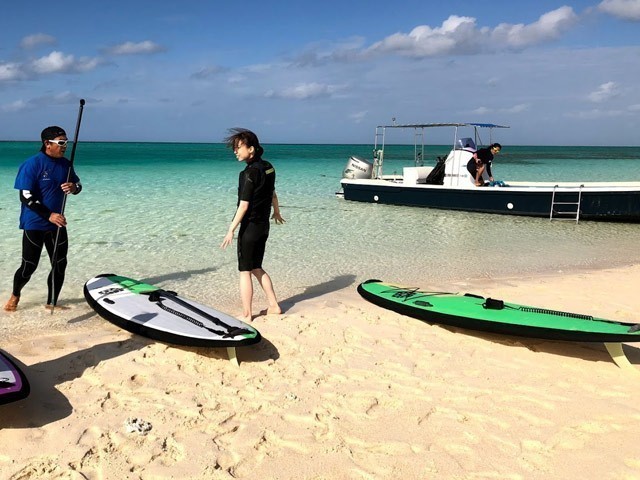 Have your first SUP (stand-up paddle surfing) experience at Hateno Beach! Worth nothing that this is in January.
In the season where you can do water-sports, most tours let you stay at Hatenohama for around 3 hours, with the overall duration being approximately 5 hours.
<Hatenohama Tour Schedule>
around 9AM – Either pick-up or meet up
9:30 AM – Port (Tomari Fisharina) Departure
9:50 AM – Hatenohama (Nakano Beach) arrival
around 1PM – Hatenohama Departure
1:30 PM – Port (Tomari Fisharina) Arrival
around 2PM – Disperse or courtesy send-off service
Though there are many half-day plans in Hatenohama tours that start in the morning, there are also many options among the tours where you can freely choose the departure time of the homebound liner, where you can enjoy a 6-hour stay at Hatenohama.
2-2. Tips On Choosing Tours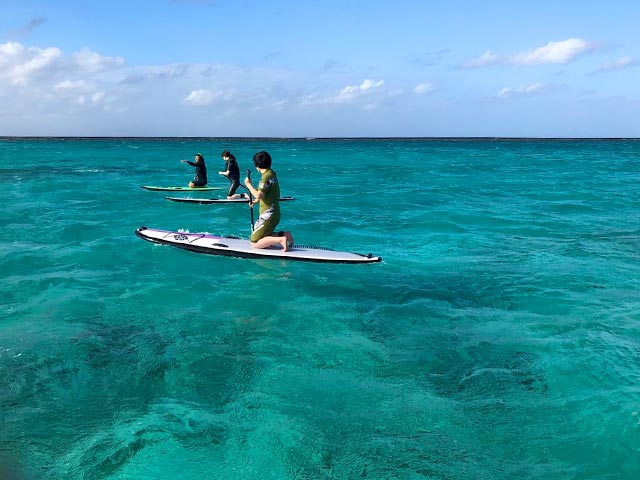 Though the weather was good, the wind was rough; we could only stand for 10 seconds!
Here is a list of pointers when picking tours.
 Do they have on-site option selections that can be used at Hatenohama (Parasols, Banana-boats, Snorkeling goods, etc)?
 Do they have pick-up service or are they Port meet-ups?
 Are you going to Nakano Beach or Hateno Beach?
 Tour prices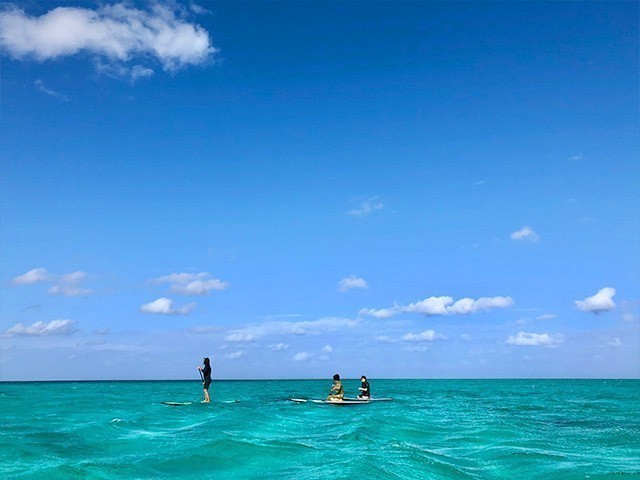 With a sea this beautiful, falling off doesn't feel as bad as it should!
For those who want to go to Hateno Beach and fully bask in the feeling of its unique barrenness, it is recommended that you confirm which island you are heading to at the time of reserving a tour.
You cannot always rely on it "having an open seat at the day of the event".
For people wanting to go to "Hatenohama" please carefully check the details of the tour.
Children and women-only groups must also check the meet up place. In case of port meet-ups, the shower rooms and changing rooms of Tomari Fisharina are are quite barebones.
If there is a pick-up service, you will be able to take a hot shower and comfortably change clothes in your accommodations.
2-3. Recommended Hatenohama Tours
Off-season Landfall via Glassboat at Hatenohama under a small rain (Nakano Beach)
Though sea-bathing is unable during the off-season, if you wear wetsuits you will be able to snorkel and there are also tours where the main event is a landfall at Hatenohama.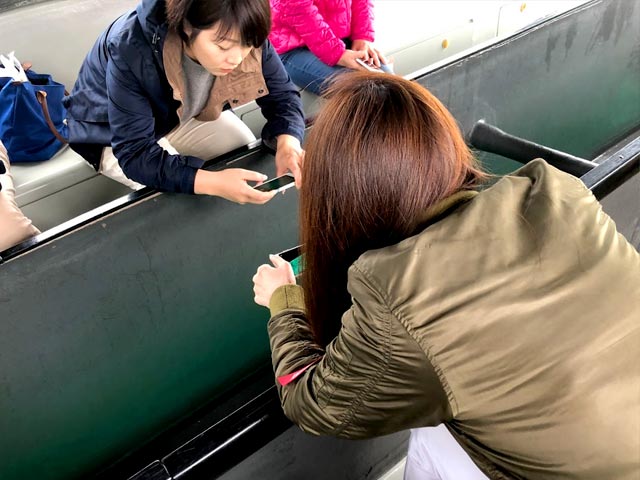 Be careful of sea-sickness in glass boats
The glass boats were also quite fun; the impression of the underwater sea changed based on its level of depth! Also recommended for off-season Hatenohama.
3. Things to Know About Hatenohama
3-1. Accessing Tomari Fisharina
Ships departing for Hatenohama are located in Tomari Fisharina, which is 5 minutes by car from Kume Island's central hub of Eef Beach. There are no especially large buildings that can be used as landmarks, so please be careful that you do not miss Tomari Fisharina's sign on its entrance.
*If you've reached the bridge that connects to Ojima Island from the side of Eef Beach, then you went too far.
3-2. Regarding Bath Rooms and Shower Rooms
There are public bathrooms as well as showers and changing rooms in Tomari Fisherina. Though there is a toilet in Nakano Beach, please note that it is simple affair made from plywood. Please go to the bathrooms before the ship departs.
3-3. Be Careful Of Sunburns And Heat Strokes!
If you are going to Hatenohama to sea-bathe, then make sure you prepare sunblocks. There are no dedicated shelters available. There are no stores in Tomari Fisherina and the store at Nakano Beach is small, so please prepare your own drinks and sun-screen beforehand.
*There is a Family Mart in Eef Beach.
4. In Conclusion
Though Okinawan resorts are all well and good on their own, a little tropical vacation in Hatenohama is also recommended!
Please have Hatenohama as one of your option on your next travel!