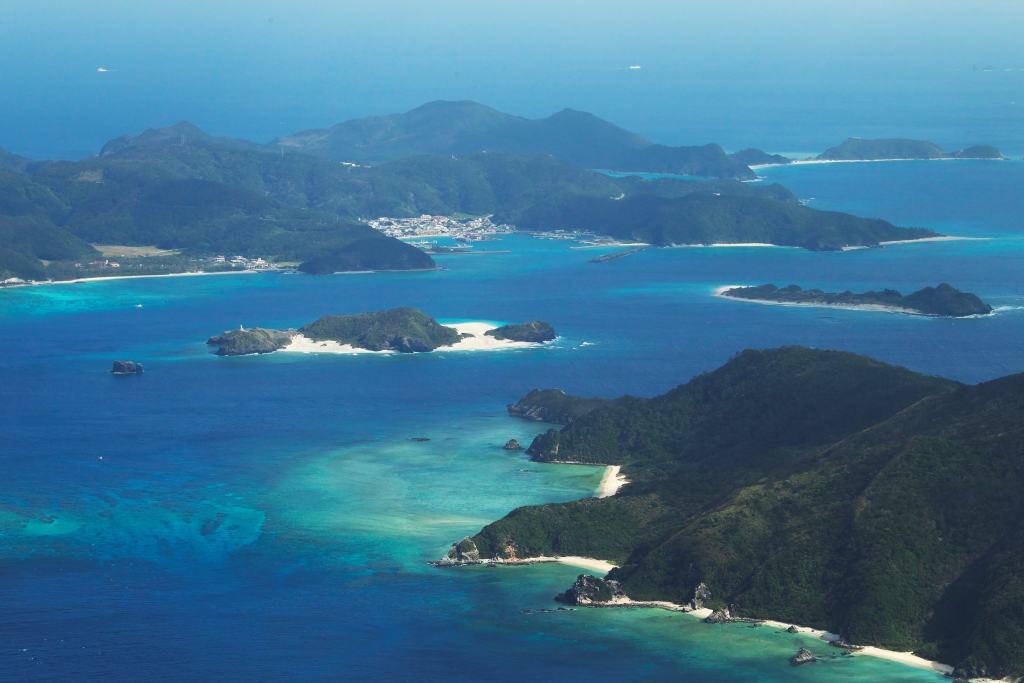 What are the Kerama Islands like? What is there to do? How do you get there?
This page provides answers to these questions and more from a travel agent that has many years of experience traveling in Okinawa.
From basic info about the Kerama Islands, the best beaches, diving spots and other must-see attractions, to how to get there and recommended lodging. An indispensable reference if you are thinking about visiting the Kerama Islands!

1 What are the Kerama Islands like??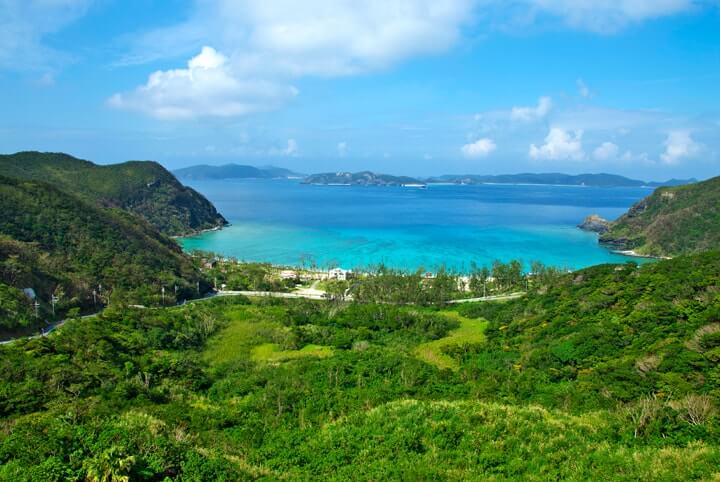 (C) OCVB
The Kerama Islands are an archipelago of more than 20 large and small islands located in the South China Sea about 40 km west of Naha city (on the southern part of the main island of Okinawa.) About one hour from Naha by ferry, with the islands closest to Okinawa Island reachable in 20 minutes.
With some of the clearest ocean water in the world, Kerama Islands are a key destination for scuba diving and whale watching!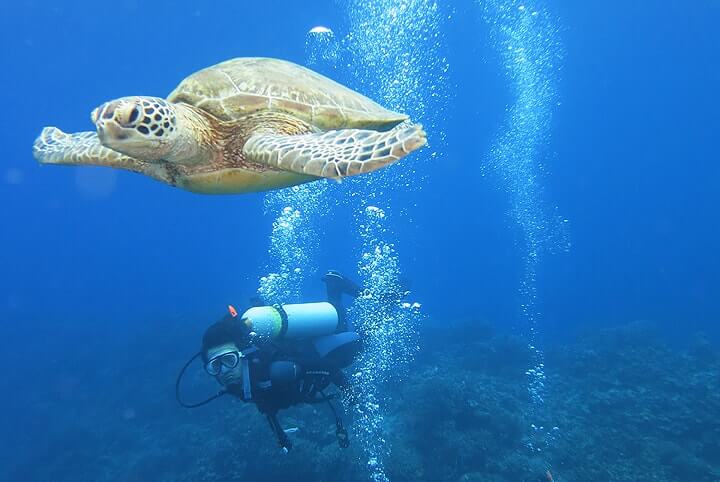 The ocean here is also acclaimed for its diversity of ecosystems, from coastline to deep ocean, and for being a breeding area for humpback whales.
Best time to visit Kerama Islands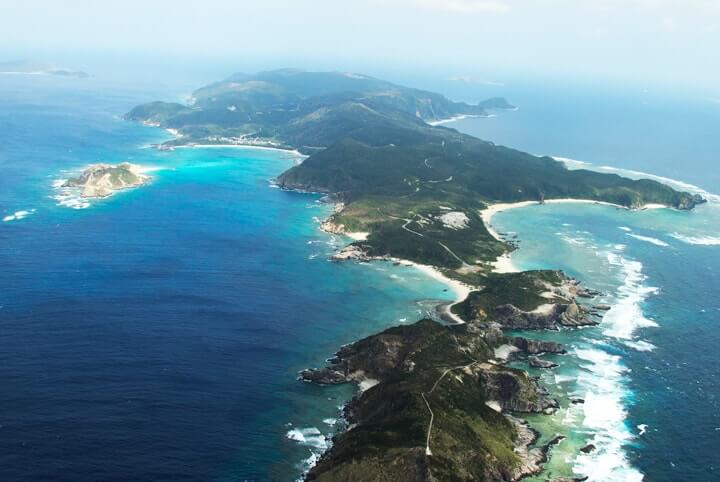 (C) OCVB
From summer to fall you can see schools of young fish and migratory fish in the areas around the Kerama Islands.
In winter there are tons of manatees, and you may see humpback whales on your sea cruiser trip to the Kerama Islands or the Chiibishi atoll.
At Naganuu north in the Chiibishi atoll, you can see whale sharks after they spawn their eggs in the coral reef (in May and June.)
From mid-May, the sunshine gets stronger and we are now into the best time of year for lovers of terrain diving and macro diving both!
Because the sunlight is stronger, spots known for underwater terrain take on an even more magical appearance!


About Typhoons
July to September is typhoon season. Boats are often canceled. You might end up stuck on the island so if a typhoon is approaching it is best to travel while the boats are still running.
The ocean gets very rough before a typhoon and can be dangerous, so keep a safe distance.
How to get to the Kerama Islands
You can get to the Kerama Islands from Naha by high-speed boat or by ferry.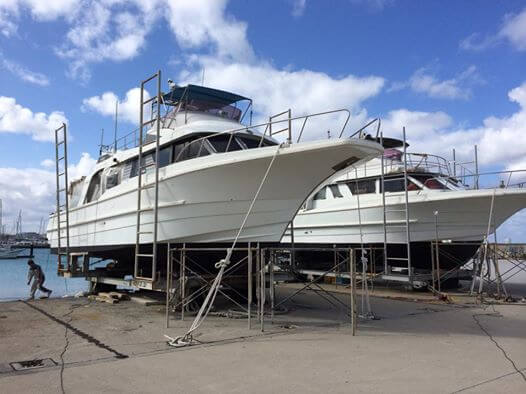 You will need seasickness medicine if you are not used to traveling by ferry. Also, though you can buy tickets on the day of travel at the ticket counter, ferries get swamped with reservations during the busy summer season so you may not be able to get on. I recommend making a reservation at the ticket counter.
Click here to check schedules and fares.

Tokashiki Island Official Website
Okinawa Zamami Village Official Website
(You can check boat conditions here!)
Ferry reservations can be made from exactly two months prior to your day of travel.
There is no cancellation fee even if it is on the day of travel, but it is common courtesy to cancel in good time.
Ferry landing
The ferry pier is at Tomari port in Naha (departs from Naha Tomariko Terminal Tomarin).
If you are driving a rental car to the port, next to the Tomarin Building is a parking garage called Tomarin Annex Parking Garage. (Tomarin Annex Parking Garage)
Underground parking also at Tomari Futo! (Tomari Futo Underground Garage)
2 Having fun at Kerama Island beaches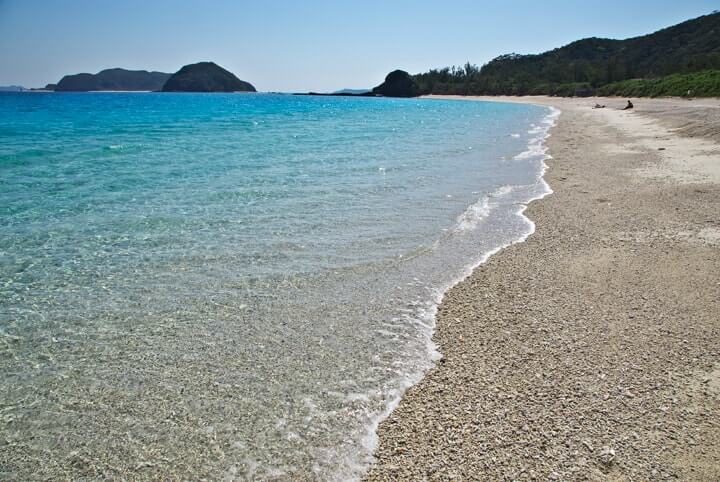 (C) OCVB
The beach is the place to be if you are going to the Kerama Islands!
There are tons of beaches! Here I will show you some beaches that are safe for the whole family.
There's even some beachers where you can see the sea turtles that Kerama Islands are famous for!
① Aharen Beach/Tokashiki Island
The beach with the most watersports activity in Tokashiki Island. The "Kerama blue" ocean and white sand are beautiful. The transparency of the water is really something to see. I was so enchanted by this beach, I went over just for the day!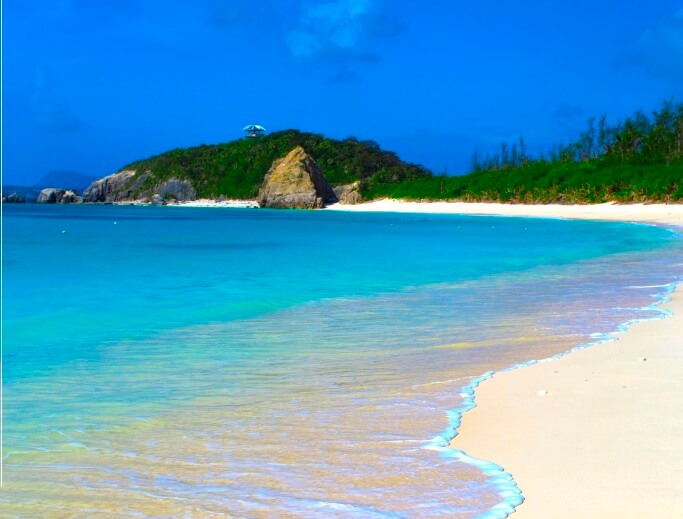 ② Furuzamami Beach/Zamami Island
Furuzamami is a popular beach on Zamami Island. It's visited by tons of tourists in the summer, and the shore is lined with colorful beach umbrellas. This beach is great for Okinawa as a beach resort.
The drop off is pretty steep so Furuzamami beach is ideal for snorkeling. It takes 30-40 minutes to get here from Zamami harbor, so you should take one of the shuttle buses run by the rental shops.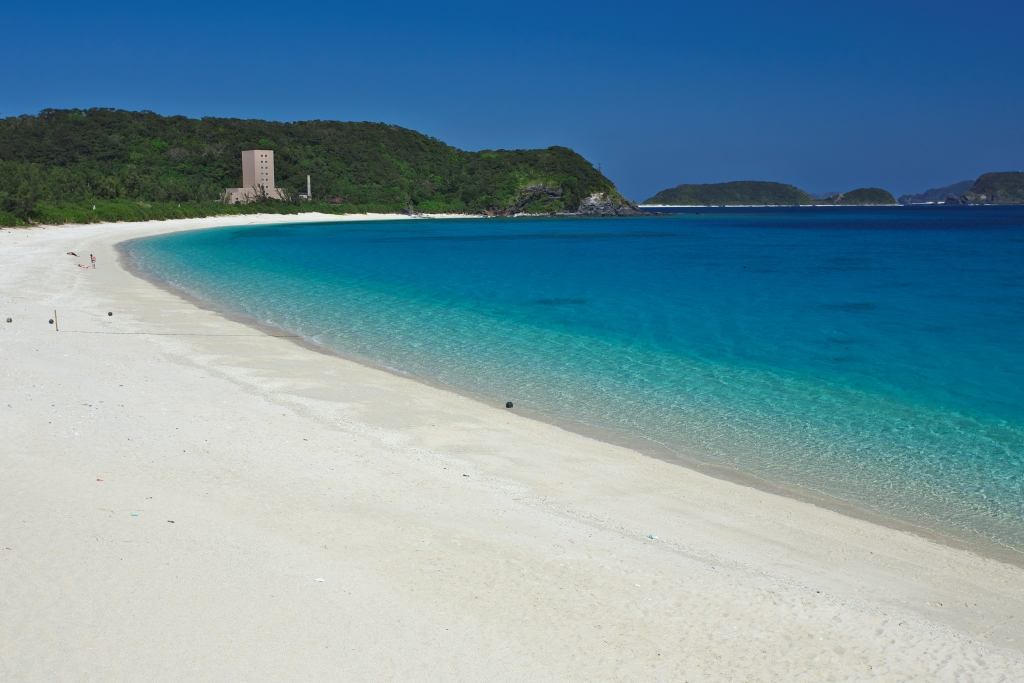 ③ Ama Beach/Zamami Island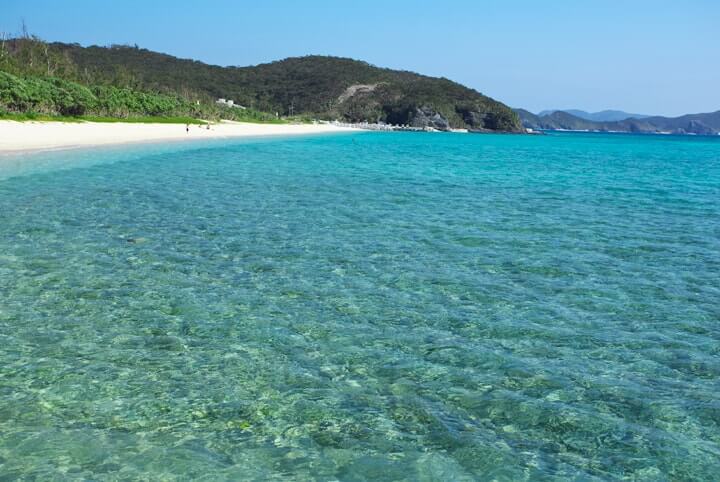 (C) OCVB
The most popular beach on Zamami Island after Furuzamami! Ahead of you are some uninhabited islands and past that you can see Aka Island. This beach does not have the "beach umbrella" resort atmosphere but it does have a great relaxed Okinawa feeling.
Plus, right around the full moon at Ama Beach is when you can run into sea turtles! They come up close to the beach to munch on seaweed.
Watching sea turtles from the beach – only in the Kerama Islands!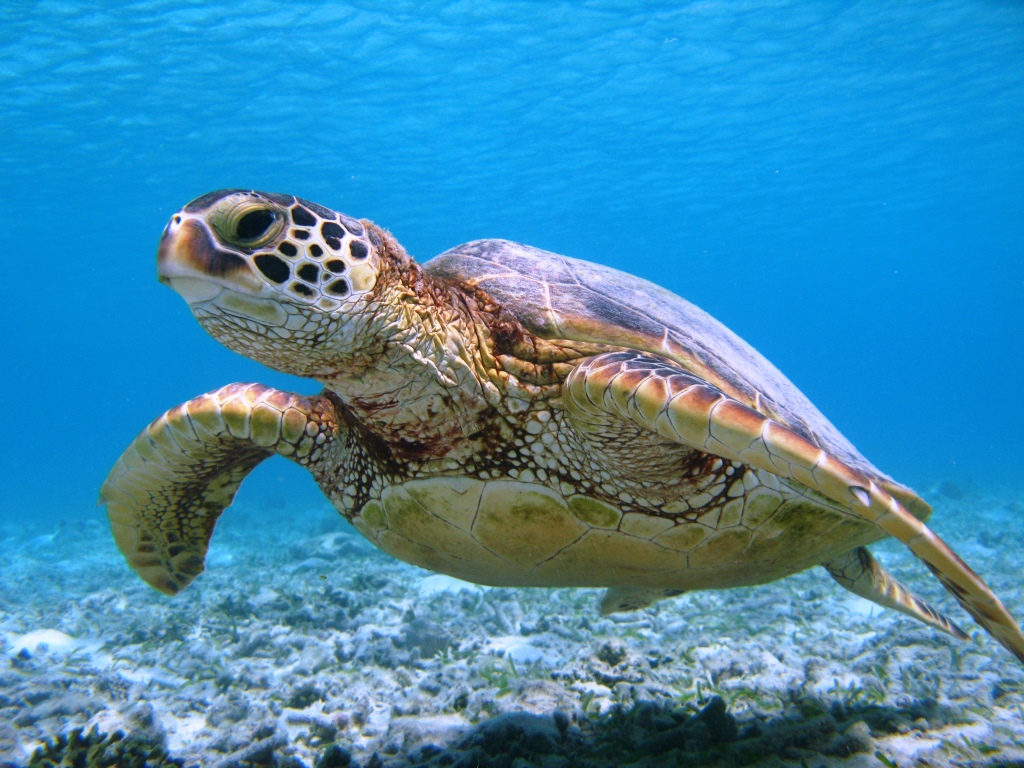 Go diving in the Kerama Islands!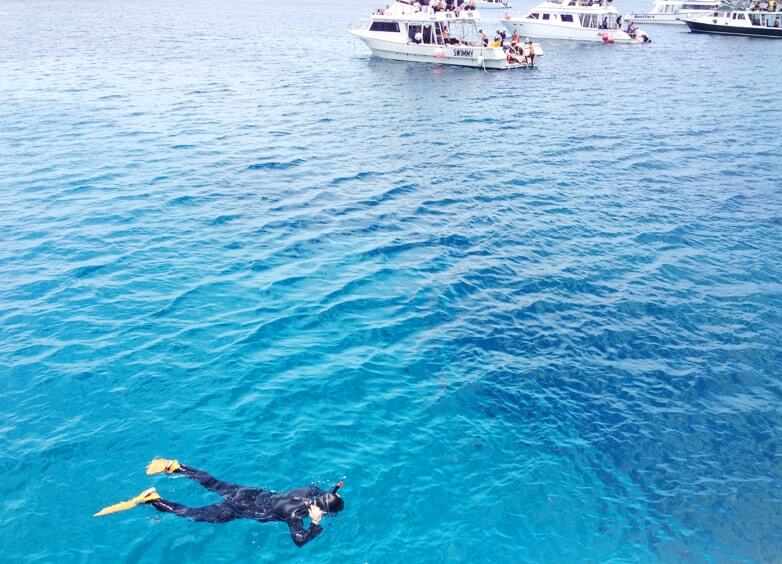 In the Kerama Islands you will encounter schools of tropical fish, sea turtles and manta rays.
The waters between Zamami and Aka Islands contain many highly rated diving spots, and it's designated under the Ramsur Convention as a wetland of international importance— with two stars in the Michelin Guide Zamami Island is frequented by divers from all over the world!
Deeply carved shorelines border the islands, and even the underwater terrain is diverse with everything from rocky areas and caves to fields of sand and coral! You must experience Kerama's blue world for yourself, one beloved by visitors from everywhere.
Kerama Diving Spots!
In the Kerama Islands alone there are diving spots in over 100 locations. Here's some that I especially recommend!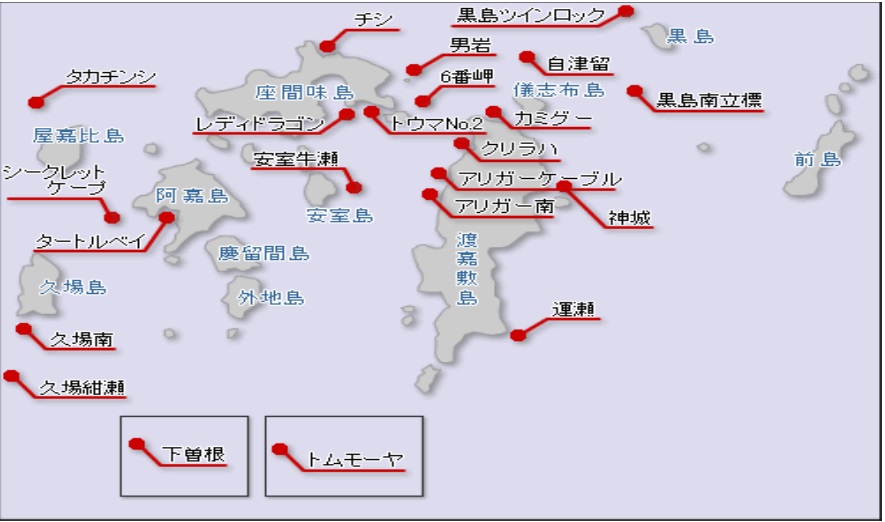 ① Takashiki Island Shimozone
One of the major Kerama diving spots. A shallow coral root in the middle of the shoreline with 30m-50m deep seas around it.
The current is good here, and muscle-bound tuna are always buzzing around. Since it faces the open sea, it's also open to waves so it can be hard to get to if conditions aren't right.
Species: dogtooth tuna, redfin fusilier, rainbow yellowtail, blue tang and others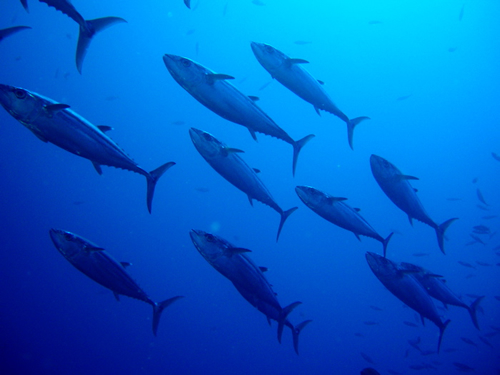 ② Zamami Island Ugan
A popular diving Kerama spot. Current is good and there is a lot of opportunity to encounter migratory fish. 男岩 (Ugan) in the local dialect means "Man's Rock," and like its name this powerful rock towers over the ocean surface.
The ocean streams around the rock, and the north side is fun for macro style fish watching, while the southeast opens out like a soft pastel colored garden.
The density of fish that can only be seen in the Kerama Islands can really be appreciated at this spot!
Species: Ribbon eel, pyramid butterfly fish, dogtooth tuna, double-lined fusilier and others.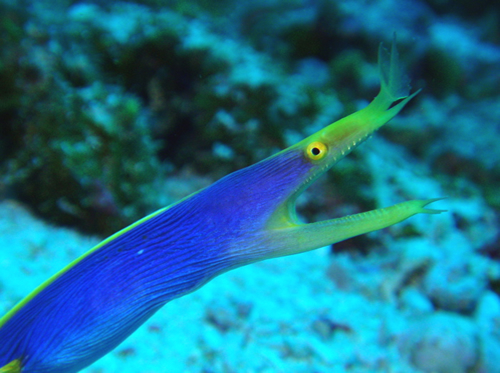 ③ Kuroshima Island Minami Rippyo
Famous manta ray spot! A cleaning station for mantas from summer to early fall.
Species: Manta rays, whitetip reef shark, double-lined fusilier, threadfin red bass and others.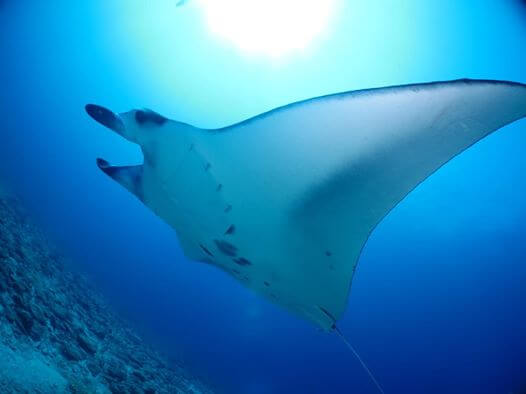 Kubashima Island Kubase
See a great many sea turtles here. The spot is shallow but you may see big species such as giant trevally. Sometimes the current can be strong around the channels.
Species: Sea turtle, pom-pom crab, noble file clam, double-lined fusilier and others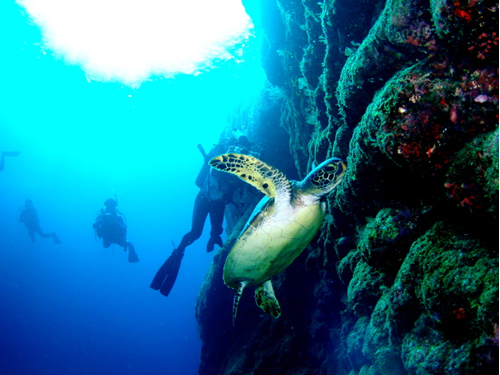 3 Enjoy the scenery in the Kerama Islands!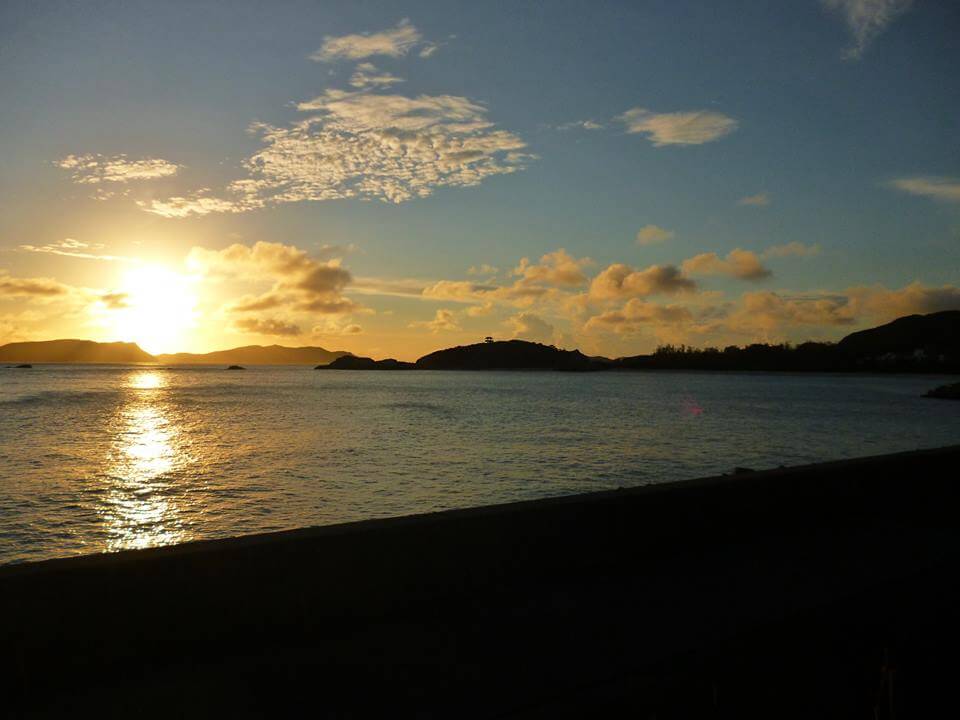 Four places with beautiful views!
① Unaji Observaory on Zamami Island: A must for sunsets
Unobstructed view of the setting sun from the Unajinosachi Observatory. A romantic spot to spend time while remembering the fun of the day. There are a lot of stairs though so please watch your step!
② Panoramic view! Overlooking the village and the Kerama Islands! Takatsukiyama Observatory at Zamami Island!
Besides the gradation of the ocean at Furuzamami, you can see all the way to the ocean at Ago inlet.
The Takatsukiyama Observatory has two decks. From Deck 1 you can see Zamami village, and from Deck 2 you can see Furuzamami beach!
③ View of cobalt blue ocean from Aharen Observatory on Tokashiki Island!
Stunning vista of the entire Aharen beach from this observatory. About ten minutes' walk from the beach.
Super popular observatory where you can view the cobalt blue ocean!
④ For whale watching, Aran Observation Tower on Tokashiki Island is a must!
This is the best observatory for whale watching off Tokashiki Island which itself is called the Whale Straits. Binoculars are available for you to use!
3 Here's some great places to stay in the Kerama Islands!
You will not find many luxury hotels in the Kerama Islands but there are plenty of minshuku (b&bs) and pensione (inns). Here are some recommended hotels and minshuku.
1 Tokashiku Marine Village (Tokashiki Island)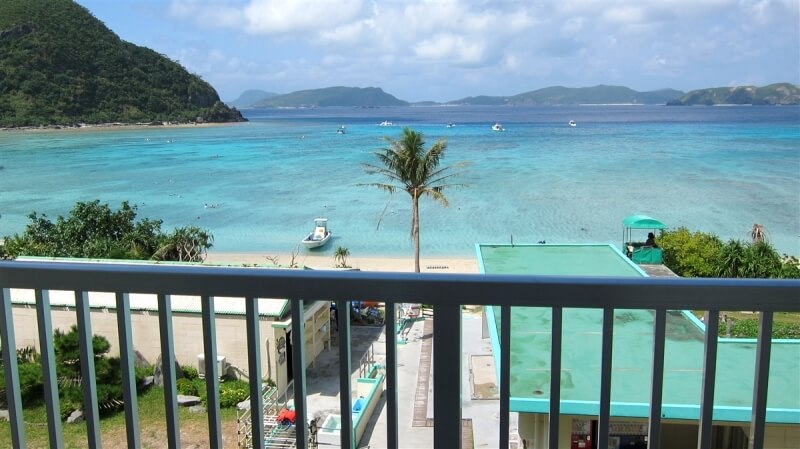 The hotel opens out onto a brilliant white sand beach, perfect for swimming. You might even run into a sea turtle on the beach in front of the hotel!
Tel 098-987-2426
Access 10 minutes by shuttle bus from Tokashiki port
Click here for Tokashiku Marine Village website
2 Sea Friend (Tokashiki Island)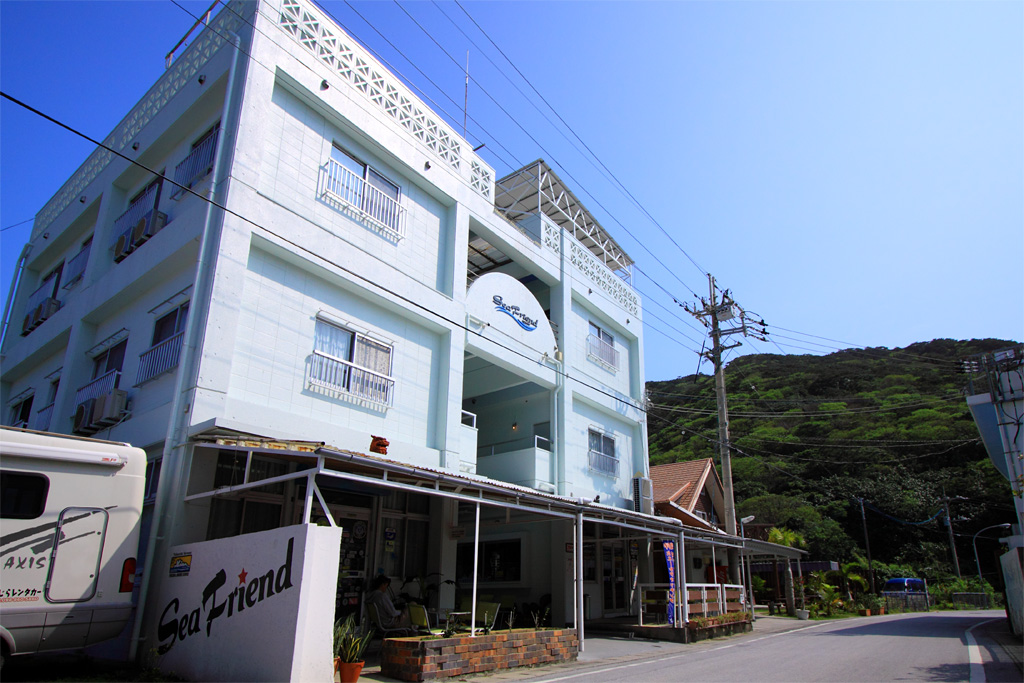 Close by the port of Aharen village on Tokashiki Island, Sea Friend has three types of rooms— inn, log cabin or minshuku. Right in front is a seafood restaurant of the same name, Kaisen Isyokuya Sea Friend so you should not lack for food. They are ready with diving services and water sports rentals, so it's a great place if you want to do a lot.
Tel 098-987-2836
Access Arrive in Tokashiki Island. Get off the boat and walk over to the Sea Friend shuttle bus waiting in the parking lot! It will depart after every Sea Friend guest is aboard.
Click here for Sea Friend website
3 Cha Villa (Zamami Island)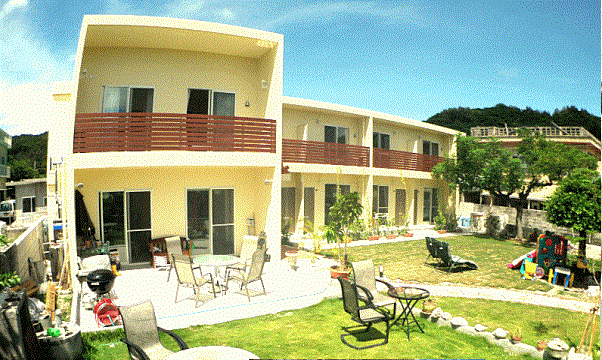 One minute walk from Zamami Island ferry terminal. Feel free to enjoy any time the cafe on the ground floor, with chic chairs & tables set up in the grassy garden.
This is not an old style Okinawan minshuku but relatively new. Rooms have kitchenettes so it's a great place if you want to cook for yourself.
Tel 098-987-3737
Access One minute walk from Zamami harbor. 2nd building on the right after the only traffic light in town.

Click here for Cha Villa website
4 Minshuku Robinson (Zamami Island)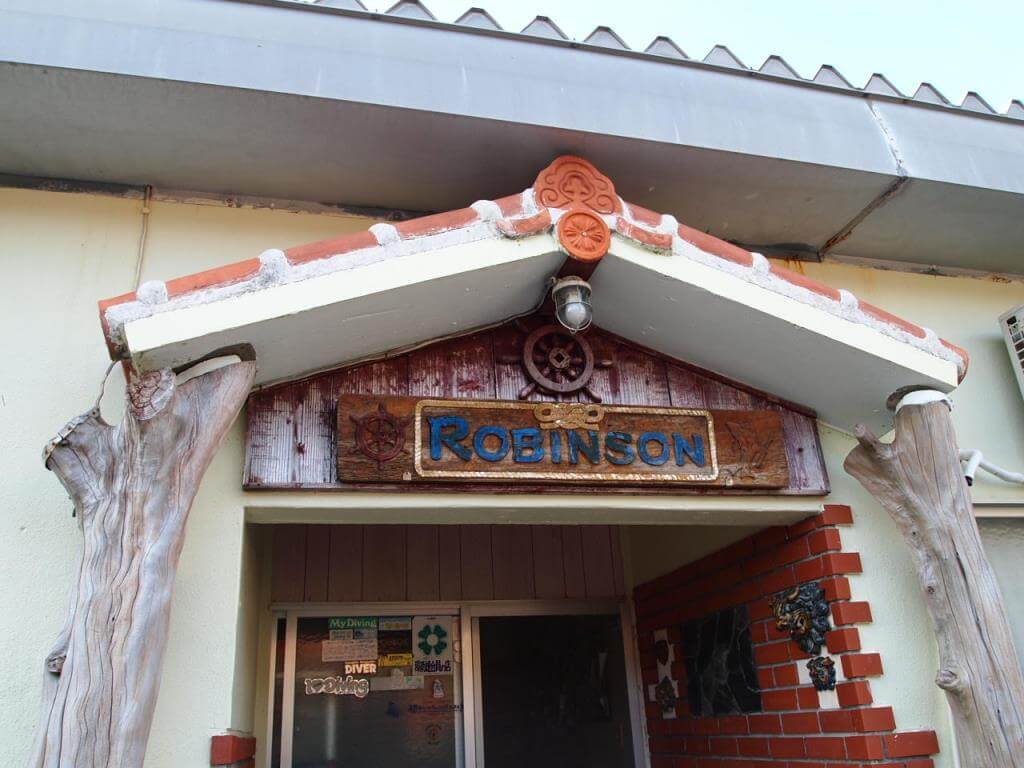 A minshuku in Ama village, which is quiet even for Zamami Island. Robinson caters to the snorkeling crowd.
Robinson offers heartfelt hospitality that conveys the unspoiled atmosphere of island life, plus a guide to the beauties of the ocean. Even with your fellow guests who are people you have never met before, it feels like you are among friends bonding over a love for the ocean.
Tel 098-987-2676
Click here for Minshuku Robinson website
5 Seadorun (Aka Island)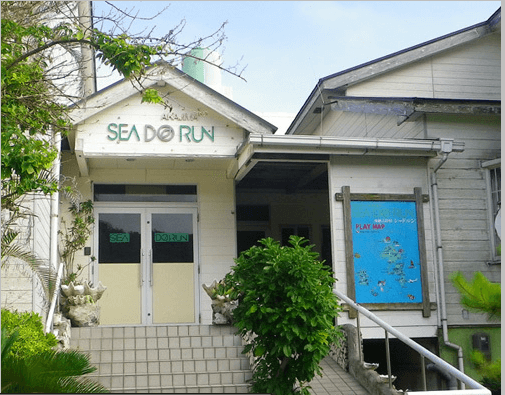 After enjoying your fill of the ocean and sightseeing around Aka Island, you can relax in the large shared bath.
Tel 098-987-2341
Access Five minutes walk from the harbor. Free shuttle pickup between harbor, the airport and Nishihama beach.
Click here for Seadorun website
4 Don't Forget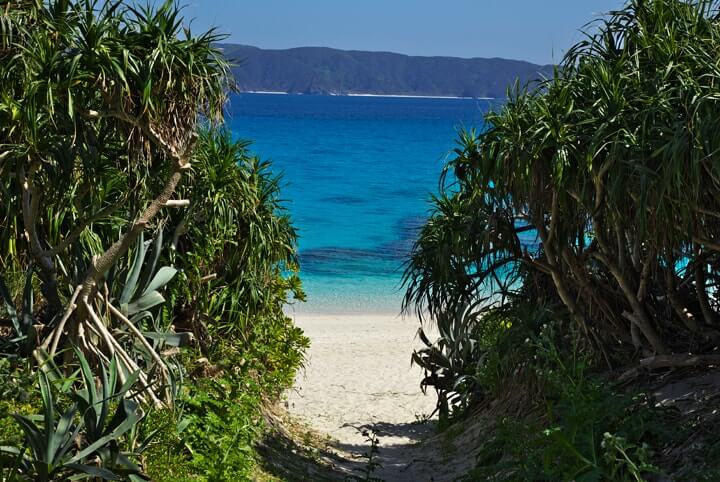 (C) OCVB
The most important thing about a beach vacation is safety. Please always be prepared.
What should I bring?
Come fully prepared, so you can have maximum fun! It's a no-brainer!
① Swimsuit! (Divers can rent wetsuits from the dive shops)
② Beach towels & sandals
③ Motion sickness medicine if you get seasick
④ Sunscreen
The amount of UV rays in Okinawa is supposed to be 1.5 times that of Tokyo. If you are going out to the beach in a swimsuit, make sure to apply plenty of sunscreen and protect yourself with a hat or sunglasses.
Especially if you are going snorkeling, your back is constantly exposed to the sun. You must take precautions by using sunscreen or wearing a T-shirt.
Be diligent about staying hydrated to guard against heatstroke and sunstroke. You can get exhausted from swimming so bring snacks like onigiri. (It's hot so don't bring food that will go bad quickly!)
In case of bad weather or boat cancellation
If the weather is bad, you must stay out of the water. Even though it looks calm, the water can be dangerous before and after a typhoon!
When boats are not running, you can cancel and rebook! Decisions about sailing conditions are made every day about 8:00am.