gourmetArticle content is from here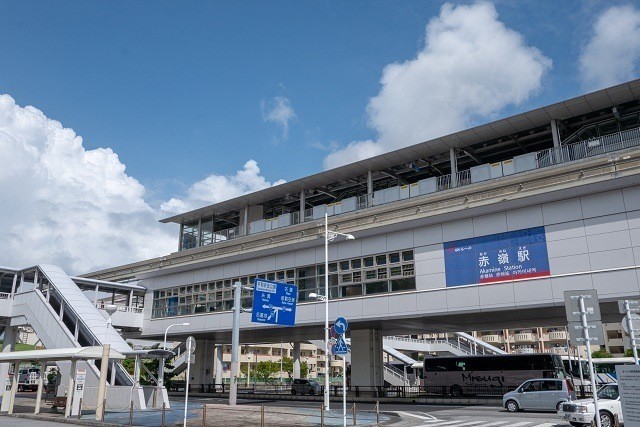 Yui Rail, a convenient tool for Naha tourism.
For people who cannot rent or drive cars, it is without a doubt an important method of transportation.
With this occasion's theme being 'exploring Okinawa tourism by walking', we'll even focus on local stations that you probably don't stop at normally!
To start it off, we will hit the spots of "Akamine Station", Naha Airport's neighboring station.
People who had ridden the Yui Rail before will have heard of it.
We approached Okinawa's deep charms known only to people who actually stopped at this station…
TABLE OF CONTENTS
1. What kind of place is Akamine?
2. Enjoy a meal at an Okinawa Soba shop "SHUREI SOBA" before any activities!
3. Touring by Photos -Akamine Strolling
4. In Conclusion
1. What kind of place is Akamine?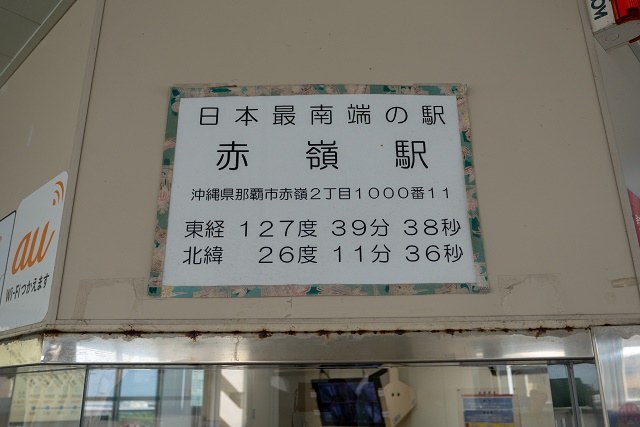 …but first, as the title says, what kind of place is Akamine Station?
It is located 26.11.36 north latitude – 127.39.38 east latitude at the map, and its address is Naha-shi Akamine 2-chome 1000-11.
For being the most southern point, its banchi (house number) of 1000 is a little bemusing!
The area of Akamine is a quiet residential town outside of Naha city, with public apartment housings lined up and 24/7 supermarkets and restaurants scattered all around.
Nearby are the Yui Rail Museum (Free Admission 9:30 ~ 16:30 – closed at SAT.SUN.Holidays) and the Naha Air Base.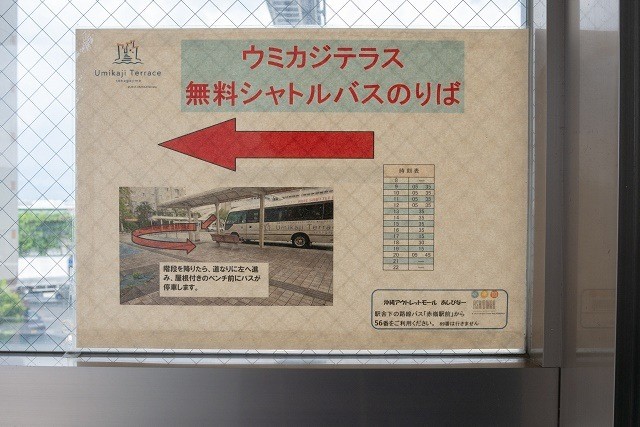 After exiting the station's ticket booth, the first thing you'll see will be a sign for a free shuttle bus boarding station.
Free pick-up buses for Rito, which can be accessed by car, and Senaga Island are also available.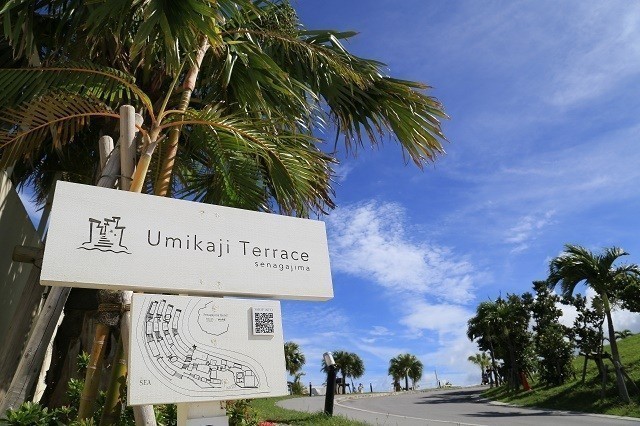 For those planning on "staying in Naha city for the time being after arriving in Okinawa, and going towards the North via rent-a-car tomorrow"…
… how about setting of towards Akamine station via Yui Rail once in a while, and from there stop by Senaga Islands with this free bus?
With your excess cash, grab a cold one at Senaga Island's Umikaji Terrace! The return trip is also safe and reassuring.
With that, let's head down the station's stairs.
At the plaza in front of the Station is the "Most Southern Stone Monument".
After focusing a little on the fact that "we're really at the most southern point", the strolling finally starts!
2.Enjoy a meal at Okinawa Soba shop "SHUREI SOBA" before any activities!
Town sights you miss out on when driving a car can be seen as completely different vistas if you go by foot, making for a completely fresh sensation.
As this is the time where we get hungry, we looked around for a nice joint to eat at… and lo and behold! The Okinawan noodle shop of "SHUREI SOBA" appeared right as we were thinking of about it!
It has high word-of-mouth reviews if you look it up on the Net, and local patrons being a matter of course it seems like a popular place even for tourists.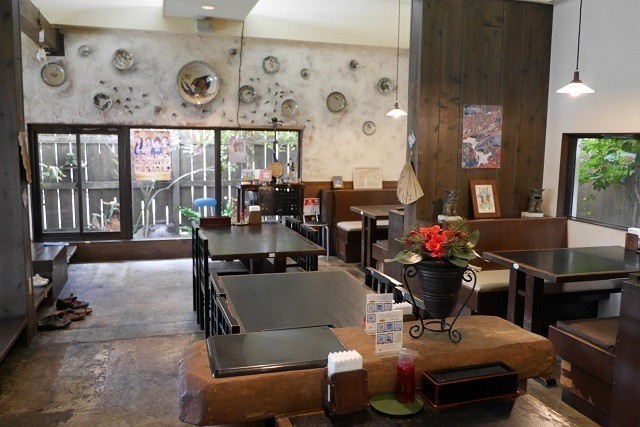 The interior of the store looks like this. The walls are designed with Yachimun pottery, and the space is dominated by calm, relaxing tones.
Though we would very much like to order the store's eponymous "Shurei Soba", this time we went for the Ikasumi Yakisoba (squid-ink fried noodles, 820 JPY with tax).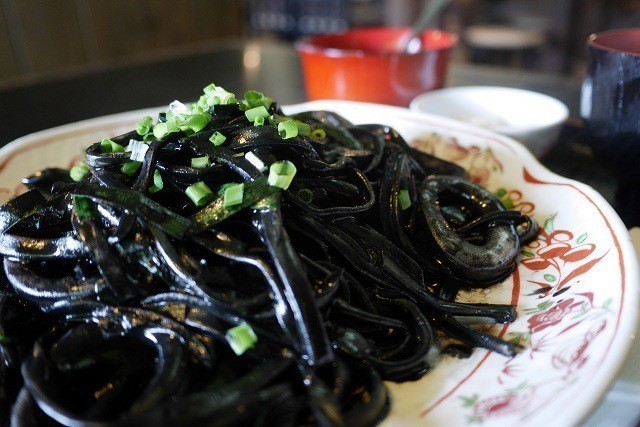 It uses flat noodles, which are also used in Okinawa Soba. To tell the truth, we were in doubt whether this noodle would mesh well with the squid ink before tucking in, but when we did, we were pleasantly surprised!
The squid ink mixes good with the flat noodles and the squid is soft and exotically seasoned with salt, making for a level of deliciousness that is beyond actual squid ink pasta.
This was a must-have dish for squid-ink lovers!
"Shurei Soba" also boasts a bountiful selection of Okinawa Soba, with 24 unique choices on offer; you can even choose texture of the noodle and the type of Dashi stock used!
Though we visited in a time way past noon, apparently live Sanshin performances are held everyday from 12PM to 2PM.
And since there are also low-rise seats, it might have good user-availability for those accompanied by children.
3.Touring by Photo -Akamine Strolling-
With our stomach full and our mouth completely blackened, we resume our stroll. Our next destination – Akamine open space reserve.
Passing through Akamine Station from Shurei Soba, the Akamine open space reserve is in a distance of 15 minutes by foot.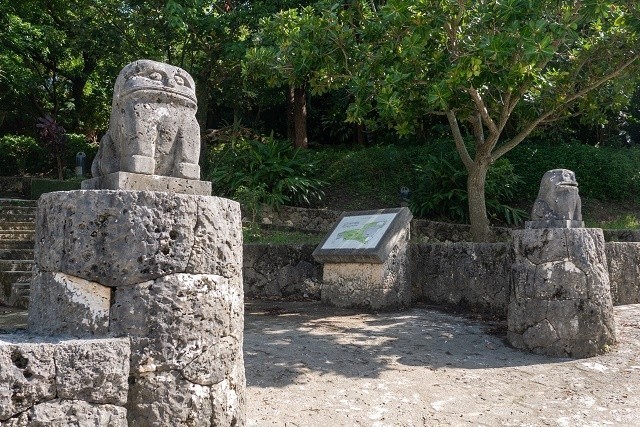 The Akamine open space reserve was once a sacred site called "Winumo".
Akamine and Ashimine's current Utaki (sacred place) are historical places that have appeared in the "Ryukyu Koku Yuraiki".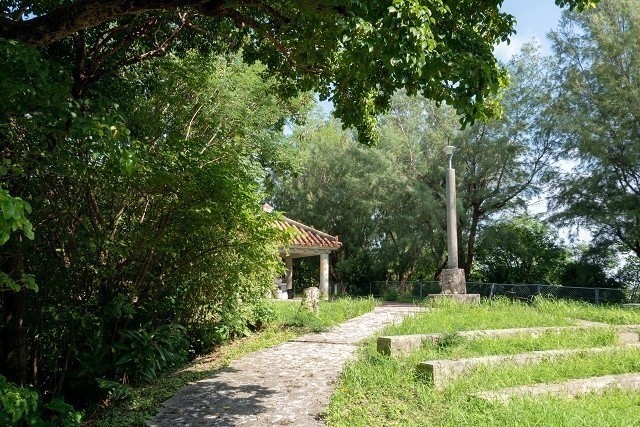 On the top of the open space reserve there is a roofed resting area.
Though we had our lunch at Shurei Soba, we could, for example, have a nice little picnic here by buying "Uchina obento" and "Sanpin tea" takeouts from the supermarkets around Akamine station such as SAN-A and Union!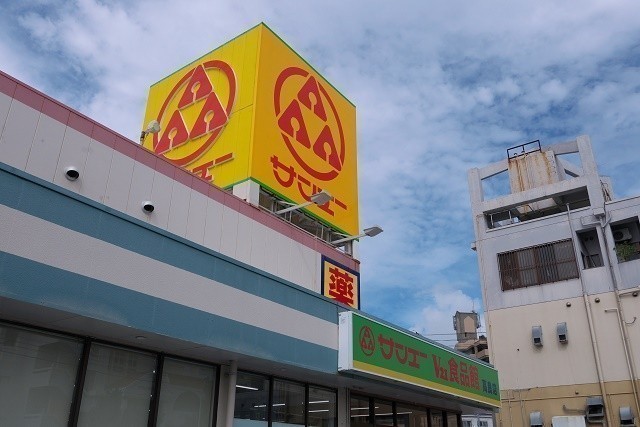 Here is a SAN-A that is 5 minutes away from the Station by foot.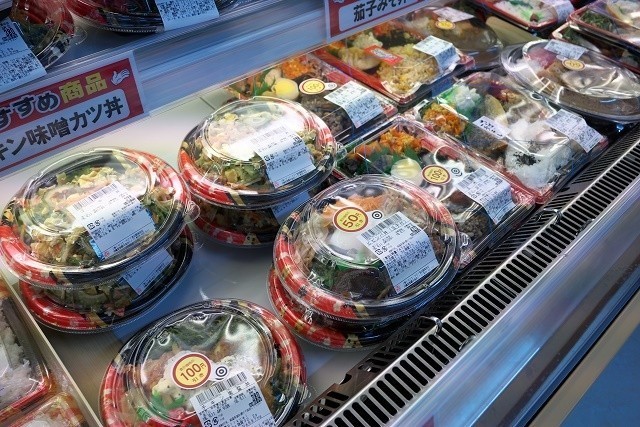 Though at first glance it might be the usual Obento corner in any other supermarket, if you look closely you can find Obento that can only be had in Okinawa such as the Goya bento!
4.In Conclusion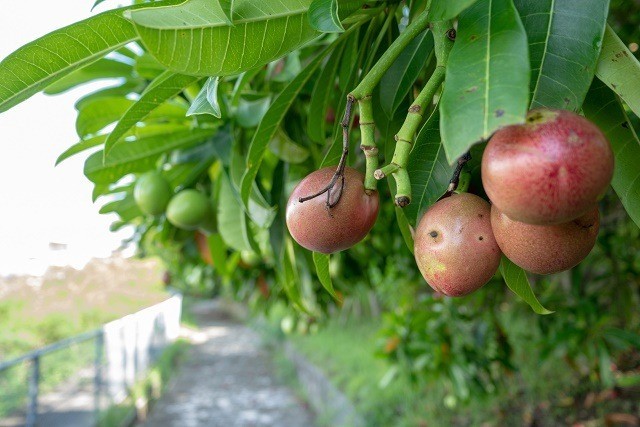 [Never touch the highly poisonous Sea Mangoes within the open space reserve!!!]
Most of the means of transportation for those visiting Okinawa for tourism are usually rent-a-cars.
But once in a while, getting off your car and walking around is also a valid means of travel!
By walking on your own two feet, there will be new discoveries wherever you might end up!
If you're wondering what to enjoy for an Okinawa tour, why not travel in a way that is not written in a guidebook?
"Okinawa Strolling", where you can feel as if you lived your entire life in this island. Please experience it by yourself!
AUTHOR: EIICHI