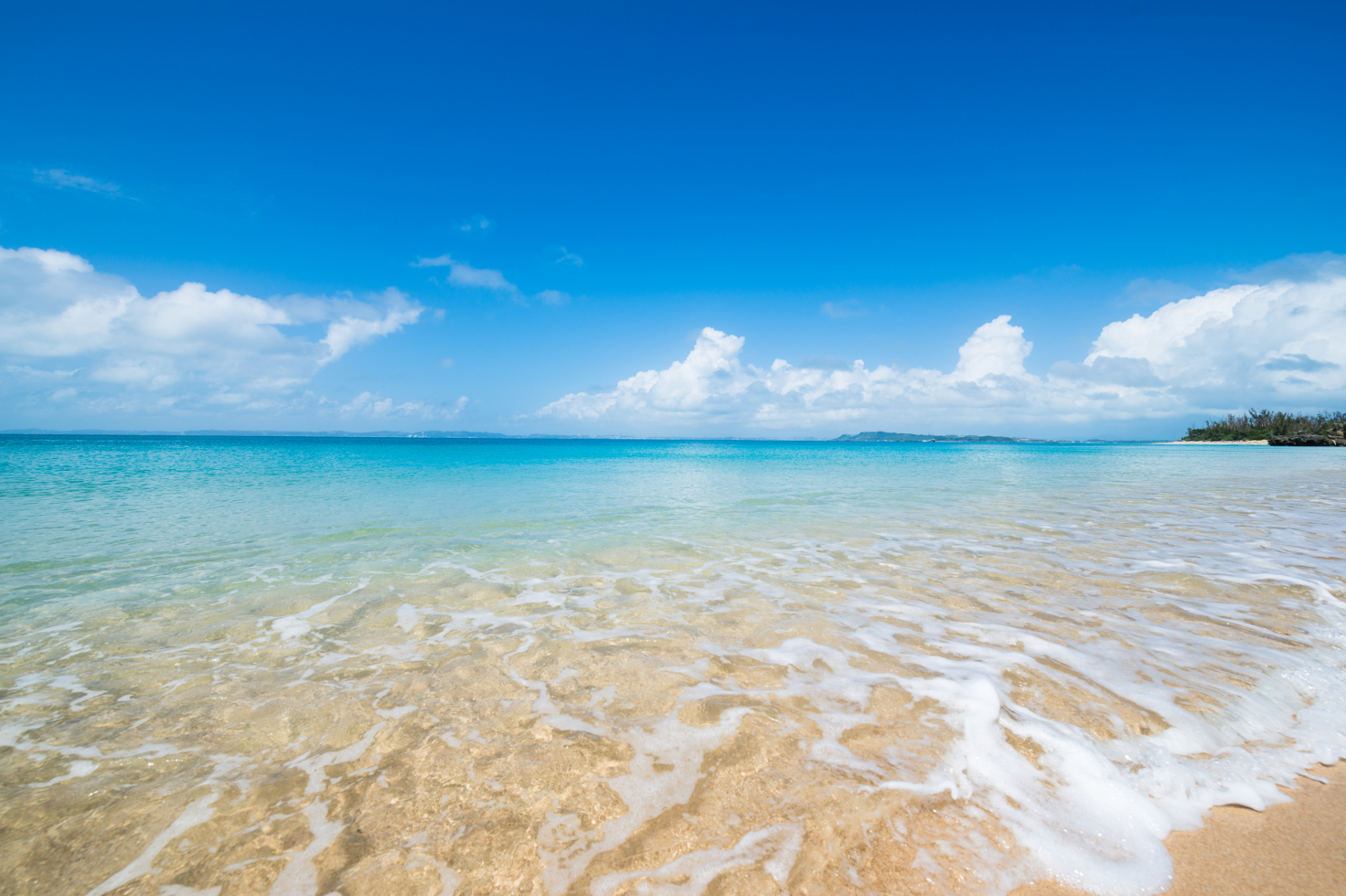 Okinawa is synonymous with the sea.
It's said that the reason why Okinawa's seas shine a pretty emerald blue is because the white sand that coral reefs make reflects the sunlight and ocean currents, starting with the Kuroshio, wash away contamination.
Even knowing that Okinawa's seas are beautiful, there are lots of people who worry themselves about which places have spectacular ocean views.
For such people, we're going to introduce five spots with spectacular ocean views, as well as five cafés where you can enjoy the sea.
We'd be glad if you made this article a reference for enjoying Okinawa's seas even more.
1. You just can't leave this place out when you're talking about Okinawa's seas!
Best five spectacular sea views in Okinawa!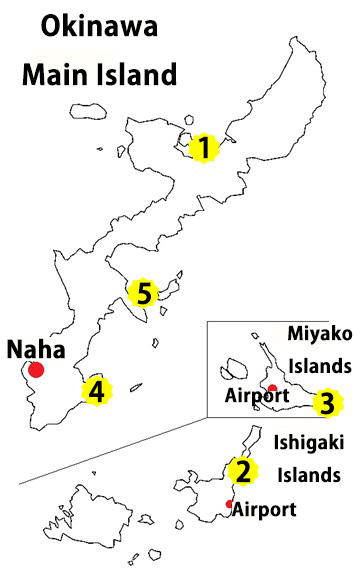 We've put the scenic spots for viewing the sea in order of the best five.
These are only places where you can fully enjoy Okinawa's seas to your heart's content.
The most recommended times for looking at the sea are, of course, around dusk and dawn, which are famous for being ideal opportunities to see the sea color change from blue to orange.
Also, the ebbs and flows of the tides are important,; most recommended time is high tide.
In Okinawa, which has a lot of sea that is shallow for some distance from the shore, the ocean floor becomes greatly visible at low tide, and spots with spectacular ocean views change completely, with the ocean receding into the distance…
Stuff like that happens, too.
Since the times for high and low tide can vary quite a bit depending on the day, please look them up from the Japan Meteorological Agency homepage, listed below.
Japan Meteorological Agency homepage, Naha tide height forecasts
1-1. Kouri Bridge – Kouri Island, Northern Okinawa Main Island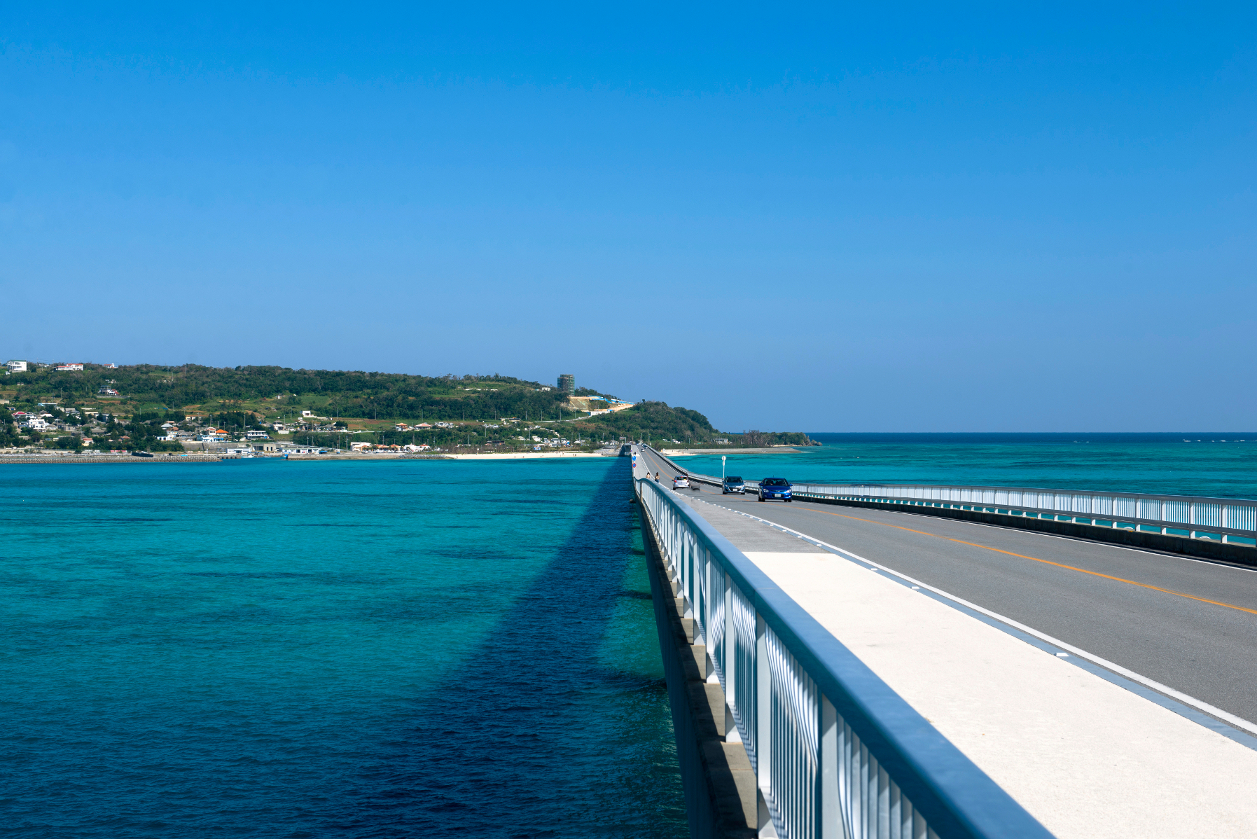 The place we'll introduce first is Kouri Bridge, which was opened from Okinawa Main Island in 2005.
With a full length of 1,980 m(≒1.23 mi), it's also called the bridge that "runs above the sea."
The ocean is the most transparent in Okinawa Main Island, to the extent that there are reports of manta ray sightings above the bridge.
It's a spectacular sight that you'll want to take your time and enjoy, with a little swimming at Kouri Beach, which is famous for swimming in the ocean and snorkeling, as well as activities like walking or renting a bicycle.
1-2.Tamatorizaki Observation Point – Ishigaki Island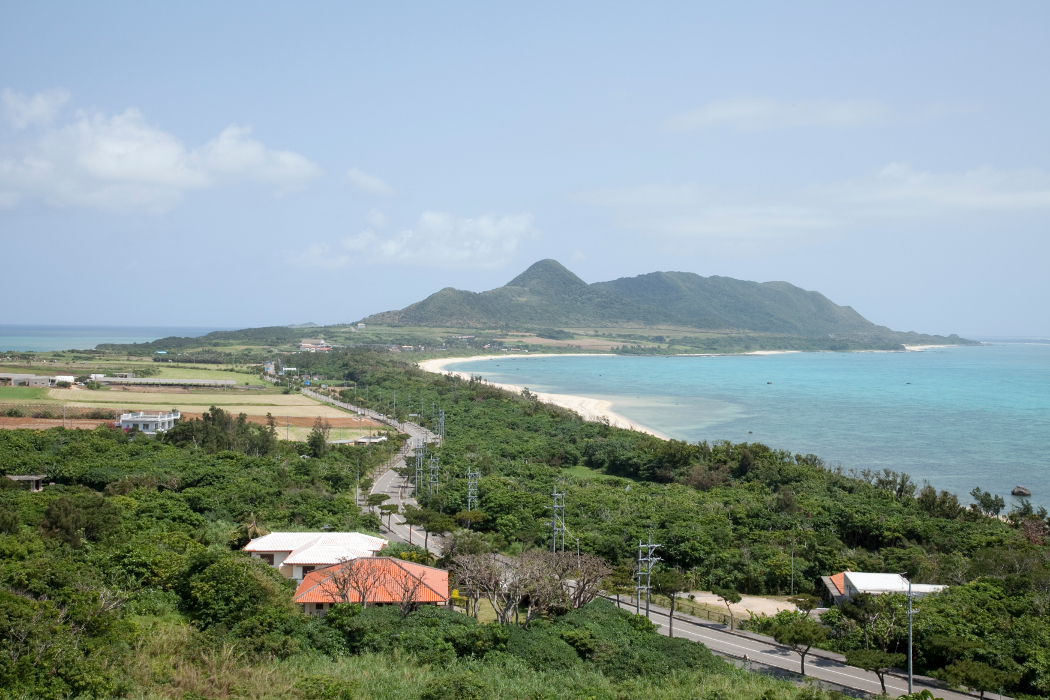 Next, we'll introduce Tamatorizaki Observation Point.
From this observation point, which is positioned at a distance of about 40 minutes from town, you can distinctly make out the shape of the coral on the ocean floor and enjoy the contrasting light and shade of the ocean's color.
With the Hirakubo peninsula to the north, the East China Sea to the left, and the Pacific Ocean to the right, it's only here that you're able to look out on the seas that surround Ishigaki Island.
Hibiscus has been planted along the promenade that goes from the parking lot to the viewpoint, and you can enjoy the gorgeous red flowers all year round.
Okinawa's symbolic scenery, "the sea and hibiscus," charms repeat visitors.
1-3.Higashi-hennazaki – Miyako Island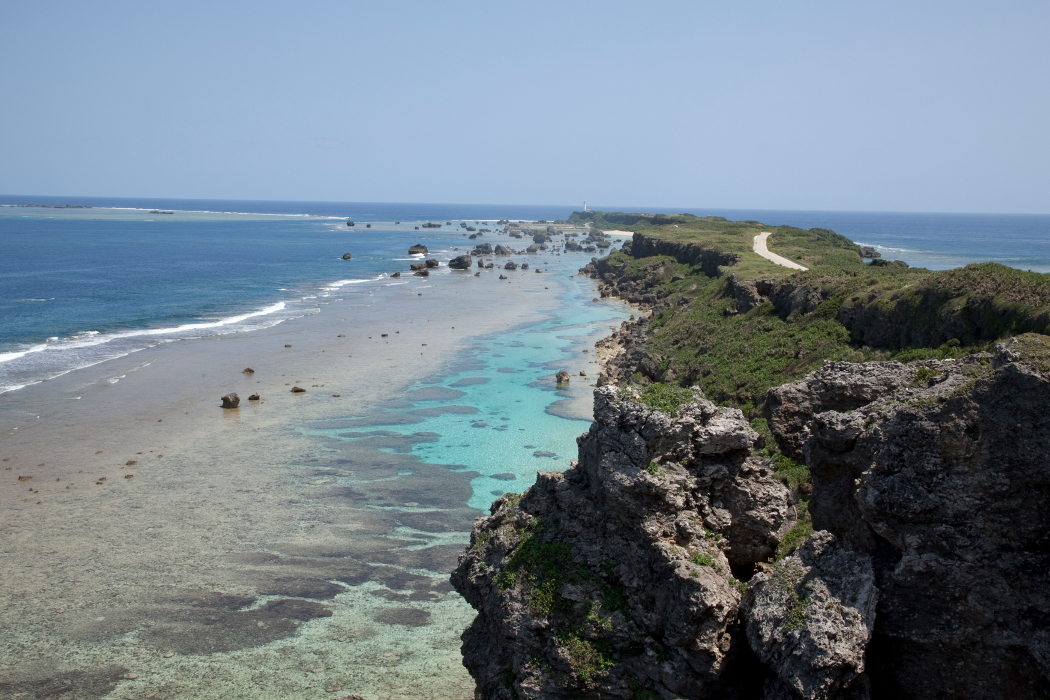 At a distance of about 20 km(≒12.4 mi), or 30 minutes, from Miyako Airport, on the southeastern tip of Miyako Island, is Higashi-hennazaki.
With the East China Sea to the north and the Pacific Ocean to the south, this is a promontory with a length of about 2 km(≒1.24 mi), like a path separating the two seas.
At its tip is Hennazaki Lighthouse. The promontory itself is level, but with steep cliffs on your right and left, you can feel the splendor of nature.
It takes about 10 minutes to walk from the parking lot to the lighthouse.
It's just the right distance for taking a stroll while looking out at the East China Sea and the Pacific Ocean.
We also recommend riding a famous Touya rickshaw while listening to a guide set to a sansin (an Okinawan snakeskin samisen).
The price is JPN 1,000 YEN (≒USD 9.41) one way or JPN 2,000 YEN (≒USD 18.82)for a round trip.
In addition, Easter lilies bloom all over in May, providing a wonderful contrast with the sea.
【Higashi-hennazaki】
Address:Gusukubebora Miyakojima, Okinawa 906-0101 Japan
TEL:0980-77-7590(Regional Department of  Miyako City Gusukubebora Branch)
【Hennazaki Lighthouse】
TEL:090-8294-4010
Opening Hour:9:00~16:30 *closed for rainy weather
Fees:Adults JPN 150 YEN(≒USD 1.41), Children JPN 20 YEN(≒USD 0.19)
1-4.Nirai Kanai Bridge Observatory – Southern Okinawa Main Island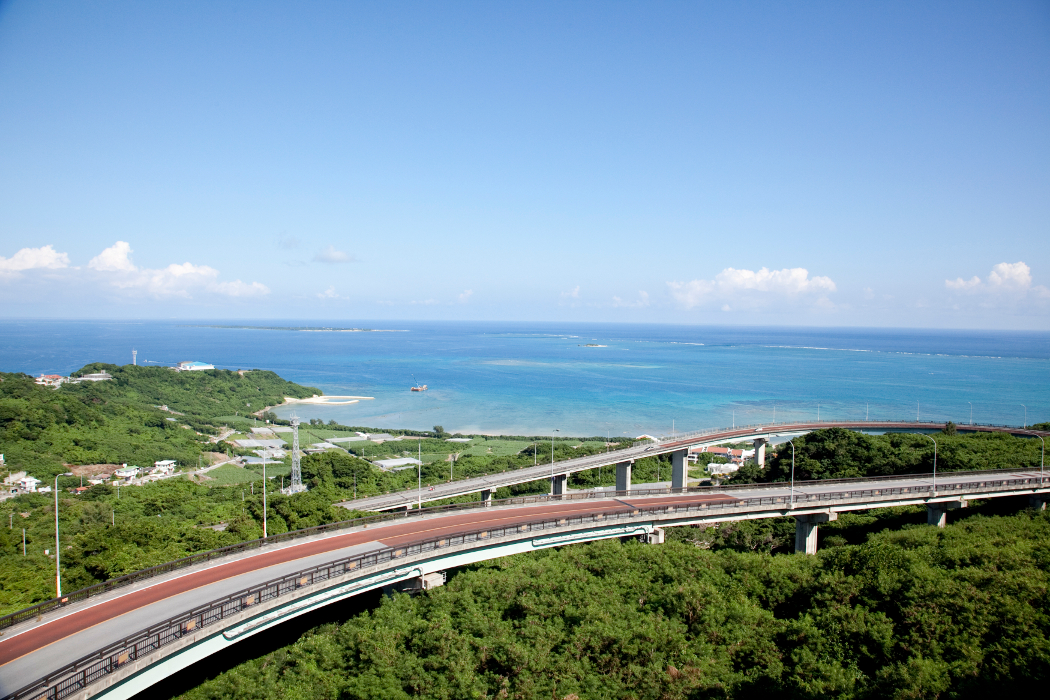 The big bridge right in front of your eyes immediately after you get on Prefectural Route 86 from National Route 331 is the Nirai Kanai Bridge.
The uppermost part of the bridge is a tunnel, and above that is the titular observatory.
The views where you can look out at the unique shape of the bridge and Kudaka Island and Komaka Island are truly spectacular sights. We definitely recommend this as a stop-off for sightseeing in southern Okinawa.
By the way, be advised that parking is prohibited on the bridge! In the event that you came up from Nirai Kanai Bridge, there is a place you can park right after you go through the tunnel.
In the event that you came from the opposite Naha side, it is right after the right-hand curve from entrance to the Japan Self-Defense Forces base.
It's a place where it's easy to pick up speed, so let's drive carefully.
Address: Chinenchinen  Nanjo, Okinawa 901-1513 Japan 【about 40 minutes drive from Naha Airport】
1-5.Mid-Sea Road – Central Okinawa Main Island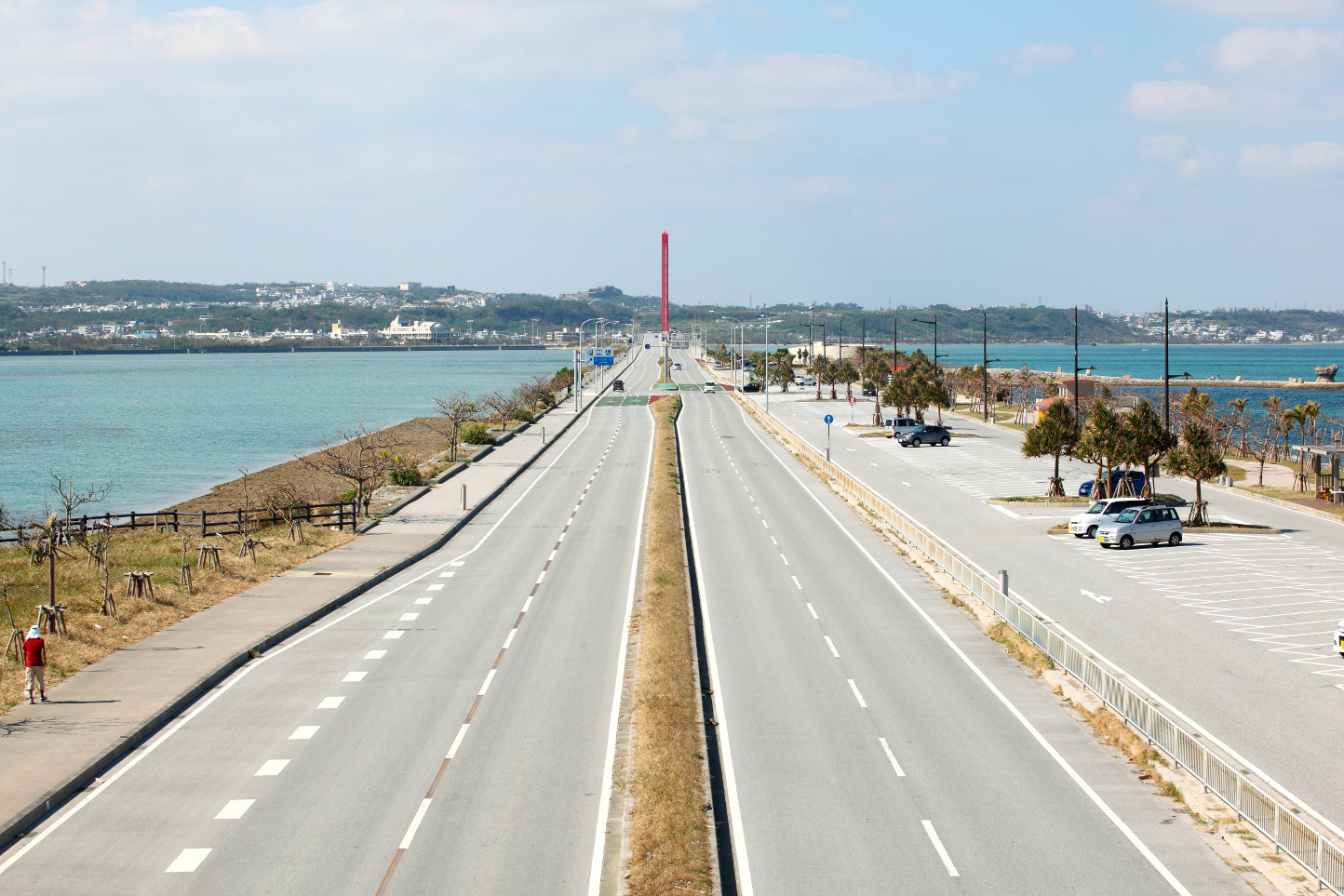 This Mid-Sea Road is a road that runs over the water like it's dividing the sea for 4.7km(≒2.9 mi) to connect the Katsuren peninsula to Henza Island.
If you go here, we absolutely recommend going at high tide. You definitely look up when high tide is and pay it a visit.
The cobalt blue sea spans out on the left and right, and the drive is refreshing.
Don't pass up on the view from Sea Station Ayahashi Hall along the road, either!
By the way, it's a pretty straight road, so keep an eye on your speed. Sometimes, the cops are out stopping people.
【Sea Station Ayahashi Hall 】
Address:Yonashiroyahira 4 Uruma, Okinawa 904-2427 Japan 【about 100 minutes drive from Naha Airport】
Opening Hours:9:00-18:00
TEL:098-978-8830
2.The five best cafés where you can see the sea!
Having the best tea time while gazing at the sea.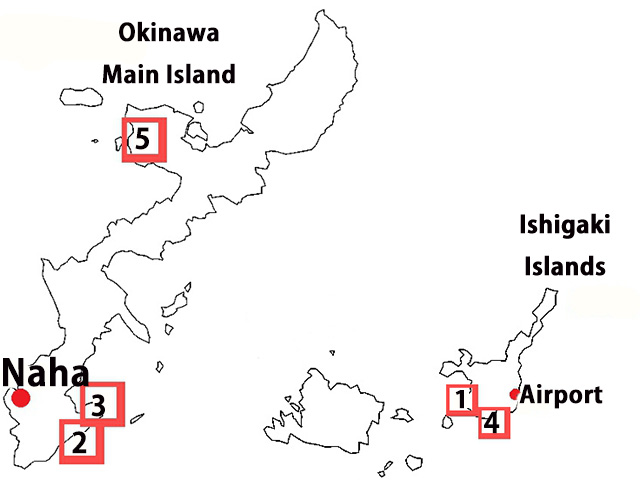 Were you able to feel the beauty of Okinawa's seas, even just a little bit?
From here on, we're going to introduce the cafés that boast the best scenery!
With menus that have everything from specially made gelato to Thai food, you can choose to suit your purpose and preferences!
You'll be able to fully enjoy a lavish time in Okinawa.
2-1. Homemade Gelato from Imori Pasture at Miru Miru – Ishigaki Island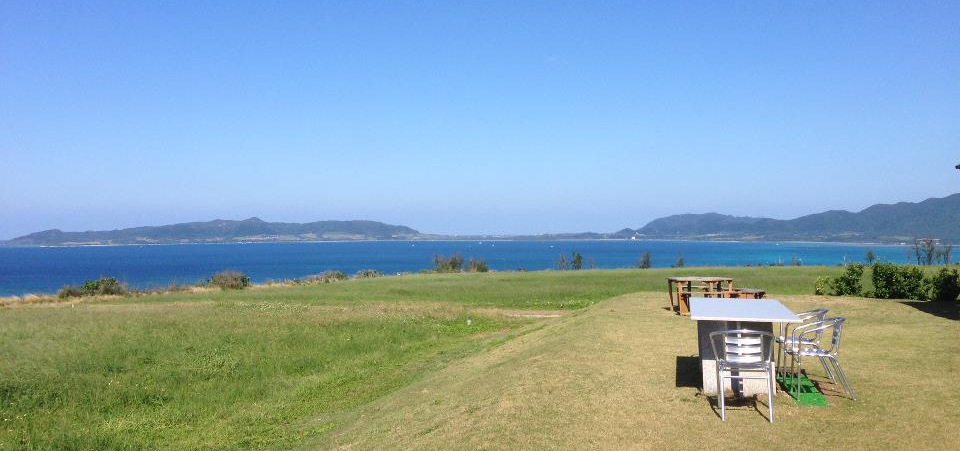 Coming in at first place by having amazing scenery, or course, and by getting high marks for its flavors, too, is Miru Miru, a gelato and hamburger shop on Ishigaki Island.
The front of this shop built on a rise is an expanse of lawn, and inside, the blue sea spans out before you.
You could say that in particular, the setting sun makes for some really spectacular scenery.
Address :Arakawa 1583-74 Ishigaki, Okinawa 907-0024 Japan 
Opening Hours:10:00〜18:30
TEL:0980-87-0885
2-2. Café Yabusachi – Southern Okinawa Main Island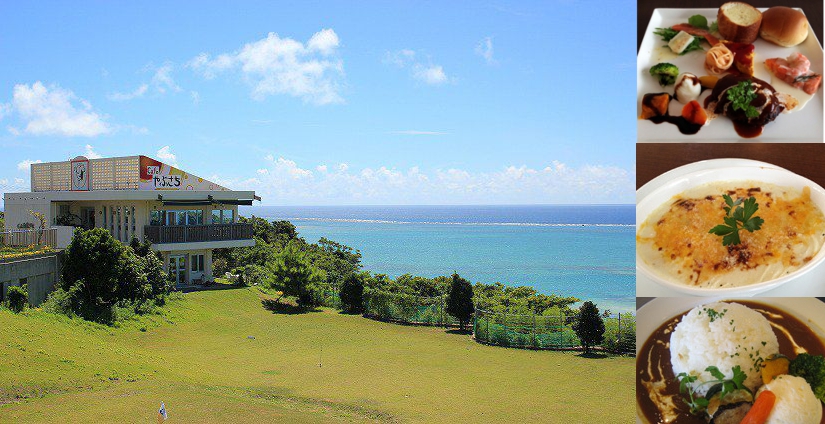 Café Yabusachi, in Nanjou at the southern part of Okinawa Main Island, is a café with a neat and tidy atmosphere.
At lunchtime, we recommend the omelet over rice with a stewed beef tendon demiglace sauce (JPN 1,200 YEN≒USD 11.29) and the lunch plate that the French-trained chef changes up daily (JPN 1,500 YEN≒USD 14.11).
The shop has inside and terrace seating, so if viewing scenery is your thing, let's enjoy nature to the fullest at a terrace table!
Along the coast the café is built on, there are also many villas of famous people seeking out the spectacular scenery.
Café Yabusachi, built somewhat on a rise, provides the best viewpoint for enjoying the contrast of the color of the sea and the sky.
Address :Tamagusukuhyakuna 646-1 Nanjo, Okinawa 901-0603 Japan 
Opening Hours:11:00〜19:00 (Closed on Wednesdays)
TEL:098-949-1410
2-3. Café Curcuma – Southern Okinawa Main Island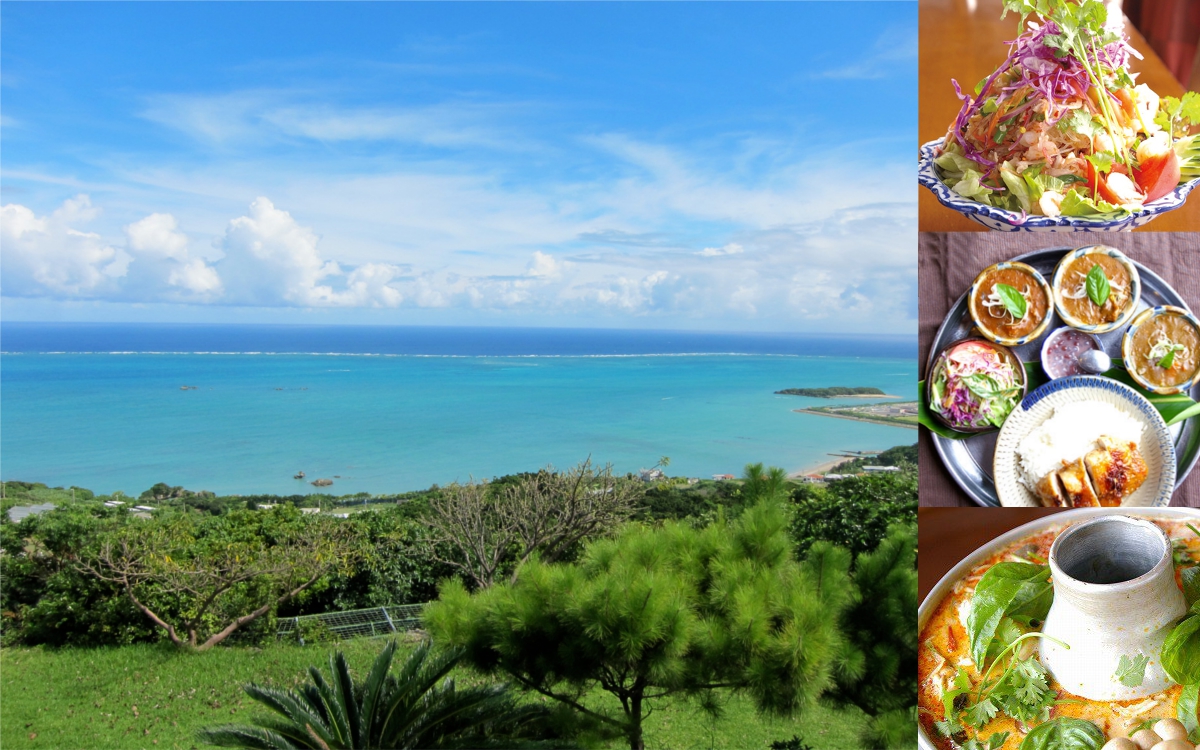 Opened in 2001, Café Curcuma sits at the peak in terms of name recognition and popularity among seaside cafés.
The Thai-trained chef shows his abilities, with his Thai cuisine using homemade herbs demonstrating enough skill to win official recognition from the Thai government. It's healthy and extremely delicious.
As for the view from an altitude of 130 m(≒426 ft), you can see three shades of blue all at once, with the pale blue of the area inside the reef, the deep blue outside of that, and then, with the horizon as a border, the blue of the sky. It's enough to draw admiring sighs.
The seating is divided between the inside and the terrace. In principle, meals are served inside and the terrace seating is used for the café. You can enjoy the spectacular scenery to your heart's content by taking a walk around the premises, which are expansive even for restaurant use.
Address:Chinenchinen 1190 Nanjo, Okinawa 901-1513 Japan 
Opening Hours:10:00〜21:00 (Tuesday 10:00-18:00)
TEL:098-949-1189
2-4. Island Vegetable Café, Re:Hellow BEACH – Ishigaki Island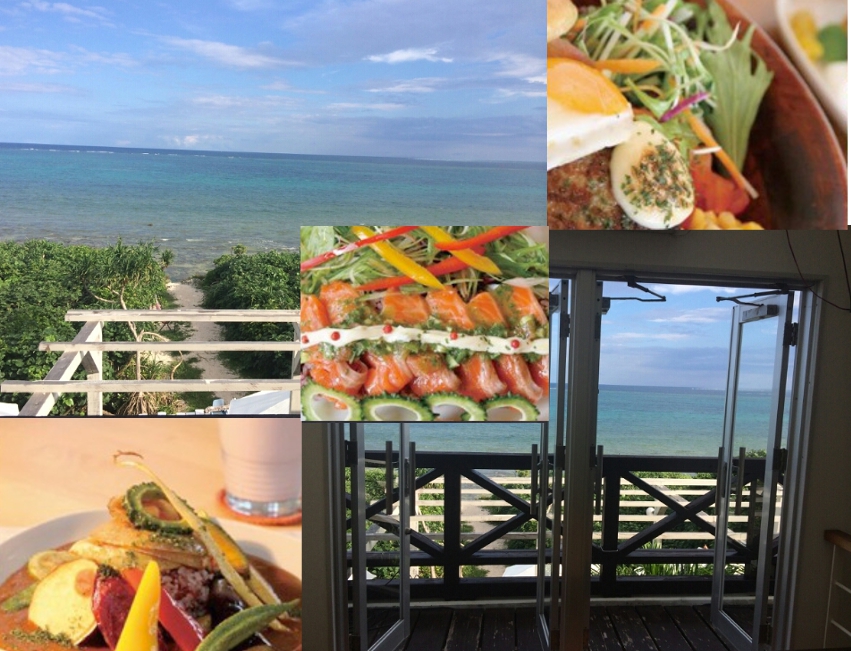 This popular shop, which is positioned favorably among Ishigaki's seaside cafés, is about five minutes away from Ritou Terminal by car.
Time flies when you gaze out at the blue sea from the popular terrace seating.
Our recommendation from the menu of Hawaiian-style dishes that make use of island vegetables is the "island vegetable bagna càuda."
Also, there's a yushidofu (a type of tofu used in Okinawan cuisine) pancake on the limited to after 21:00 menu.
You'll be delighted that the dough being made from tofu means it's healthy even if you eat it at night.
Address: Maezato 192-2 Ishigaki, Okinawa 907-0002 Japan 
Opening Hours:11:30〜24:00
TEL:0980-87-0865
2-5. Kajinhou – Northern Okinawa Main Island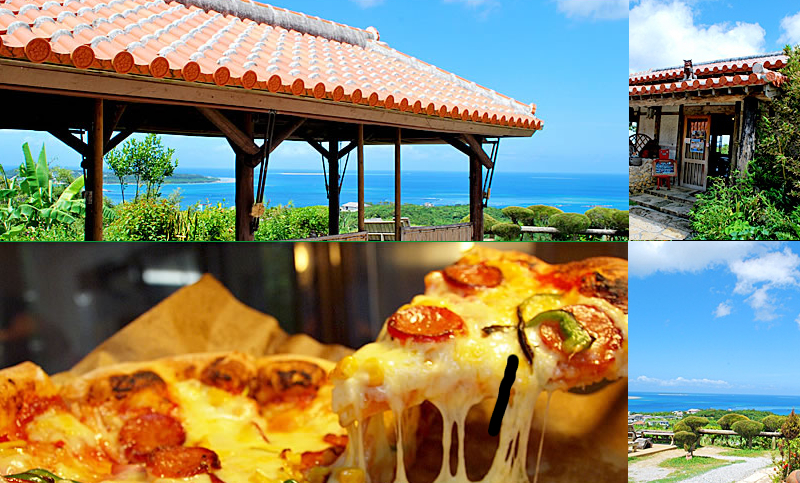 Kajinhou, which is in an old, Okinawan style building, is a pizza shop that's popular with the locals, too.
Melted cheese is piled generously on handmade dough.
If you go through the inside and head over to the terrace, an expanse of sea greets you.
the veranda seats facing the terrace are popular.
You can get a view of the famous outlying islands of Iejima, Sesokojima, and Minnashima, in the vicinity of the Okinawa Main Island, and feel the charm of Okinawa's seas.
Address :Yamazato 1153-2Kunigamigun Motobucho, Okinawa 905-0219 Japan 
Opening Hours:11:30〜18:30 (Closes on Tuesday and Wednesday)
TEL:0980-47-5537
3. Bonus! Onsen (Hot Springs)where you can see the sea!?
3-1. Ryujin no Yu at Ryukyu Onsen Senagajima Hotel – Okinawa Main Island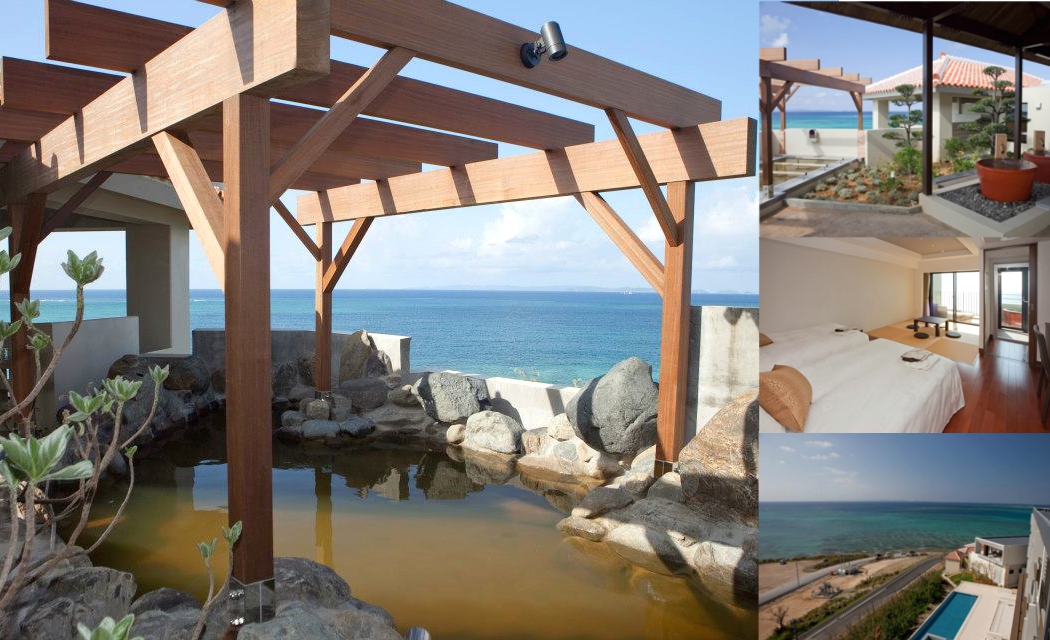 "The emerald green sea and an outdoor bath at a natural hot spring"
You can experience such luxury at Ryujin no Yu at the Ryukyu Onsen Senagajima Hotel, which was opened in February 2013.
It's Okinawa Prefecture's best bathing facility for day trips and overnight stays, and at a distance of barely 10 minutes from Naha Airport, you'll be glad to go, even as a stop off on your way home.
At Ryujin no Yu, we recommend the standing bath in the outdoor bath.
Outdoor baths have a strong image of being "fenced in," don't they? However, this standing bath has a depth of 120cm(≒3.9 ft), so you can dip in up to your shoulders. Because of that, there isn't any need for a wall blocking off the spectacular scenery before your eyes, and it's built so you can get a view of the East China Sea expanding before your eyes.
Seeing the evening sun set behind Kerama is quite the highlight.
Address: Senaga 174-5 Tomigusuku, Okinawa 901-0233 Japan 
Opening Hours:6:00-10:00, 11:00-24:00
TEL:098-851-7077
Fees:
11:00-24:00
Adults(above junior high)/Weekdays JPN 1,330 YEN(≒USD 12.51)//Weenends・Holidays JPN 1,540 YEN(≒USD 14.49) //Children(Elementary School) JPN 720 YEN(≒USD 6.77) // Infants/Free
6:00-10:00
Adults(above junior high)/Weekdays JPN 830 YEN(≒USD 7.81)//Weenends・Holidays JPN 1,030 YEN(≒USD 9.69) // Children(Elementary School) JPN 720 YEN(≒USD 6.77) // Infants/Free
3-2. Enjin no Yu at Natural Hot Spings Sashiki – Okinawa Main Island
Enjin no Yu is on a rise about 40 minutes by car from Naha Airport. From baths named "the great vista baths," you can enjoy a spectacular scene where you can get a full view of Nakagusuku Bay that's like a painting!
Not only will your mood be refreshed, but through the effects of the hot springs, which include ancient seawater drawn up from about 1,500-2,119 m(≒4,921 ft~6,952 ft) beneath the earth's surface, your travel fatigue will vanish, as well.
They have a family bath, which is delightful for bringing children along, as well!
Address:Sashikishinzato 1688 Nanjo, Okinawa 901-1412 Japan
Opening Hours:07:00~23:00(L.O.22:30)*Opens from 06:30 on Saturday and Sunday
TEL:098-947-0111
Fee:Adults – JPN 1,650 YEN(≒USD 15.52)  / Elementary School – JPN 750 YEN (≒USD 7.06) / Infants –  (under Age six) Free
※two infants are free per one adult.
※Onsen tax JPN 150 YEN(≒USD 1.41) will be charged
Personal Bathtub Fee:JPN 5,000 YEN(≒USD 47.04)  / person // JPN 8,000 YEN(≒USD 75.26)  / two people // JPN 9,000 YEN(≒USD 84.67)  / three people  // JPN 10,000 YEN (≒USD 94.06) / four people