"I wanna have a little drink in Okinawa and I don't feel like having one in my hotel room. But I can't find a good place!"
Well as the old saying goes, "when in Rome, do as the Romans do"! How about going to places where the Okinawan locals usually eat and drink?
When you have days where you want to get a little tipsy, by all means, please go to "INSHOKU"tagram!
Today's "INSHOKU"tagram post will be about the "Qingdao Shokudo".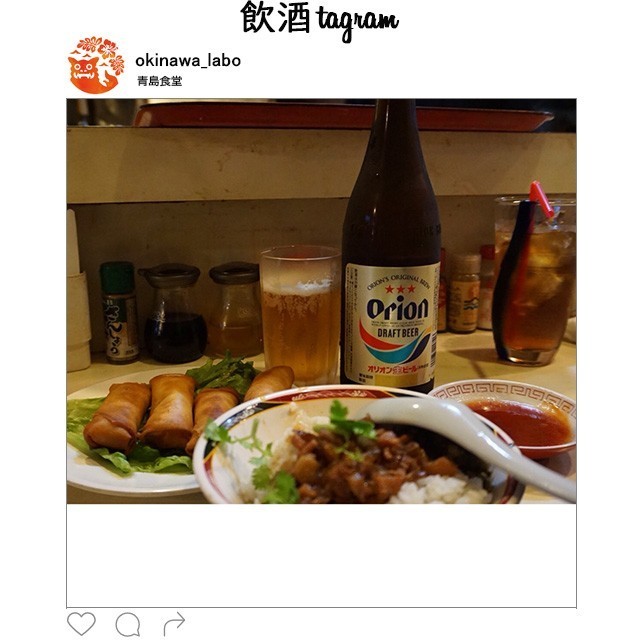 Haitai, OL who lives in Naha here! We're entering into the rainy season and Okinawa is extremely hot, with continuous sunny days! Summer mood is in the air!
And on such a night, I've visited the "Qingdao Shokudo", a Taiwanese restaurant in Makishi, Naha. Located from across Kokusai Dori's Yataimura, this retro establishment has a yellow board sign as its landmark.
Though the interior might be a little dim and presents a design that make a first-time customer hesitate, this is actually a very popular store for the select few who knows it; its even well-received among young women!
It has even been featured in *THAT* TV channel as a "dirty yet delicious store", and its popularity is now said to be nationwide!
Though it doesn't have a pretty interior, it is a small 5 table seating and 5 counter seating establishment replete with a unique atmosphere.
Let's get things underway by cracking open a cold bottle of Orion Beer (500 JPY)! Kanpai!
The coolness of the beer will seep into our heated bodies. And while I was enjoying it that way, my order came through!
The restaurant's boiled dumplings come to mind when talking about Qingdao Shokudo (10 pcs. For 500 JPY)! With a soft and chewy jelly-like dough and an extremely juicy filling, it is safe to say that it pairs well with a cold beer!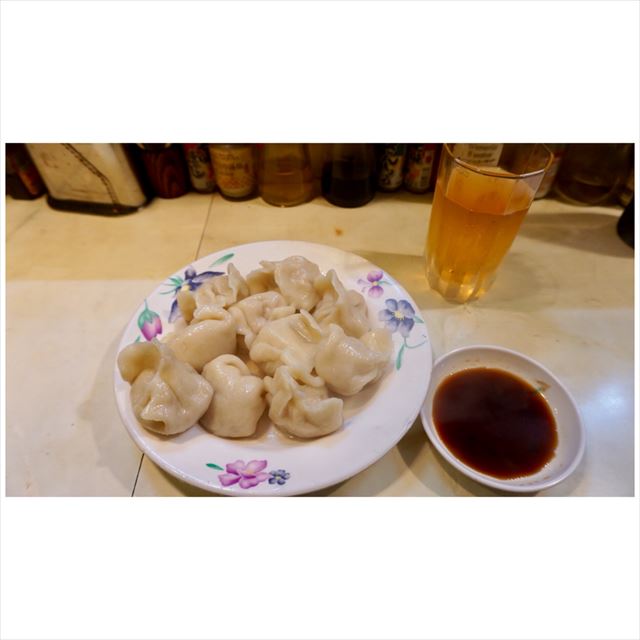 Next up are spring rolls (400 JPY) and minced pork rice (250 JPY). A single mouthful of the delightfully crunchy spring rolls and you'll be treated to an explosion of its steamy, juicy filling! (Be careful not to scald yourself, however!)
And the minced pork rice has a strong flavor of star anise, so delicious it makes you want to mix in rice and eat it in one sitting!
Eagerly, I finished everything off!
* Bill of Fare example (As of May, 2018)
Boiled Dumplings ¥550
Shrimp and Chili ¥800
Pidan Tofu ¥300
Orion Beer (1 bottle) ¥500
* Average Price: 2,000 JPY per person
Qingdao Shokudo
3-9-9 Makishi, Naha-shi, Okinawa-ken
*Across from Kokusai Dori's Yataimura
098-868-6090
Business Hours: 6 PM ~ 12 AM
Day Offs: Sunday