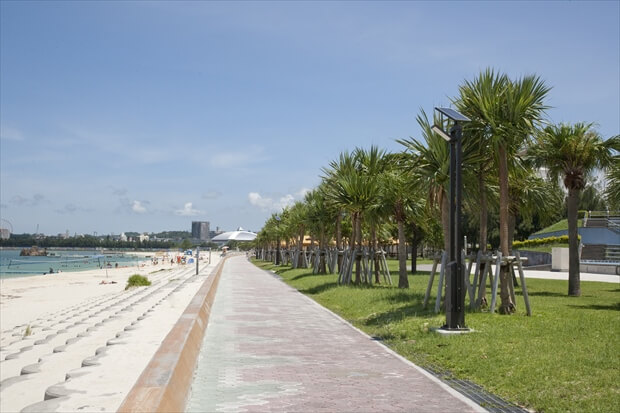 Araha Beach is located in Chatan-cho, in the center of the Okinawa main island, along the Western coast. It is a resort town with many foreign residents, and plenty of facilities in the nearby area!
Here, we would like to tell you about the unique features of a beach in the city, which is different from a typical lesser-known beach.

1.What is Araha Beach like?
Araha Beach is a long beach that opened within Chatan-cho's Araha Park. It opened in 2001.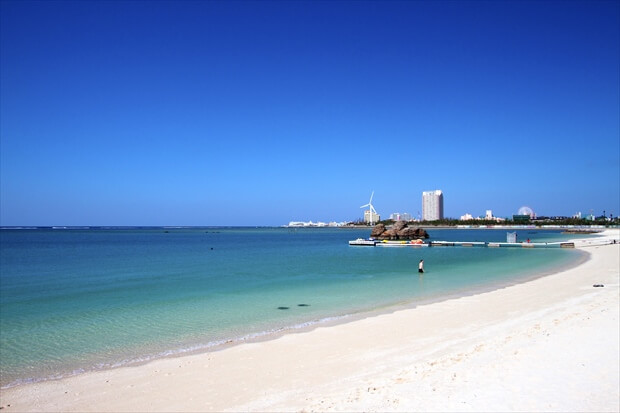 ©OCVB
A white sandy beach extends for about 600m, and the park and the beach are connected. As such, you will see many families playing at the park or foreign runners during the day.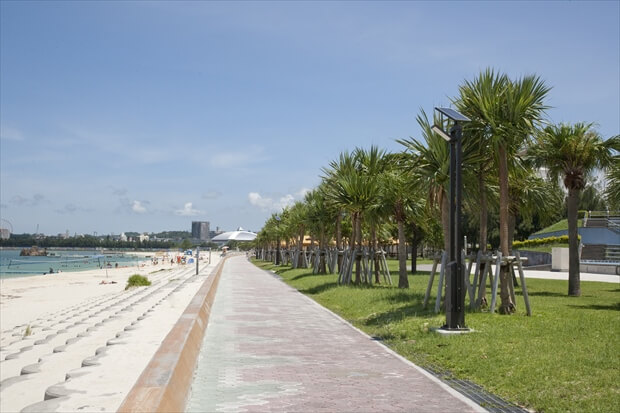 ©OCVB
Its most distinctive feature is that you can have fun at both the beach and the park. The artificial beach is well maintained, offering beach volleyball courts and opportunities to play other marine sports. A life-size pirate's ship, Indian Oak, can be found in the large grass area in the park, and it is a popular play area for kids!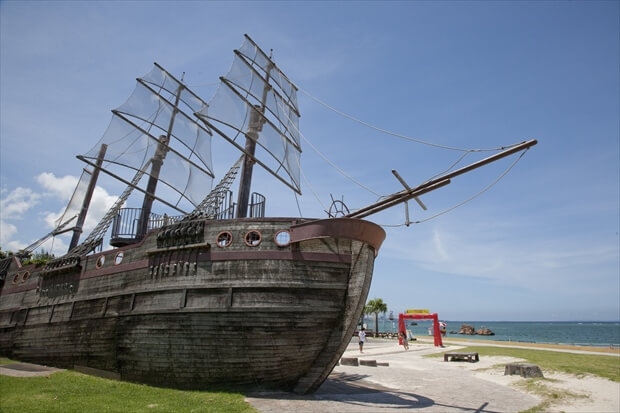 ©OCVB
The sunset from the beach is also highly recommended! You will see more couples around the evening.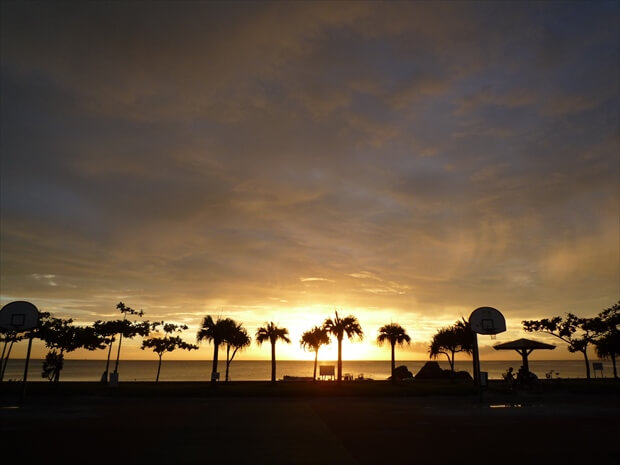 2.How to enjoy Araha Beach
There are many ways to enjoy Araha Beach. Here, we will show you 3 ways to enjoy it.
1) Have fun at the beach
A newer artificial beach offers a variety of activities. It has beach volleyball courts and a multi-purpose outdoor stage.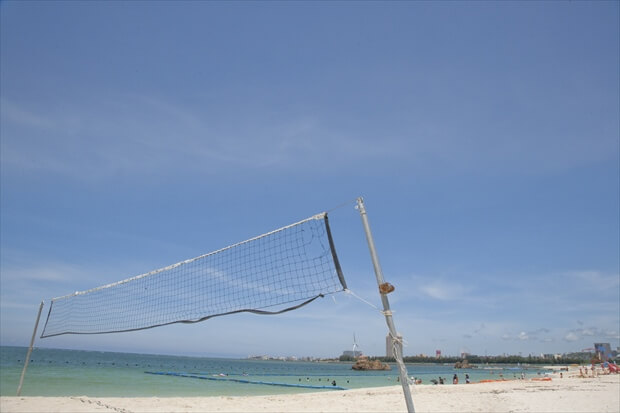 ©OCVB
The permitted swimming area is not large. So, families with small children will feel safe that they can easily be seen by the lifeguards on duty. Anti-jellyfish net is set up offshore. However, snorkeling in the swimming area is prohibited.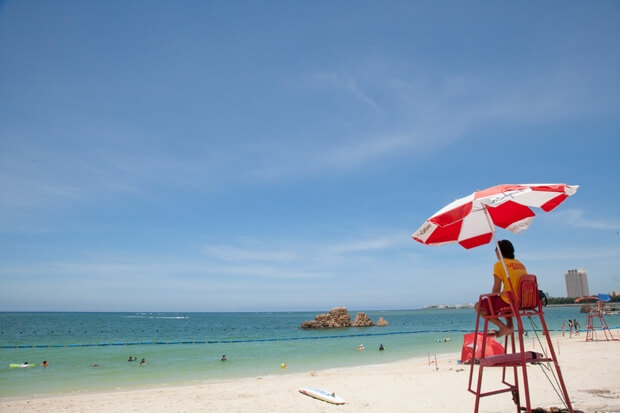 ©OCVB
Showers and locker rooms are available by fee. In addition, changing rooms, a shop, and a smoking space are available to meet your every need. Everyone can comfortably enjoy a visit here.
2) Try a marine sport
There are many activity and rental shops in the area, offering great options for marine sports.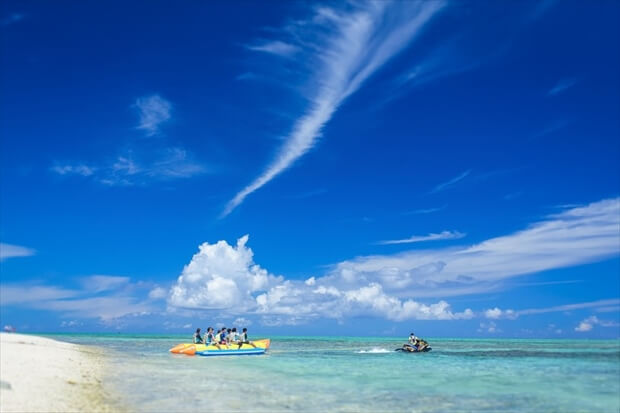 You can take a glass-bottom boat to tour around the coral reef. The fact that you can enjoy beautiful corals, even by the beach in a city, is a unique characteristic of Okinawa.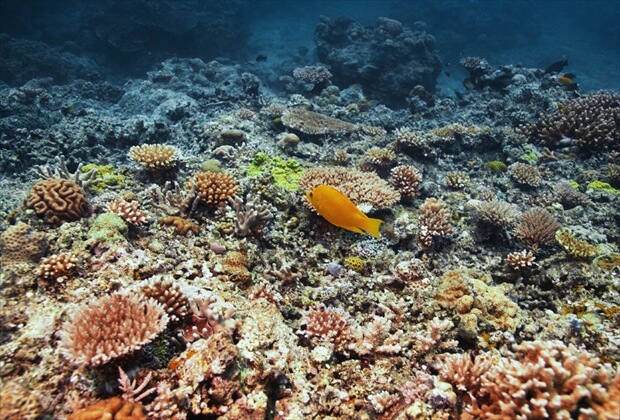 (Image)
Reservations are required to take part in marine sports, either at the Araha Beach management office or each marine shop.
3) Enjoy a BBQ
A BBQ area is available in the park.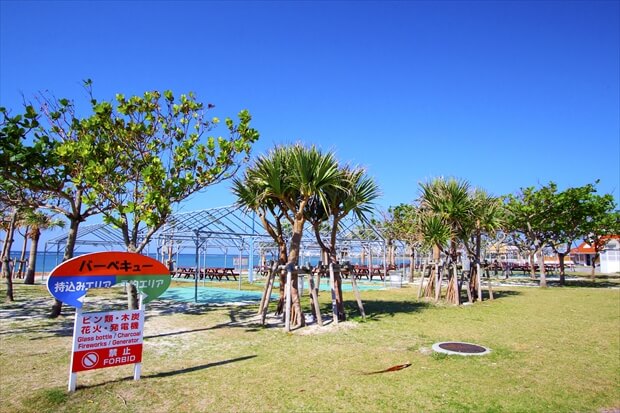 ©OCVB
From the BBQ grill, chairs, tents, tables, and food, everything is ready for you. You can make reservations at the beach shop for food and a tent.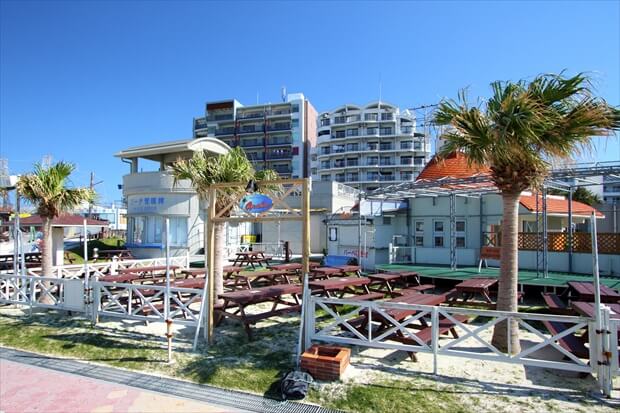 ©OCVB
There are 2 kinds of general BBQ plans at the shop, "Araha set" and "Gold set." "Gold set" includes spare ribs!
3.Recommended eats around Araha Beach
There are many popular restaurants around Araha Beach.
1) Taco Rice Café Kijimuna Depot Island store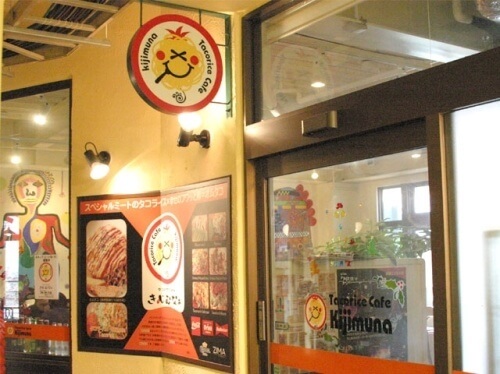 It is a taco rice shop located inside of Mihama Depot Island, the No. 1 city resort in Okinawa. The most popular item here is "Omu Taco," taco rice topped with fluffy egg.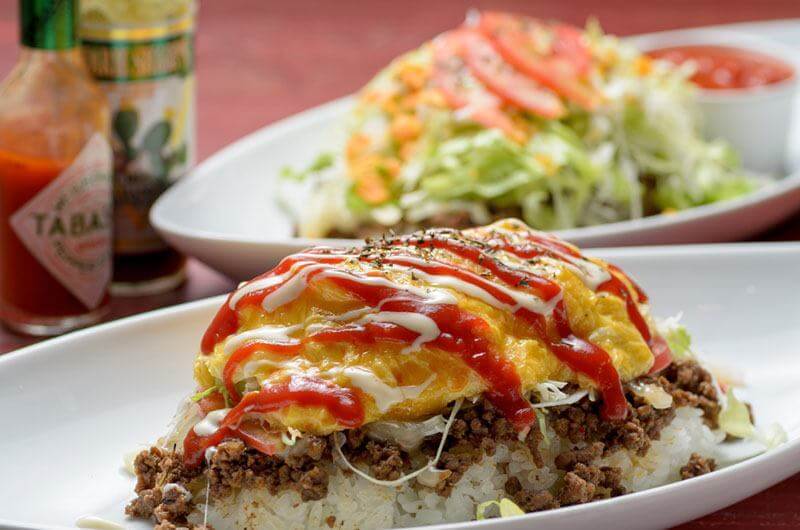 "Omu Taco" was born here in 2003. It is known as the original Omu Taco, and has received numerous awards at the gourmet festivals in Onnason and Chatan.
Also, its cute looks and light flavors are popular among women!
■Taco Rice Café Kijimuna Depot Island store
Address/Depot Island Building C-2F 9-1 Mihama Chatan-cho
TEL/098-989-5100
Business hours/11:00am~10:00pm
Closed/Open year round
2) LAULA ILIKAI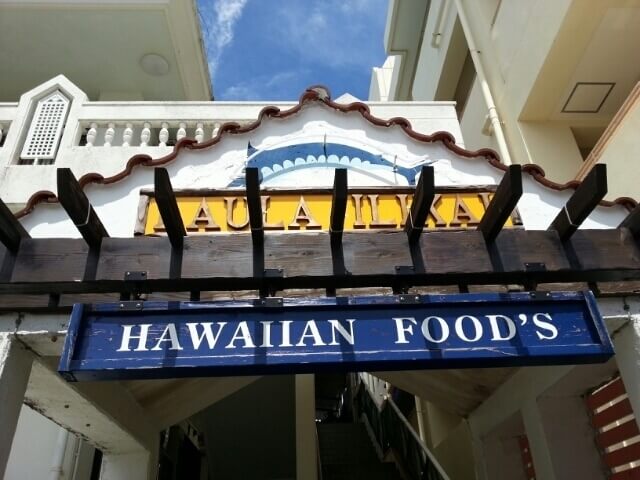 Laula Ilikai offers original Hawaiian cuisine. A great view of Araha Beach from the restaurant is gaining popularity.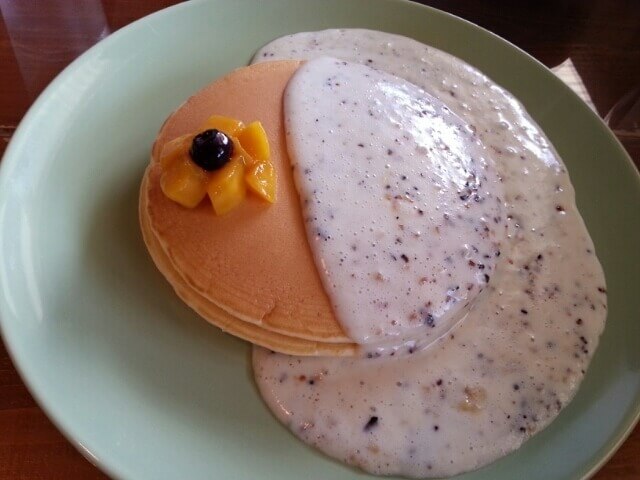 Known for its pancakes. The popular "Nut sauce pancakes" is 3 pieces of fluffy pancakes topped with sweet, creamy nuts sauce. It is available during breakfast.
■LAULA ILIKAI

Address/2F 1-17-5 Kitamae Chatan-cho
TEL/098-989-6766
Business hours/9:00am~4:00pm, 5:30pm~10:00pm; Weekends and holidays 8:00am~
Closed/irregular closures
3) Café Terrace NIRAI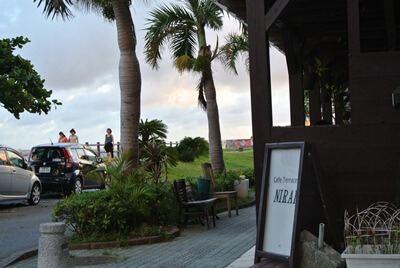 A chic cafe by the beach. You can enjoy the nightscape of Mihama area. The spacious interior has vaulted ceiling. It has terrace seating, with nice ocean breeze, table seating, and sofa seating. A variety of live performances are offered on the weekends!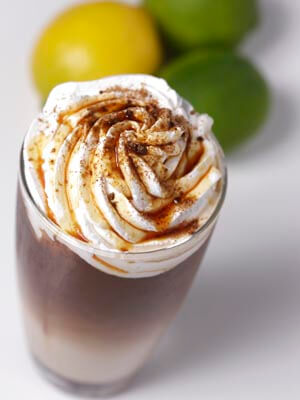 It offers Italian-based lunch sets, seasonal pasta sets, a cafe time menu including pizza, and a dinner menu.
Over 100 kinds of drinks and alcohol are available too.
Brown sugar caramel latte is pictured. It would be great to enjoy the nightscape with a drink in hand!
■Café Terrace NIRAI

Address/15-58 Minato Chatan-cho
TEL/098-926-5150
Business hours/11:00am~1:00am
Closed/Wednesday
4) Asian Dining Bar A-Danny
An Indian curry restaurant along National Highway 58. It was relocated from Kumoji in Naha-shi to Chatan. The restaurant has a stylish, Asian resort atmosphere.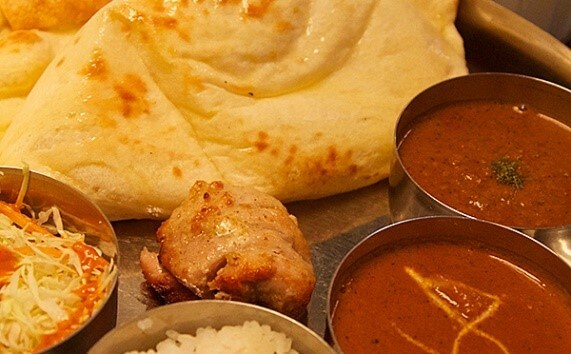 Set menus are offered at lunch time, where you can pick your favorite curry. The No. 1 popular "butter chicken curry" (in the back) and "Keema prawn curry" with ground meat and shrimp are pictured. You can select the spiciness of the curry from 5 levels.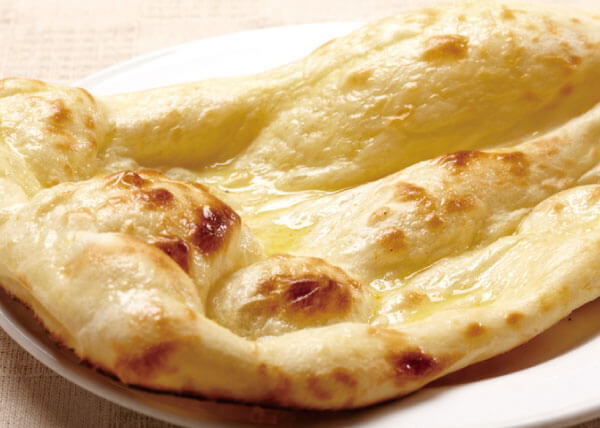 In addition to the curries, homemade Naan is also very popular. Its fluffy, chewy texture is delicious. There are 6 kinds of Naan including, plain, cheese, and garlic. A must-try!
■Asian Dining Bar A-Danny
Address/1F 2-12-6 Chatan Chatan-cho
TEL/098-923-1958
Business hours/11:00am~3:00pm, 6:00pm~12:00am
Closed/Tuesdays
4.Recommended stores around Araha Beach
1) Flamingo Antique Shop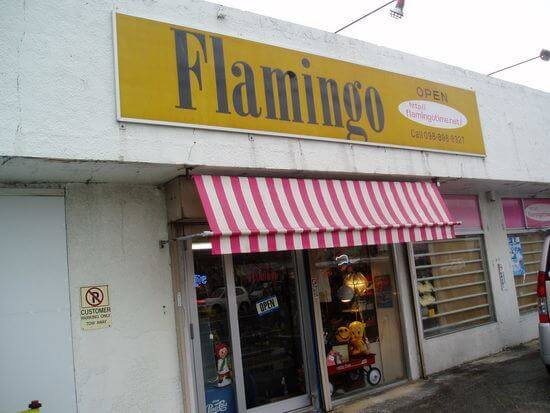 Many stores selling imported goods from the United States are found along National Highway 58, which runs from Chatan to Ginowan-shi.
Flamingo Antique Shop sells vintage toys and everyday things from North America and Europe.
In particular, it has a great selection of items by "Fire King," an American brand of heat-resistant glass items. Being in good condition, they are highly sought after by the collectors.
The playful store is exciting just to look around!
■Flamingo Antique Shop
Address/ 5-19-5 Oyama Ginowan-shi
TEL/098-898-8327
Business hours/12:30pm~7:30pm
Closed/Tuesdays and last Sunday of the month
2) Mihama American Village/Akara Gallery
When you talk about a famous spot around Ahara Beach, you would think about Mihama American Village. It is a large resort, with about 25 stores and facilities, in a 234㎡ area by the ocean.
Akara Gallery is a must-see spot in this resort.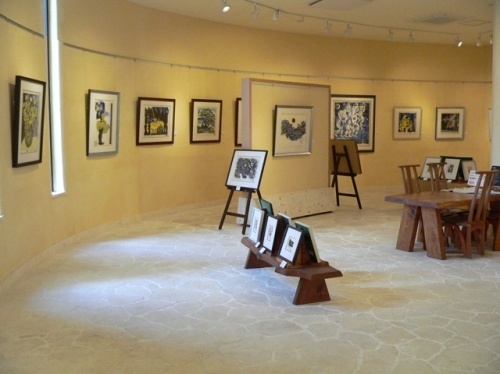 It is Naka Bokunen's art gallery, a representative print artist in Japan. You will meet the fresh style of Naka, who changes his theme with seasons.
Additionally, works by other local artists are also shown here. A shop offering clothes and artists' goods is available. You can casually enjoy Okinawa art here!
■ Akara Gallery
Address/AKARA 1F 9-1 Mihama Chatan-cho
TEL/098-926-2764
Business hours/11:00am~9:00pm(Summer/10:00am~9:00pm)
Closed/Irregular closures
5.Access to Araha Beach and parking information
〇Parking lot
A free parking lot for Araha Park is available. About 150 spaces are available in No's 1-3 parking lots. Please be careful that parking may be difficult on the weekends due to the popularity of the beach. Open between 7am and 10pm.
〇Access by car or rental car

A 40-minute drive from Naha-shi. Head north on Okinawa Expressway, get off at Kitanakagusuku IC, and drive about 20 minutes on the surface street. Turn left at the sign for "Araha Beach" along National Highway 58.
〇By bus
About 50 minutes from Naha Bus Terminal on Jakari Line to Gushikawa Bus Terminal (via Hamby). A 5-minute walk from the bus stop across from Hamby Town to the beach.
■Araha Beach
Address/2-21 Chatan Chatan-cho
TEL/098-926-2680(Araha Beach management office)
098-936-9442(for inquires about BBQ)
Business hours/9:00am~6:00pm(During summer break period ~6:30pm)
Business period/Second Friday in April~end of October
[Note]
・Beach umbrella, lounger, beach mat, etc. are available for rent at shops.
・See below for details on BBQ:
http://ccdc.jp/araha-beach/
Summary
These are the unique features of Araha Beach. In addition to summer time, You can enjoy an atmosphere like a tropical beach all year round at Araha Beach. Please do try taking a stroll along the shore, and enjoy an American-style Okinawa!