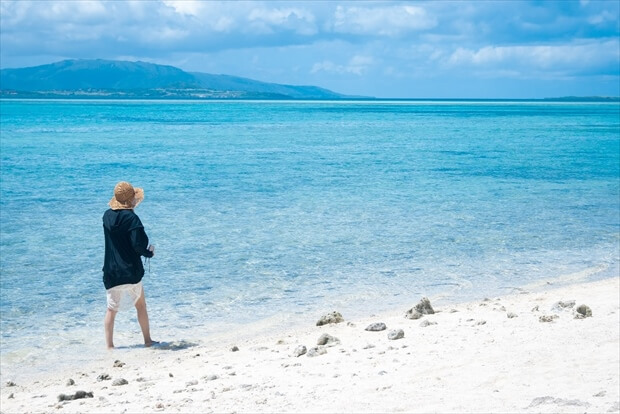 The Yaeyama Islands are known for having one of the best coral reefs in Japan. These seven islands are packed full with real Okinawan charm.
Taketomi Island, one of Yaeyama's seven islands, is far removed from the bustle of everyday life and is a place where time itself seems to slow down.
Besides being known for its beautiful ocean landscape, Taketomi Island is also known for maintaining its unique cultural traditions. You will surely be moved by its incredible scenery.
Here we will introduce various places to go, eat, and stay on Taketomi Island in a detail. Come fall under its spell!

1. Popular Spots to Visit on Taketomi Island
2. How to Get to and Enjoy Taketomi Island
3. Relax on the Island – Restaurants and Cafés
4. Where to Stay at Taketomi Island
Summary
1. Popular Spots to Visit on Taketomi Island
1-1. Kondoi Beach
~Who Hasn't Dreamed About Such a Paradise?~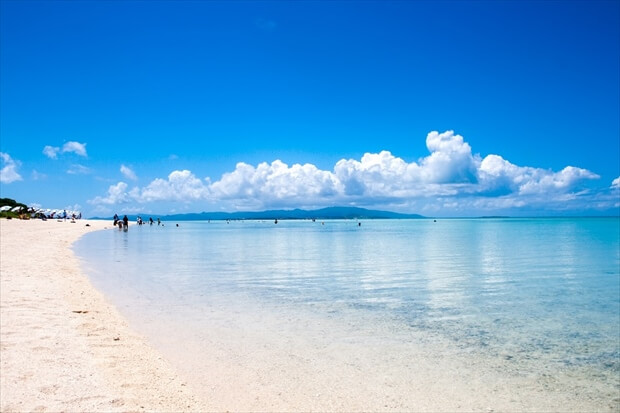 Kondoi Beach, where blue ocean waters and white clouds dazzle over white sands.
Kondoi Beach is the representative beach in Yaeyama and has shallow waters, which makes for safe swimming when it comes to families with small children.
As the home of one of Japan's largest reefs, it's also a prime location for diving. It is truly an ocean coveted by divers throughout the world.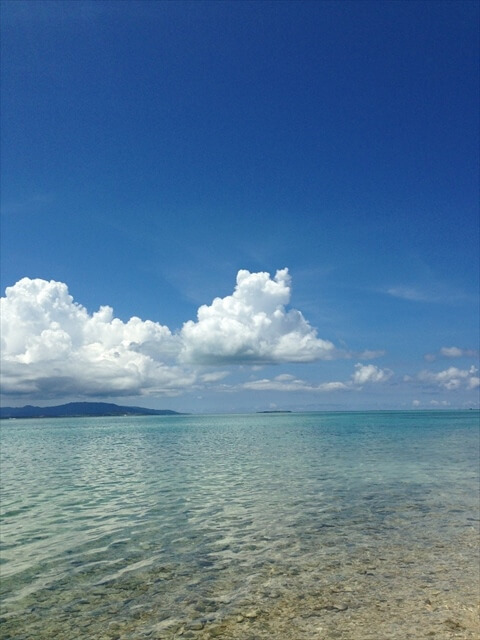 At low tide, a lustrous white sandy beach emerges when the ocean pulls away.
With plenty of change rooms and restrooms, the beach is also conveniently equipped for swimming.

Escape the clamor of city life: Kondoi Beach is a wonderful place that combines soothing scenery and happiness.
1-2. Nishisanbashi
~A Registered Tangible Cultural Property of Japan. Just Wait Till You See the Sunset from Sanbashi Pier~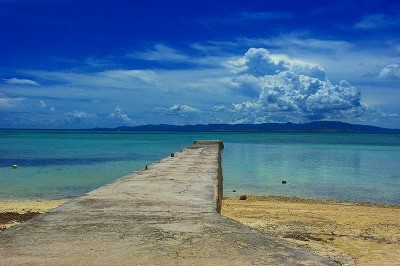 Photo credit by Taketomi Town Tourist Association
The Sanbashi Pier is about 105m (≒344 ft) long and is famous for its sunset view. During high tide at noon, you can enjoy watching colorful fish swimming through clear seawater. Lying back on the pier at night, you will find a glorious starry night.
1-3. Kaiji Beach
~Experience Nature in All Its Glory! Come and Find Fragments of Sun and Star~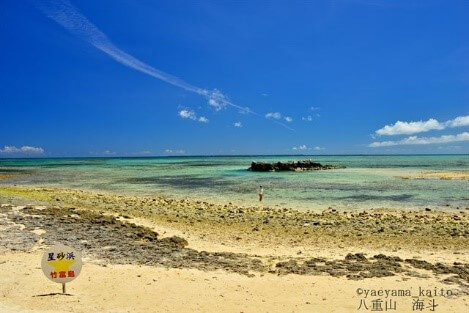 Photo credit by Yaeyama Kaito
Kaiji Beach is also known as "the beach of sand-stars." As the name suggests, you can find sun- and star-shaped shells along the white beach.
These are not bleached coral but foram shells!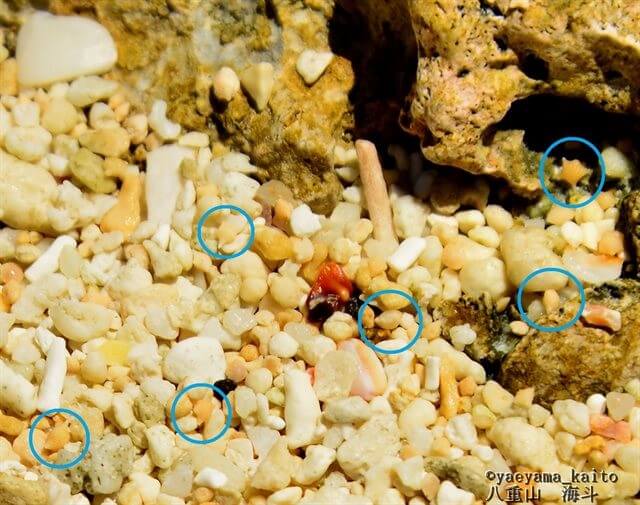 Photo credit by Yaeyama Kaito
There's a simple way to find out if you're on the beach of sand-stars: just press your palm firmly against the sand and there will be stars in your hand.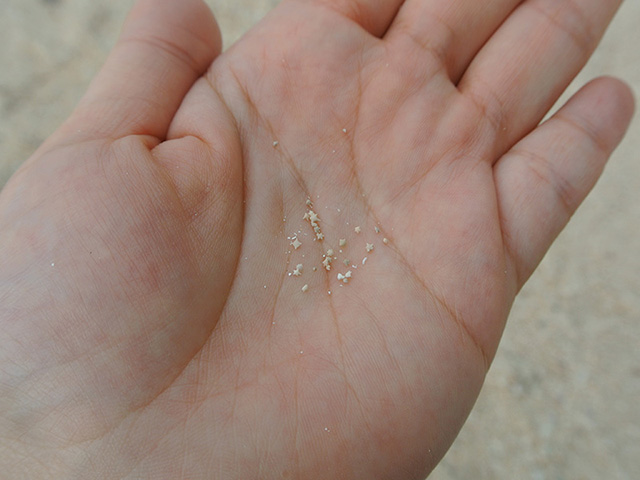 Feel free to bring your sand-stars back home with you. But please note that Kaiji Beach is a national park. Be aware that scooping up sand to take home is prohibited!
You may also purchase sand-stars in small vials at shops. They make for great souvenir gifts.
*Kaiji Beach has fast moving tides. Swimming is prohibited. Please do not swim in the water!
~Summary~
*You MAY take sand-stars home with you!
*You MAY NOT take white sand from the beach home with you!
1-4. Nagomi Tower
~The Only Spot Where You Can Overlook all of Taketomi Island~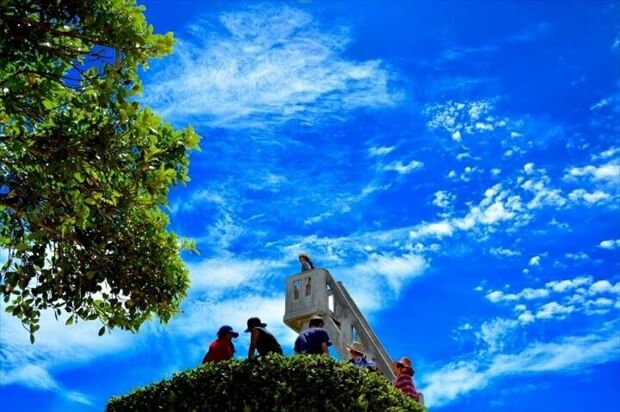 Photo credit by Taketomi Town Tourist Association
Nagomi Tower is an outlook offering a full view of Taketomi Island's village. An essential tourist vantage point.
Taketomi Island is serious when it comes to both protecting tradition and zoning. Aside from the two-story elementary and middle schools on the island, the rest of the buildings are huts.
This adds to the island's charm and perhaps its popularity.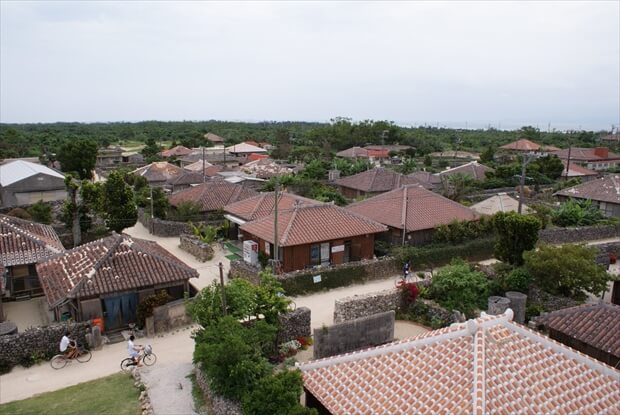 The nostalgic scenery of the island has often served as a backdrop for movies and dramas. In fact, it consists almost entirely of ordinary houses.
One of Nagomi Tower's charms is that it is where you can enjoy natural scenery. But be careful when ascending and descending the steep narrow steps.
1-5. The Kuyama Asadoya House
~The Birthplace of Okinawan Sanshin Classic "Asadoya Yunta"~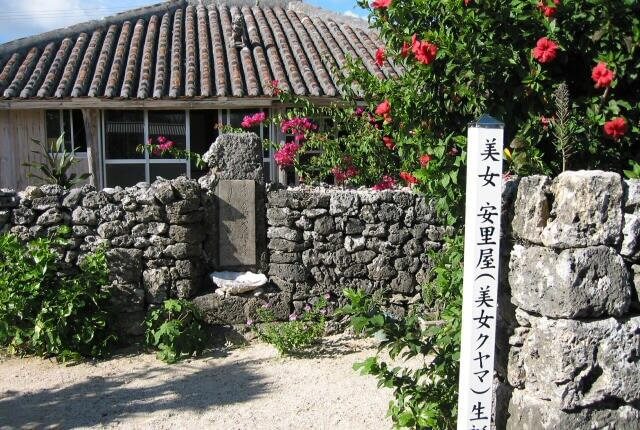 "Asadoya Yunta" is an Okinawan folk song which tells the story of the matchless beauty "Kuyama." It is a classic piece of music played on the traditional Okinawan sanshin. The Kuyama House still stands.
It is said that despite countless officials courting her, the matchless beauty Kuyama Asadoya is famous for remaining single her entire life so as to stay on Taketomi Island.
The house is currently inhabited and closed to the public. However, you can still see the stone wall built by Kuyama.
2. How to Get to and Enjoy Taketomi Island
2-1. How to Get to Taketomi Island


~The Remote Island of Your Dreams: the Yaeyama Islands Start from Ishigaki Island~
Ishigaki Island is the gateway to the Yaeyama Islands. To get to Taketomi Island, you must take a ferry from the "Ishigaki Island Port Isolated Island Terminal."
The terminal is about 30 minutes by car and 40 to 50 minutes by bus (Azuma Transportation Line Bus) from Ishigaki Airport.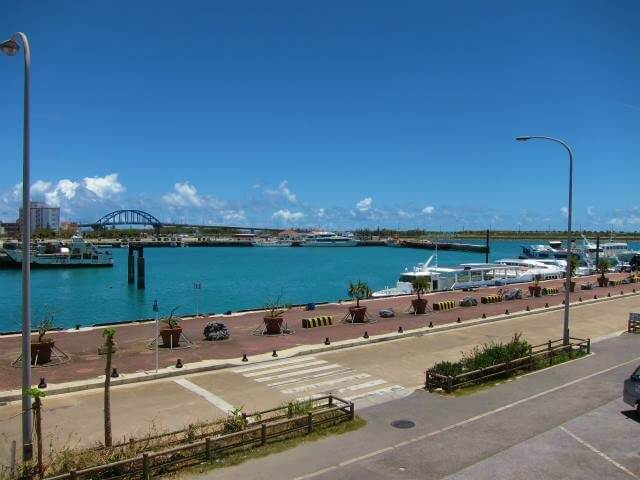 Photo credit by Taketomi Town Tourist Association
There are ferry companies which service the outer islands at the Ishigaki Island Port Isolated Island Terminal. After making arrangements, board a ship to Taketomi Island. As each trip only takes ten minutes, you could make your visit a day trip.
Each company also offers tour deals which are very convenient. There is another convenience: if you apply a day-trip plan, you can receive free shuttle service between the terminal and your hotel.
You will also find travel agencies inside the terminal offering a variety of outer island tour plans. You can also reserve a tour ahead of time. Please pick a plan that fits your needs.
※Address of Ishigaki port Isolated Island Terminal: Misakicho 1 Ishigaki, Okinawa 907-0012 Japan
<Ferry Company>
【Ishigaki Dream Tours Co.Ltd】
TEL:0980-84-3178
【Yaeyama Tourist Ferry】
TEL:0980-82-5010
【AEI KANKO】
TEL:0980-83-0055
<Travel Agency>
【Ishigaki Island Travel Center】
TEL:0980-83-8881
【Iriomote Island Toutist Center】
TEL:0980-82-9836
【HIRATA KANKO】
TEL:0980-82-6711
2-2. When You Arrive
Take in the beautiful ocean view from a high-speed ferry and arrive at your destination in 10 enjoyable minutes!
After disembarking from the ferry, you will find minibuses, water buffalo carriages, and rental bicycles waiting for you at the port.
You may choose to walk to the village, but it will take 20 minutes and you will need to be in relatively good shape. If you have made reservations at an inn, you can let them know of your arrival ahead of time and they will send staff to come and pick you up!
2-2-1. Ride on a Water Buffalo Carriage
~Travel the East or West Village Route. Which Path Will You Take?~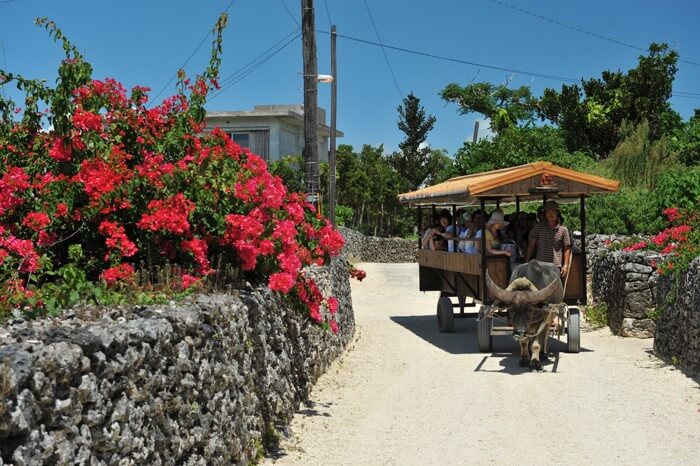 Water buffalo carriages are run by "Nitta Tours" and the "Taketomi Tourism Center." They will most likely leave the deepest impression during your stay on the island.
The carriage drivers, who go by the name "Ojii" (old man), will tell you about the history and flora of the island. A tour to the sounds of the sanshin makes for an adventure unique to Taketomi Island.

Nitta Tour carriages will stop off at Nagomi Tower and the Asadoya Kuyama House on their western course. The Taketomi Tourism Center runs its carriages on the eastern course, stopping off at Nishitou-Utaki, Machinami-kan, and the Taketomi Tourism Center.
Enjoy your slow journey down white sandy roads to sanshin melodies. The rates are the same for both companies with shuttle service included: 1,200 yen for adults, 600 yen for children.
<Water Buffalo Car Tourist Information>
【Nitta Kanko】
Address:Taketomi 97 Yaeyamagun Taketomicho, Okinawa 907-1101 Japan
TEL:0980-85-2103
【Taketomi Tourist Center】
Address: Taketomi 441 Yaeyamagun Taketomicho, Okinawa 907-1101 Japan
TEL:0980-85-2998
※Both of Tour will take 30 minutes
2-2-2. Ride a Rental Bicycle
~Ride Merrily Along Your Own Path~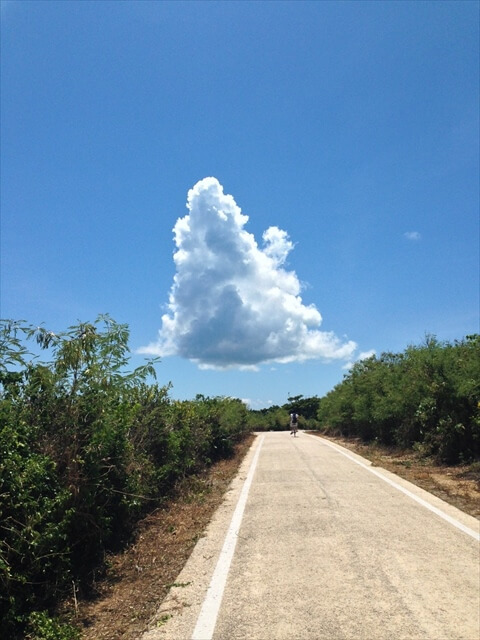 Although the village can be reached by foot, renting a bicycle is the recommended choice for those who would like to enjoy all the scenery the island has to offer.
Several rental shops offer shuttle service at the port, so it's easy to rent a bicycle. Taketomi Island is around 9.2km (≒5.71 miles) in circumference. With a bicycle, you can tour the entire island in an hour!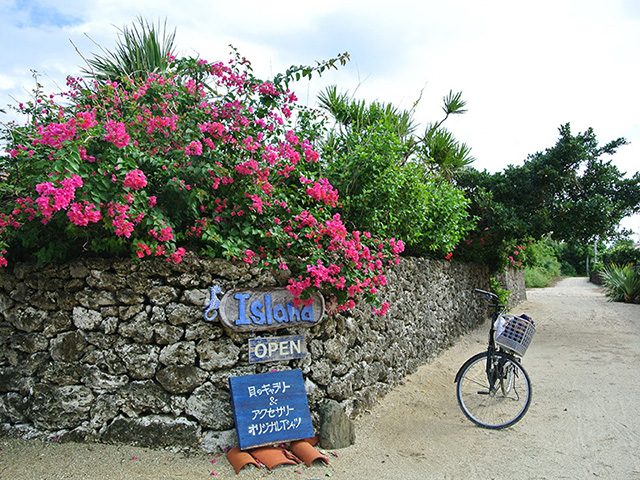 Please cycle comfortably through the village and island roads at your own pace! If you have children below the age of three, you may ask for optional child carriages. You can enjoy a safe ride with your family.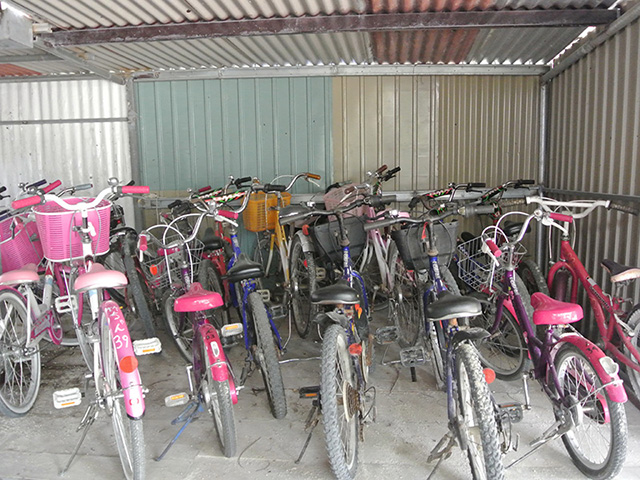 Note that the rental bicycles do not have locks. Please remember to write down the number assigned to your bicycle when stopping off at a landmark!
<Rent-A-Cycle Tourist Information>
【Nitta Kanko】
TEL:0980-85-2103
【Taketomi Tourist Center】
TEL:0980-85-2998
【Tomori Rent-A-Cycle】
TEL:0980-85-2305
【Maruhachi Rent-A-Cycle】
TEL:0980-85-2260
※Fee:from JPN 300 YEN (≒USD 2.73 ) ~ for an hour / JPN 1,500 YEN (≒USD 13.64 ) for a day
2-2-3. Ride on a Tour Bus
~A Comprehensive Day Plan for Those Who Wish to Make the Most of Their Time!~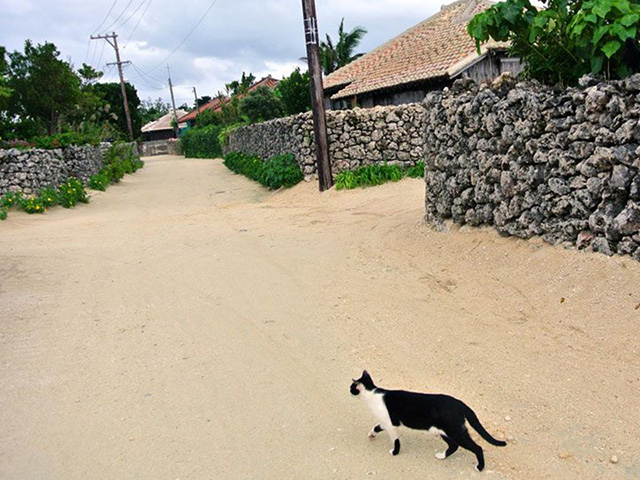 Aside from water buffalo rides and bicycle rentals, there are a number of ways to enjoy your time on Taketomi Island.
There are a number of comprehensive bus tour courses from Ishigaki Island that cover the must-see sights of Taketomi Island.
Travel agents at the Ishigaki Island Port Isolated Island Terminal offer a variety of courses. We recommend the "Tour Bus and Glass-bottom Boat Set Plan."
you can leisurely gaze upon the clear ocean world through the floor of a glass-bottom boat. Afterwards, board a minibus for a joyful ride around town.
There are very comprehensive and rich courses available, so please choose the plan that appeals to you.
※Referred Model Course Conducting Company:AEI KANKO
■Taketomi Island Tourist Bus・Glass Board Course:Adult JPN 4,600 YEN(≒USD 41.82 )/person~
■Fee includes: Round Trip Ferry Free from Ishigaki Island to Taketomi Island, Glass Board Fee, Bus Tourist Fee
■Contents of Course:Ishigaki Port→Taketomi Port(about 10 minutes)~Watching coral from Glass Board(about 25 minutes)~Taketomi Yugafu Kan(about 15 minutes)~Touring within Island by Micro Bus(about 30 minutes)~Kaiji Beach「Star-sand Beach」(10 minutes)・Kondoi Beach(From car window)・Houses(10 minutes)~Taketomi Port(From Free Liner)~Ishigaki Port
→You can make a reservation from Taketomi Island tour from Here
2-2-4. Walk the Island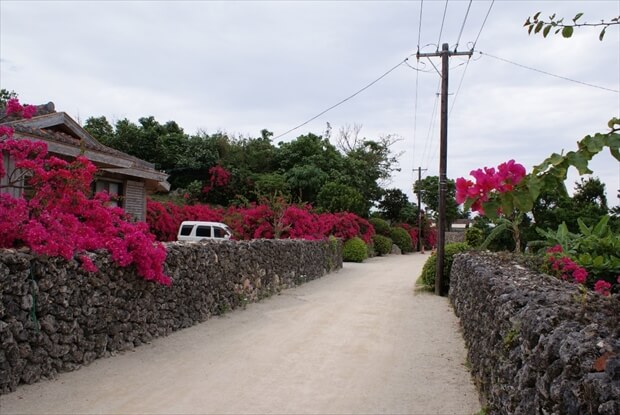 ~Discover Taketomi Island like an Islander~As we mentioned earlier, it's a twenty minute walk from Taketomi Port to the village.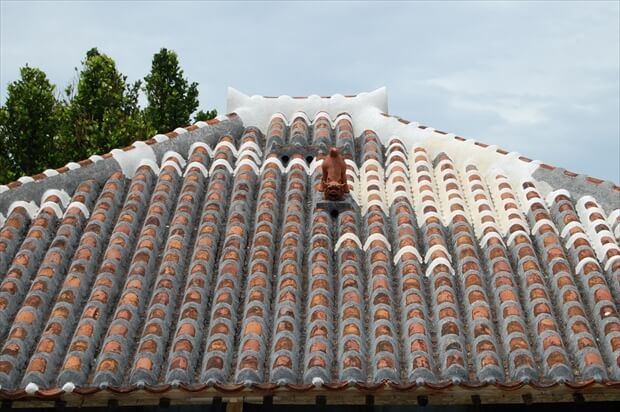 Our recommendation for your walk is the red-tile roofs of Taketomi Island.
When you observe the face of a shisa house guardian, you will notice that it expresses a full range of emotions. Its wild and free form illustrates the playful spirit of the islanders. We recommend taking a good look.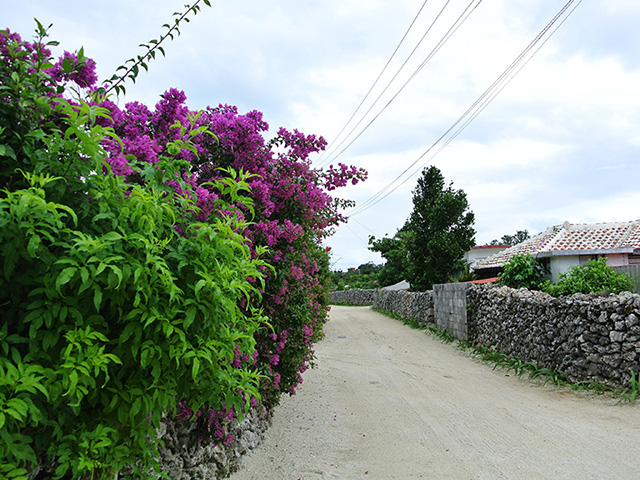 You can also opt for a barefoot tour of the island with a local 'Obaa" (old woman). If you want to dive deep into Taketomi Island, this is for you.
【NPO Takidon】
TEL:0980-84-5633
URL:http://www.takidhun.org/
3. Relax on the Island Restaurants and Cafés
3-1. Parlor Painu Island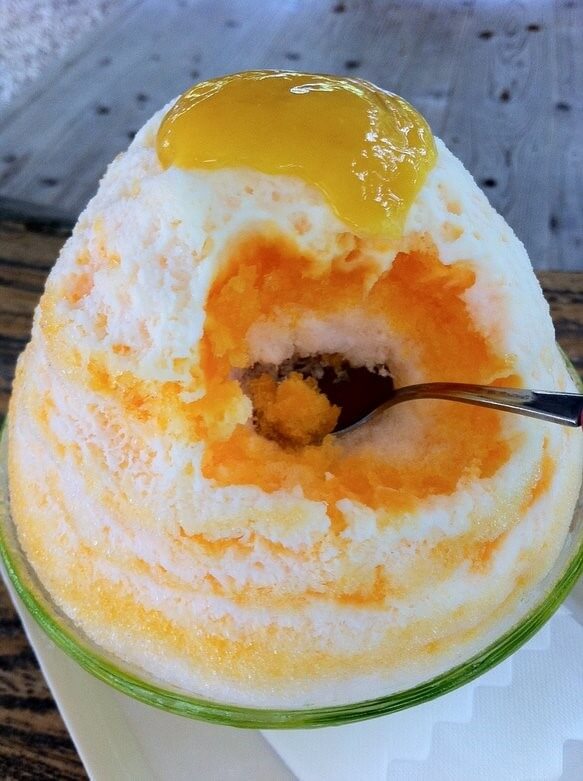 ~Delight in Snowy Shaved Ice~
Aside from their Yaeyama soba, Taketomi Island's "Parlor Painu Island" is famous for their shaved ice. This ice has quite an amusing taste.
Thoroughly covered in syrup, this shaved ice is actually quite fleecy!
Packed tight, it doesn't melt fast. It's a highly unique shaved ice for the region.
But there are so many flavors to choose from that the trouble lies in making a choice! Our number one recommendation is the mango flavor. It's rich in pulp and so delicious that you won't be able to hold back a smile after your first bite.
【Parlor Painu Island】
Address: Taketomi 417 Yaeyamagun Taketomicho, Okinawa 907-1101 Japan
TEL:0980-85-2505
Opening Hour:10:00~17:30(Lunch time is available too)
Closing Day:Sunday ,National Holiday and Taketomi Island's Festival day
3-2. Takenoko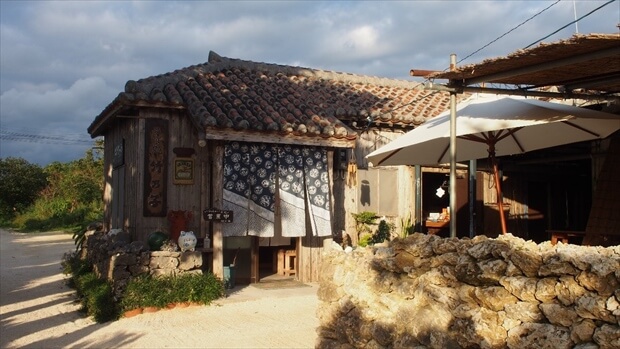 ~Here's the Place for Yaeyama Soba. It's Even More Delicious on the Island!~
Can anybody tell the difference between "Okinawa soba" and "Yaeyama soba"?
While "Okinawa soba" is thick with a slightly twisted shape, "Yaeyama soba" primarily comes in thin straight round noodles. A round cross section and unique island spicing are two of its major features.
Common toppings include steamed fish paste and pork spare ribs. Red ginger is used on Okinawa Island, but for the most part it's not used in Yaeyama soba. Often, finely chopped pork belly is used instead!
Recently, people have started topping their soba noodles with vegetables. There is also more variety in the menus. Of course, you can still enjoy an authentic "Yaeyama soba" at Takenoko.
Please try "Yaeyama soba" if you get the chance!
【Soba Takenoko】
Address:Taketomi 101-1 Yaeyamagun Taketomicho, Okinawa 907-1101 Japan
TEL:0980-85-2251
Opening Hours:Lunch 10:30~16:00(till soba is out of stock)・Dinner 18:30~24:00(L.O.22:30)
Closing Days:Undecided(Island event day will be closed)
4. Where to Stay on Taketomi Island
4-1. Hoshinoya Taketomi Island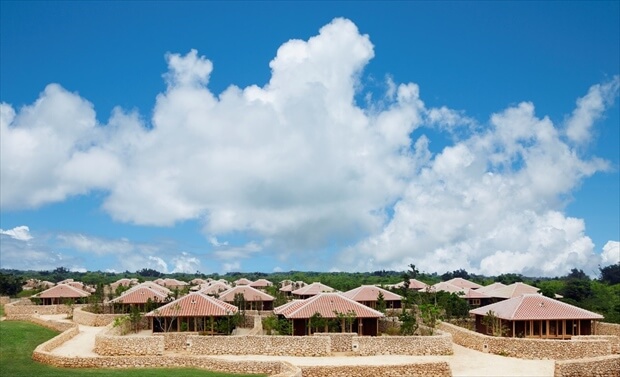 "Hoshinoya Taketomi Island" is a resort that preserves the atmosphere of Taketomi Island, a place rich in tradition and history, and uses the island's strict zoning rules to its advantage.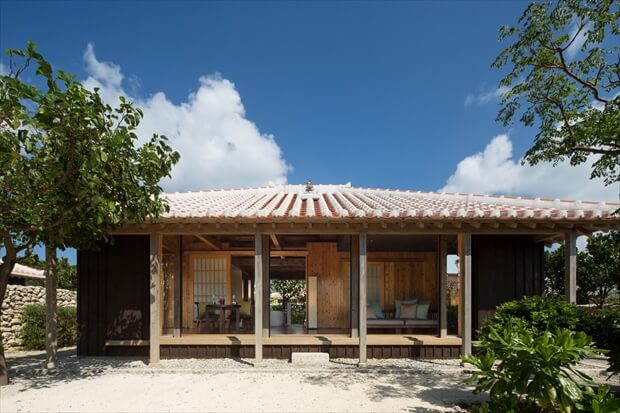 Hoshinoya is a completely isolated resort that, in the village fashion, uses Ryukyu red tile roofs and stone walls known as "gukku." The resort faces south, assuring the privacy of its guests. And the breezy interiors are absolutely extraordinary.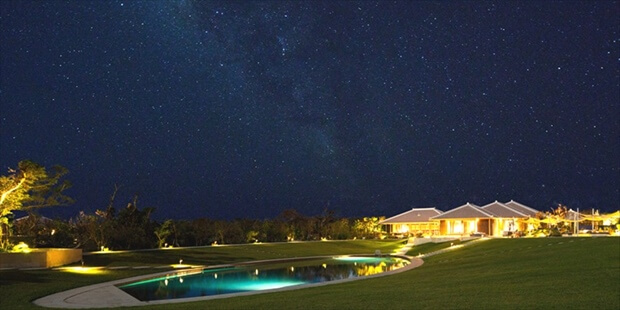 And don't forget the best part about staying on Taketomi Island: the star walks.
You can see 84 out of the 88 constellations, and 21 first magnitude stars take their place in the sky every night. Because the skies are very clear, the stars will shine with sharpness and clarity. So let's take in some stars!
Let's spend a quiet and relaxing starry night living the true Taketomi Island experience?
[Hoshinoya Taketomi Island]
Address:Taketomi Yaeyamagun Taketomicho, Okinawa 907-1101 Japan
TEL:0980-84-5888(Reservation:050-3786-0066)
4-2. Hotel Peace Island Taketomi Island


~A Location with Fabulous Access to Sightseeing and the Beach~
The Hotel Peace Island Taketomi Island is where the contrast between a perfect blue sky and red tile roof is beautiful. Built like a cottage, this is a popular resort where families or couples can have a relaxing stay. The spacious courtyard is perfect for reading or resting when you need a moment to recover from all your traveling.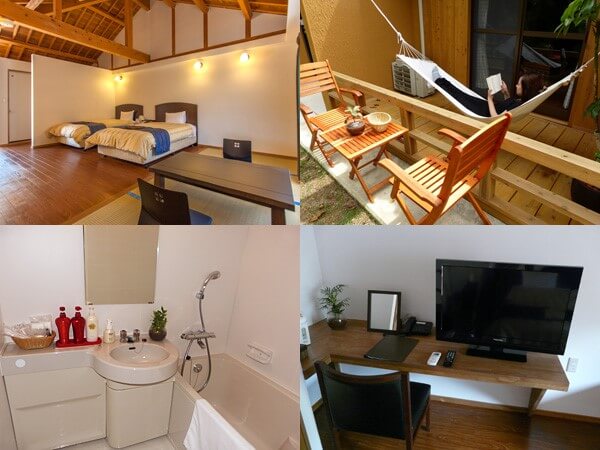 The rooms range widely from standard twin rooms to suites and can easily accommodate young children. For all those who worry about their children disturbing other patrons at a guesthouse: worry not, this is the place for you!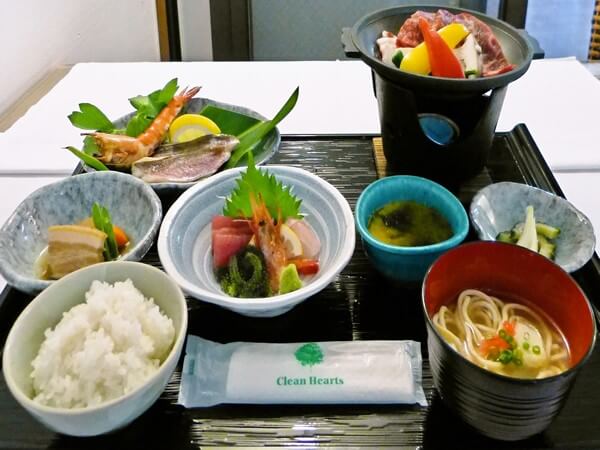 And then there's the food, which we highly recommend: the hotel is popular for dishes that make use of many island ingredients and a menu that will not overlap should you have an extended stay.
Stargazing at night is a must. Just lay back in a courtyard chair and look up, or walk five minutes to "Nishi-Sanbashi Pier" and lie down… Enjoy this stargazing experience that you won't find in any other cities in Japan!
[Hotel Peace Island Taketomi Island]
Address: Taketomi 112-1,Yaeyamagun Taketomicho, Okinawa 907-1101 Japan
TEL:0980-84-5955
4-3. Stay in a Guesthouse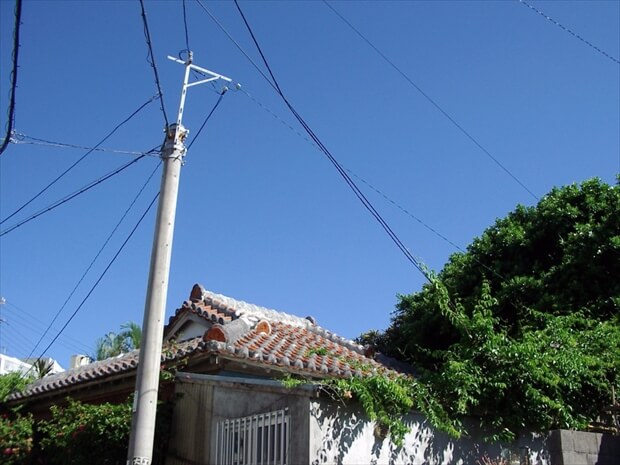 Stay in a guesthouse that will bring you closer to the islanders. Try the traditional and uniquely Okinawan manner of renting an "ichiban-za" (first) or "niban-za" (second) room when you're on Taketomi Island.
While dormitory types are available, the number one characteristic you must respect is that of "communication between islanders and lodgers."
Whether you stay in a place where your host treats you to sake and sanshin melodies or a place where drinking and conversation is initiated by the guests, you can be sure that you will spend a fun evening.
Make unique memories in a unique guesthouse style of living!
It is highly recommended for those who like a lively atmosphere.
Join your fellow travelers and try to meet some islanders.
Summary
Taketomi Island is a truly wonderful place that makes you want to return to it again and again.
You feel revived by the kindness and hospitality of the islanders and the beauty of the island itself.
And then there's the wonder of stopping by places preserved from days of old.
With this in mind, we have summarized some "Considerations for Travelers" which we thought up during our visit to Taketomi Island.
・Absolutely do not enter holy grounds, such as sacred spaces and places of worship.
・There are no convenience stores. Public vendors close shop early, so likewise buy your necessary goods early.
・There is no bank on Taketomi Island. You can only take out money at the post office. Please note that the post office is closed on Sundays.
・There are no money exchangers. So if you are going to buy small items like juice, please bring small change. (We suffer from a chronic lack of change.)
A little consideration and care will make for wonderful travel memories.
We wish you many, many happy memories during your time on Taketomi Island!