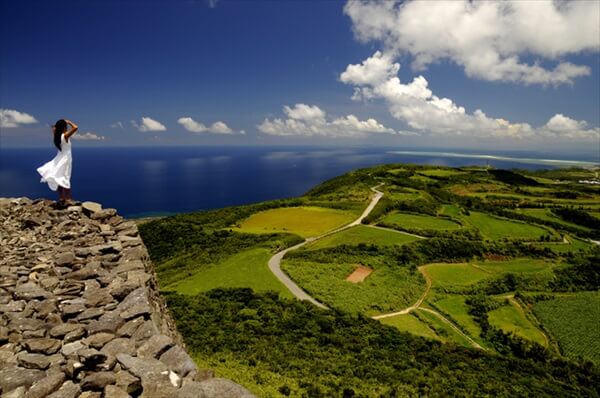 Here's a guide to all the things to do, plus "Hate-no Hama", and other must-see places in Kume Island (Kumejima). You'll also find directions to Kume Island and information about how to go around on the island.

1. What the "Kume island" is
Kume Island is westerly 100km away from the main island of Okinawa . It's also the westernmost island in the Okinawa Islands.
One remarkable spot is "Hate-no Hama". This uninhabited island stretches for 7 kilometers with only sandy beach.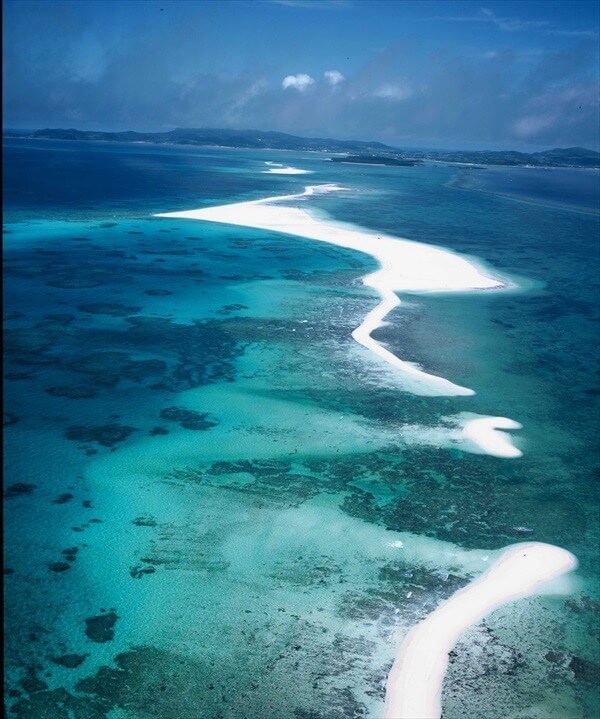 Aside from the ocean, it's abundant with nature. For example, large cracked stones are stretched out almost like tiles(Tatami Stone" formations).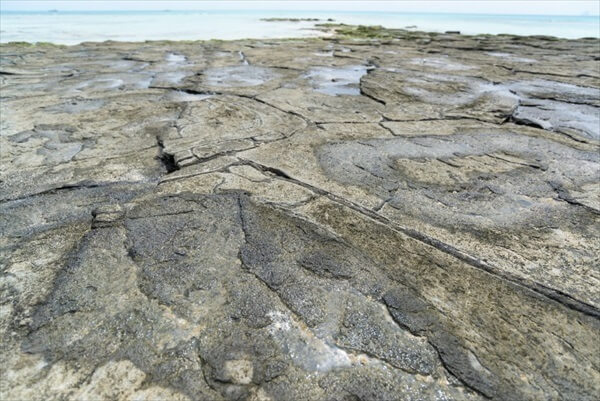 This "Goeda Pine" tree grew laterally, spreading out for more than 320㎡.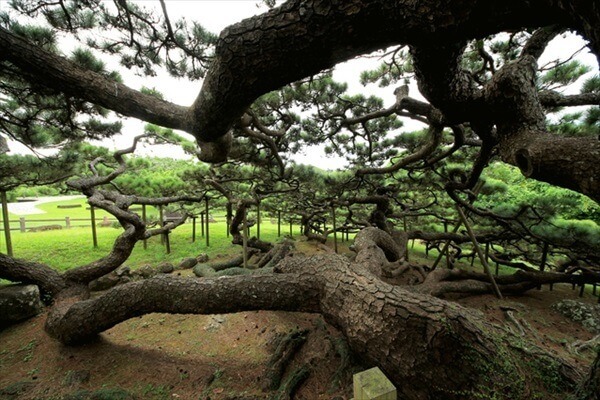 Then there is a rough sugarcane field…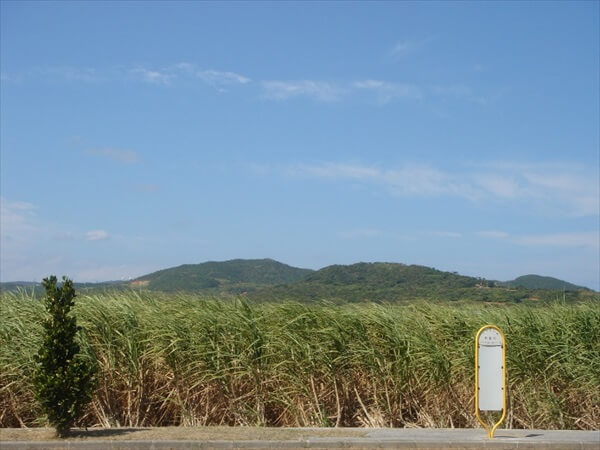 Here you can feel the grandeur and beauty of nature in the different forms.
So with that in mind, let's get into some details of what you'll find in Kume Island!
2. Hate-no Hama
2-1.What "Hate-no Hama" is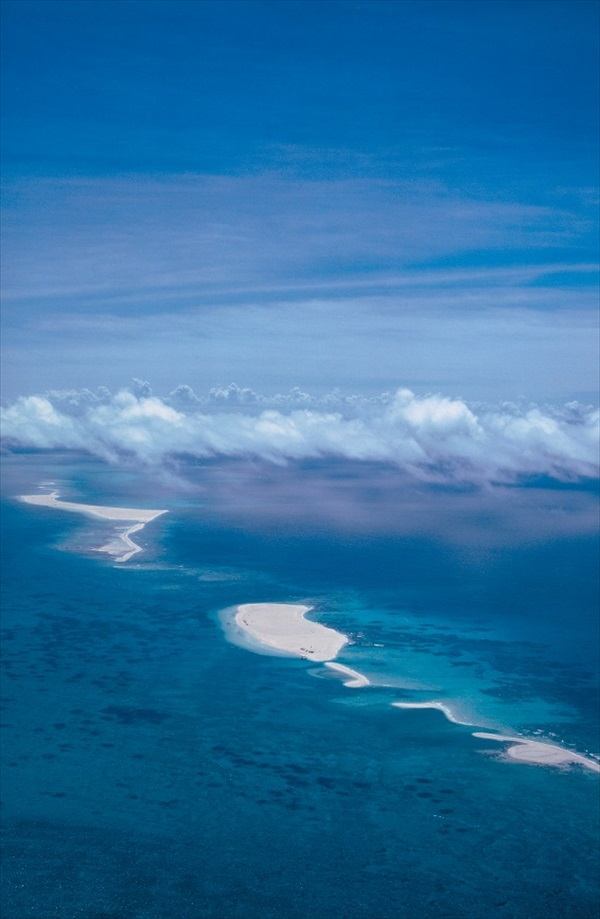 "Hate-no Hama" is located to the east of Kume Island. It's named "Hama" (meaning, "beach"), but actually it's an uninhabited island.
It's shaped as a narrow but long stretch of sandy beach.
Once you step down onto it, you'll be surrounded by an endless expanse of emerald green waters. It's beauty stems from having the clearest waters in the East.
Hate-no Hama is as long as 7 kilometers, which is split into three; "Meenu Hama", "Naka-no Hama" and "Hate-no Hama".
Among these, "Hate-no Hama" is the furthest beach and the biggest beach in there.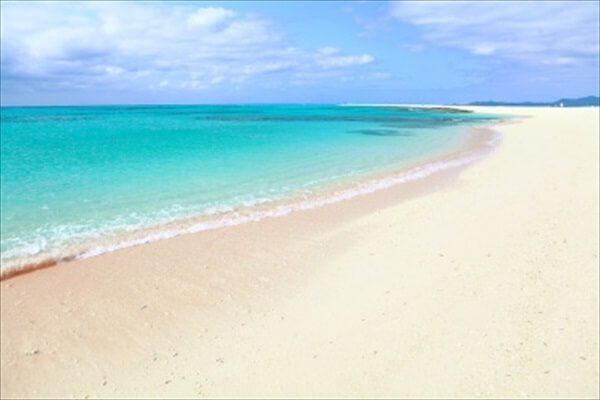 There are no trees on the purely white beaches, but Hate-no Hama is actually an island made of coral. The white sands are actually made of bits of coral that have gathered over thousands of years. Here is known alternatively as the "Coral Sandy Island". This place is a very rare part of Japan, and distinguished landmark in the world.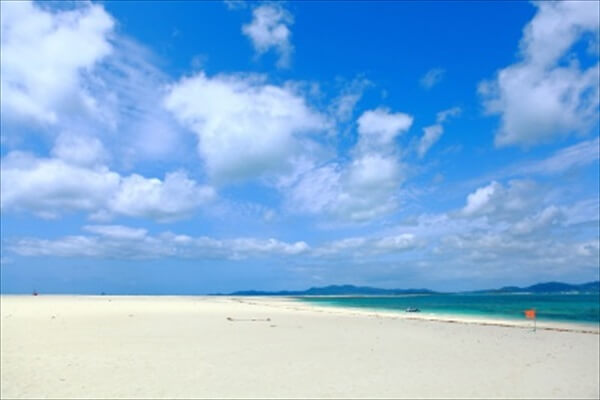 But why did the coral sands come together like this?
Originally, it started as small pieces of things like white coral and broken shells, star sand, sea urchin shells, cactus weeds and the lime secreted by seaweed. Through the processes of nature, these materials were eventually turned into sand.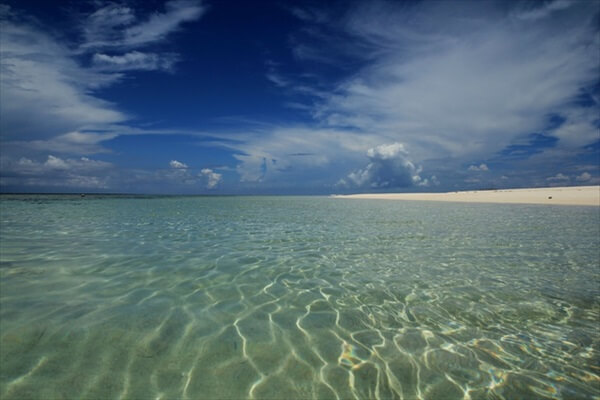 Within these waters, you'll find many brightly colored fish.
No matter what season or what angle you look at it, these beautiful, clear waters are breathtaking.
2-2.How to get to Hate-no Hama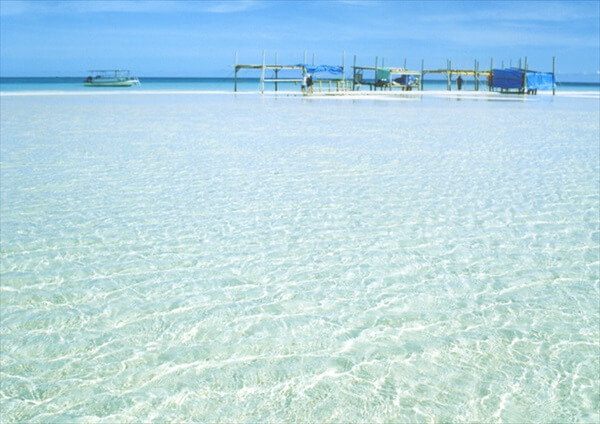 Here's a guide on how to get to "Hate-no Hama".
You'll typically need a boat to get there. The tour companies on Kume Island have a variety of plans, so that you can pick a course that meets your budget and travel plans.
During the busy season (July-August), almost every tour company will require a prior reservation. During off periods, you can reserve the day before or even the same day.
Here's an example of a standard half-day plan
~Standard Tour *Half-Day Course~
9:00   Meet & Depart at Fisharena
9:30   Arrive at Hate-no Hama
12:00   Depart Hate-no Hama
12:30   Arrive Back at Fisharena
※Will vary slightly between each tour company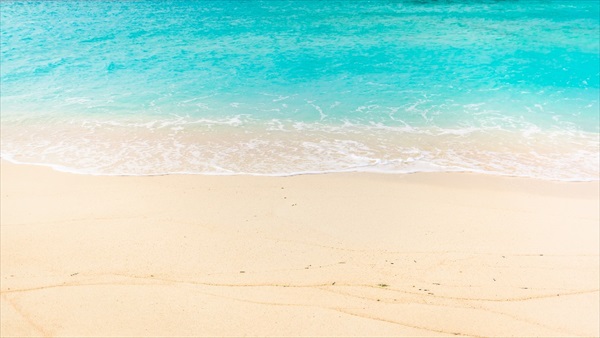 In the winter season, there are some tour companies that have designed special routes where you can go on a glass boat, and enjoy the ocean waters along your way.
3.Things to See on Kume Island
3-1.Mi Fuga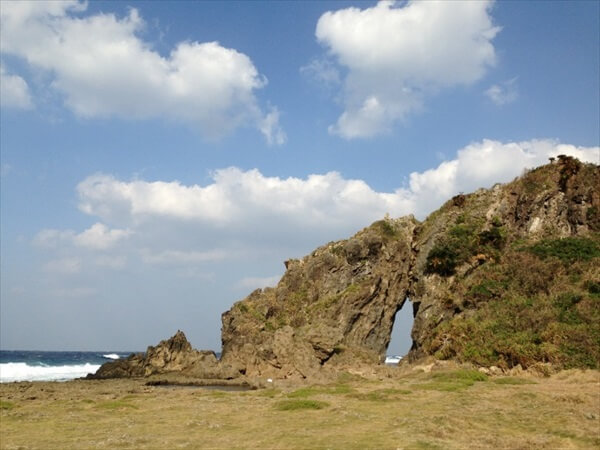 Mi Fuga, made of two adjoining rocks, is a famous tourist destination in Kume Island.
"Mi Fuga" means "Girl" in the local dialect, so sometimes it's also called Onna-Iwa ("Girls Rock").
Mi Fuga was formed over 4 million years ago. Kume Island was originally part of a chain of volcanic islands in the Ryukyu Island close to the East China Sea. It is also a volcanic island comprised of pyroxene andesite rock now. Mi Fuga is one of the unique rock structures that exemplify the volcanic island.
You'll find rock formations that have accumulated from different types of volcanic rocks and ash on land. The rocks closer to the ocean are limestone.
Being able to see this many different rock types at once is very rare. This is why here is popular as a 'power spot'.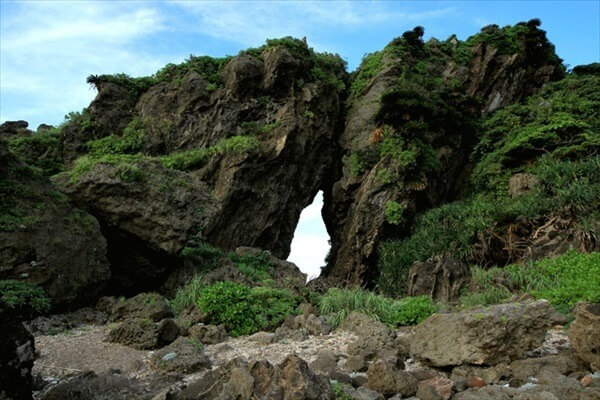 There is an old legend known in Kume Island. According to the tradition, if a women who is unable to bare children comes to the rock and prays, it's said that she will be blessed with a child.
You can approach the rock by walking the path between the rocks. However, it's hard to find a good foothold. So, you should make sure to wear comfortable and non-slip shoes.
3-2.Une-no Dai-Sotetsu (The Garden of the Gods)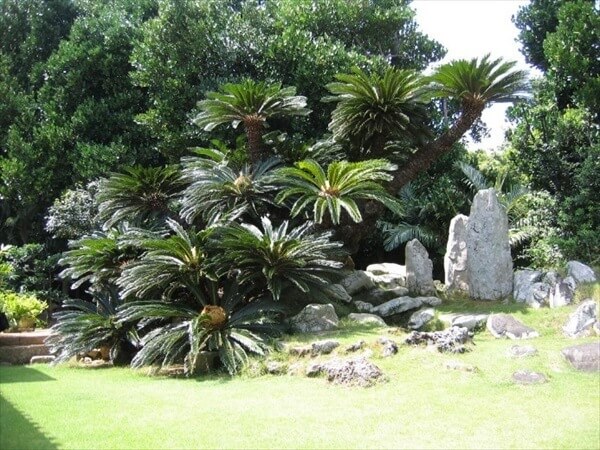 "Sotetsu" is a type of evergreen shrub that can be seen in southern areas like Okinawa and Kyushu.
You can see many of these trees in Okinawa, but the Une no Dai-Sotetsu, located inside the Kikumura family estate is said to be the largest in the Ryukyu islands.
It's about 250 to 300 years old, and is about 4 to 6 meters tall. You can also see the Maja no Chura Fukugi, which are both natural monuments recognized in Okinawa Prefecture.
The Kikumura family has watched over the Dai-Sotetsu for many generations. It's listed as a tourist spot in guidebooks, but it is part of a normal residence. Please make sure to show your manners and appreciation!
※No Parking Available
Address: Kumejima-Cho Une 5
TEL: 098-985-8547
3-3.Tatami Stone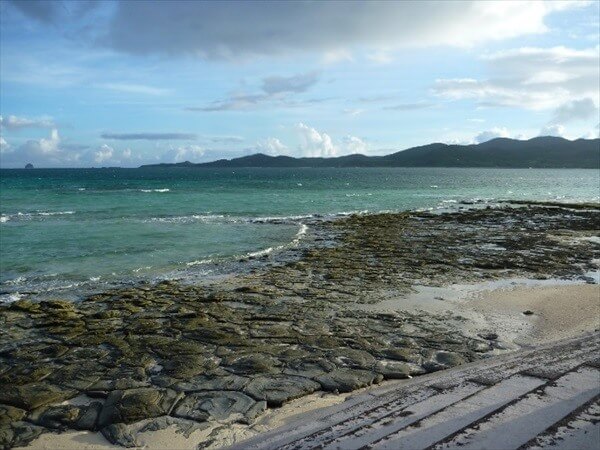 The Oujima-Kume Island Tatami Stone was designated as a natural monument of Okinawa Prefecture in July 2014. If you cross a bridge from the east of Kume Island, the Tatami Stone is on the connecting "Oujima" island. To the east of Oujima you'll find "Oha-jima", from which begins the extend of Hate-no Hama.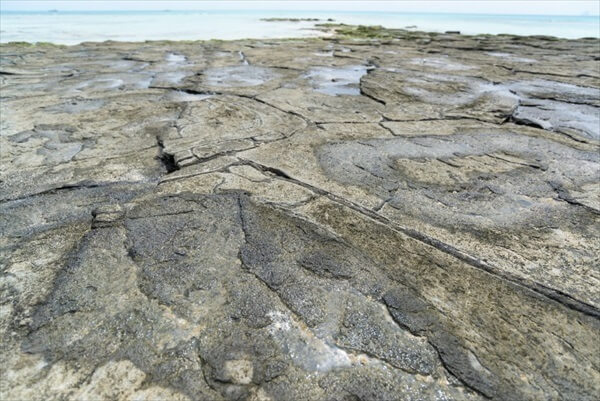 The Tatami Stone is made of lava flows that cooled and hardened. It looks like the plates of over 1,000 tortoise shells have been laid out. Each piece is a different size, but they are all large, with a diameter of over 2 meters. Since the surface resembles a tortoise shell, it's also called Kiko-Iwa (Tortoise Rock).
These unusually shaped rocks, including the igneous columnar jointing formation, are very rare sights to find throughout the world.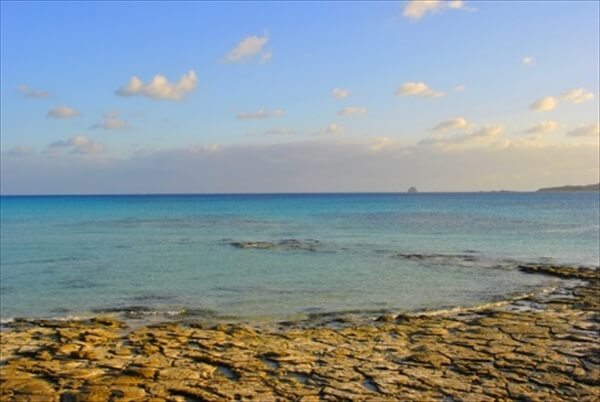 At low tide when the Tatami Stone emerges, you can walk on it. There are a few scattered holes where you can find small fish swimming who were left behind by the tide! Please check ahead and plan to visit during low tide.
■Ryukyu Island Tidal Charts
http://tide736.net/ryukyu/
3-4.Obakezaka
This place has the name "Obake" ("ghost"). The trick is…this is a hill where many mysterious experiences are caused by a "Gravity Hill , a type of optical illusion.
This is an illusion where partway on an uphill slope, the hill suddenly becomes even steeper. Based on how the vegetation grows around this, this makes it look like you're going downhill, even though you're still going uphill.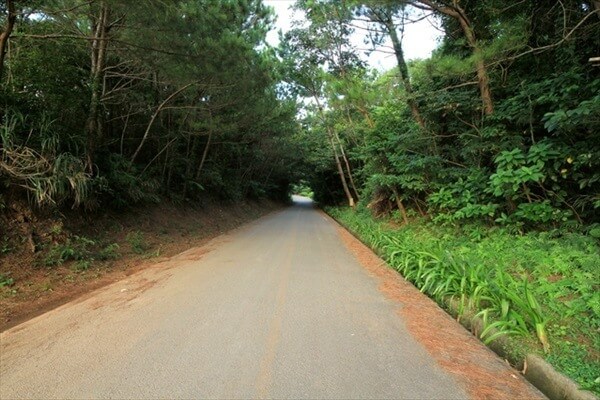 When you come to see it, make sure to bring something that rolls. You'll have fun seeing how it moves (watch the interesting video!)
Address:Gushikawa Kumejima-cho, Okinawa-ken
TEL: 098-896-7010 (Kume Island Tourist Bureau)
3-5.Uegusuku Castle Ruins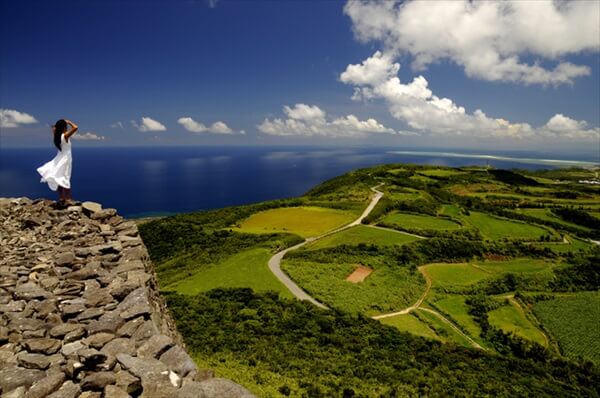 One of Kume Island's most picturesque sights is the "Uegusuku" Castle Ruins. It's unknown when it was built, but it's believed to have ruined around the 1500s.
It sits at an elevation of almost 310 meters. It's the highest point in Okinawa Prefecture, giving you a view of all of Kume Island. You can see Hate-no Hama, and even the main Okinawa Island nearby on a clear day.
Fragments of Chinese pottery have been excavated from the castle ruins. Excavation still continues today, as this place is famous for being filled with untapped history.
Address:Ueshiro Shimajirigun Kumejimacho, Okinawa
Access: Approx. 30 min. drive from the airport
Cost: Free
Parking: Available (Free)
3-6 Hiyajo Banta Cliff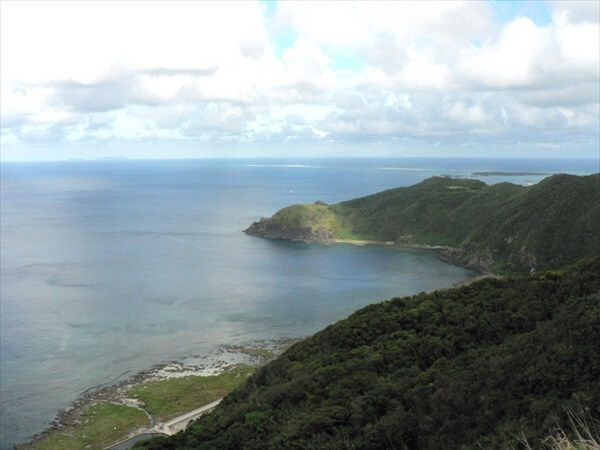 Hiyajo Banta is a place where you can look out onto the limitless, endless expanse of ocean. On a clear day, you can even see the Kerama Islands, Tonaki, and Agunijima!
3-7 Goeda Pine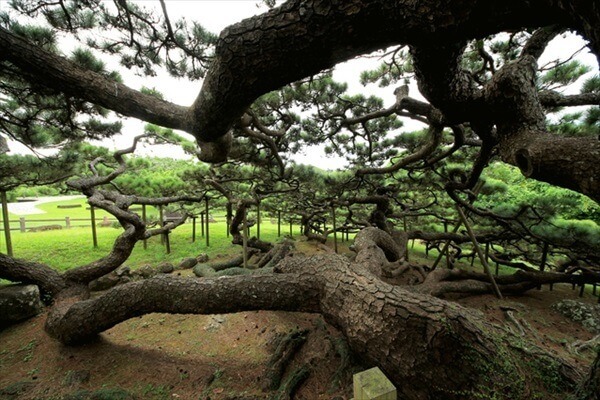 You can enjoy the "Goeda Pine" within the Prefectural Natural Park. It's designated as a national landmark, and was selected as one of the "Best 100 Pine Trees in Japan".
It's lived for more than 250 years. Over long periods of time, it would extend out laterally, until finally it reached 320㎡. This is another mystery of nature!
4.Kume Island Hotels
4-1.Eef Beach Hotel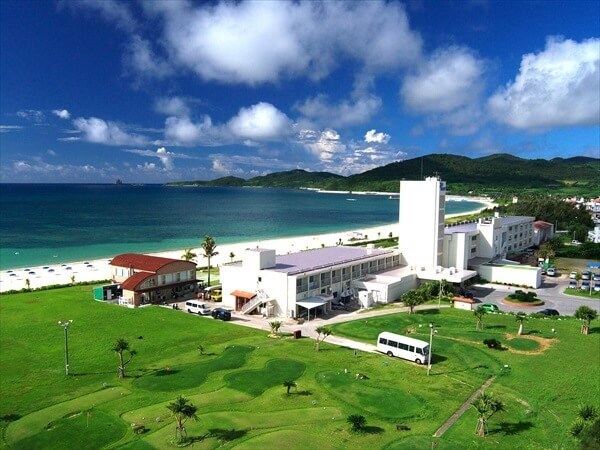 Eef Beach Hotel has an superb location and just in front of the famous Eef Beach.
It's directly connected to the beach, with an extremely convenient location and you can enjoy see from morning till night.
It's located on the east side, so you can see the sun rise over the ocean.
There's a pool, tennis courts, restaurants, as well as a separate facility for spa and marine shop.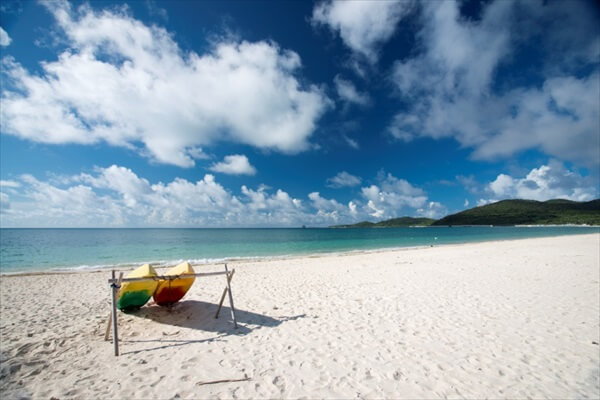 Eef Beach is selected as one of "Japanese Best 100 beaches", and stretches as far as 2 kilometers.
There's a wide, shallow swimming area for children to swim, too.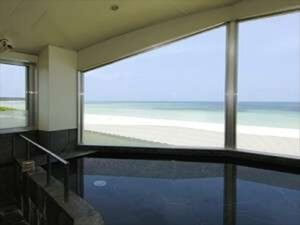 Another popular point is the beach overlooking baths, which uses deep sea waters with lots of minerals.
Your days can start by easing into a bath and gazing out into the morning.
Address: 548 Janadou-aza, Kumejima-cho, Okinawa
TEL: 098-985-7111
Fare:Example Standard Twin (w/ Garden View) starts at ¥18,480 per night.
URL:http://www.courthotels.co.jp/kumejima/
4-2. Cypress Resort Kume Island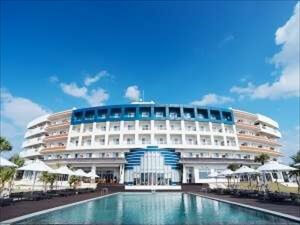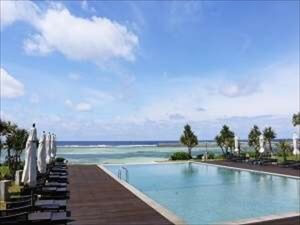 "Cypress Resort Hotel" is an extremely popular resort hotel, known for each room having an ocean view. It's conveniently located near the airport.
You can see Shinri Beach from the hotel front.
At Eef Beach you can see the sunrise, and here you can enjoy the sunset.
At the infinity pool seated right before the ocean, you can enjoy the view while you swim, really getting to feel like you're connected with the ocean.
This spot has an atmosphere of a perfect adult getaway. There are many people who read or listen to music by the poolside.
Address: 803-1 Ohara-aza, Kumejima-cho, Okinawa
TEL: 098-985-3700
Sample Rate (90-Day Early Booking Discount): starts at ¥16,500 per night (breakfast included).
URL:http://www.cypresshotels.co.jp/kumejima/index.html
5.Getting Around on Kume Island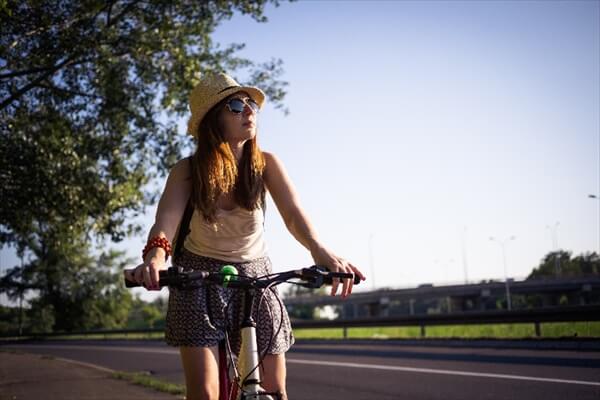 Here's how you can access the island.
■Car(Rental Car):
You use a rental car on Kume Island.
However, July-August are peak months so there may not be enough cars available due to an increase in tourists. Booking a car in advance is highly recommended.
~Main Rental Car Companies~
・East Rent a Car (ABC Rental Car Kumejima Office)
TEL: 098-896-7766
・ORIX Rent-A-Car・Kumejima Airport Office
TEL: 098-985-5151
・Nippon Rent-A-Car Kumejima Island Office
TEL: 098-985-3724
■Taxi:
You can take it from the airport, or to other tourist destinations.
A great feature is that you can speak with the driver and figure out the best rate to get where you're going.
~Main Taxi Companies~
・Kumejima Sogo Taxi
TEL: 098-985-2095
・Kyoei taxi
TEL: 098-985-2634
■City Bus:
The city bus is an option for people who have extra time on their hands. It's a bus that the locals use as well so you'll feel like you're getting to know the place.
▼Kumejima Town Hall Time Schedule
http://www.town.kumejima.okinawa.jp/sightsee/bus/timetable_airport_way.html
■Rent-a-Cycle / Rent-a-Bike
Inexpensive and great for feeling close to nature.
However, the northside has some pretty steep hills.
The southside of Kume Island is easier to ride along.
~Main Bike Rental Companies~
・Lucky Gate Bike Rental
TEL: 098-985-8195
6. Getting to Kume Island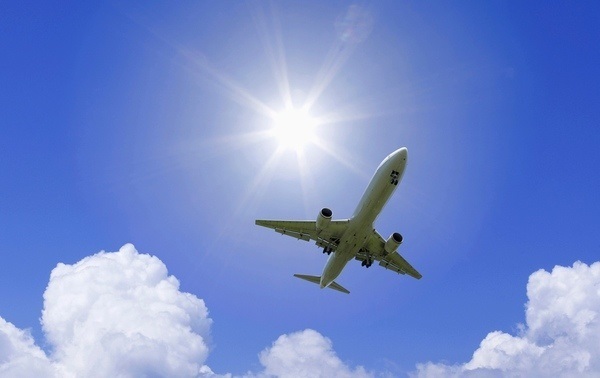 Two typical ways to get to Kume Island are by land and by sea!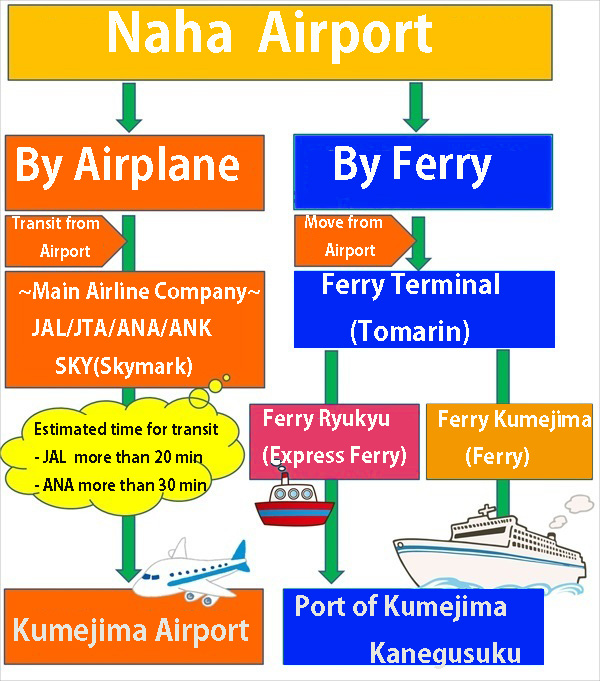 For both, first you must go to Naha airport. Then you can use either of the two routes below to reach Kume Island.
Airplane
Time required from Naha Airport to Kume Island: Approx. 30-35 min. There are about 7-8 flights every day.
Leave plenty of time for your connecting flight in Naha Airport, and set a schedule with plenty of room!
※I once road a flight that was 30 minutes late to arrive in Naha, so I had to wait for another plane to Kume Island.
As soon as I landed I ran as fast as I could to the gate of my connecting flight, making for a bitter memory.
Ferry
After landing at Naha Airport, make your way to the ferry terminal. It'll take you about 15-30 minutes to get there.
To go from Naha's Tomari-ko to Kume Island Kanegusu-ko, you can pick the express ferry or the ferry.
Between the express ferry and the ferry, there are only 2 trips per day so be careful of the schedule.
Travel time for the express ferry is about 2 hours and 50 minutes, and for the ferry it will take about 3 hours 20 minutes.
I want to make another point to note about direct travel versus going through Tonaki-jima. Boats that stop at Tonaki-Jima along the way take an extra 45 minutes to travel. Please look into it beforehand, prior to picking your method of travel.
Final Words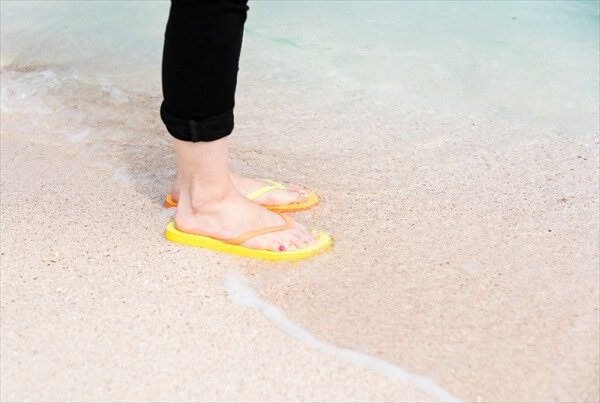 Kume Island has some amazing sights, like Hate-no Hama, as well as many sacred places that are teaming with nature.
I didn't introduce all of them in this article, but there are so many amazing places like Yajagama Cave and Gushikawajo castle.
Please try to go there and experience them for yourself!