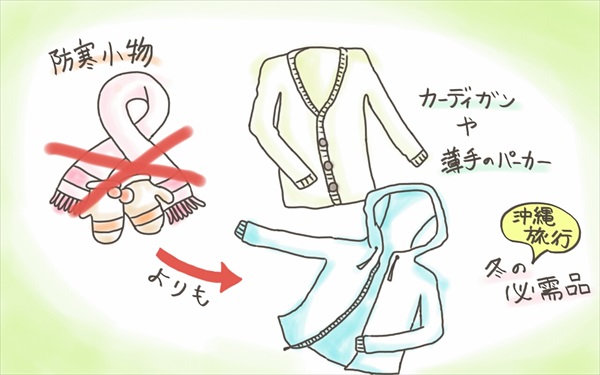 Okinawa has short winters.
Even in January through February when it's coldest, the average temperature is 17℃ (62.6°F).
There are many warmer days where temperatures exceeding 20℃ (68°F) are not uncommon.
However, strong ocean winds can make it feel colder and choosing the right clothes is difficult.
Here is some advice on the right clothing for you to enjoy your winter travel in Okinawa. We hope you find the information helpful.

<CONTENTS>
1.For travel involving mainly indoor activities
2.For travel involving mainly outdoor activities
3.Cardigan or lightweight sweatshirt will come in handy
4.Summary
1.For travel involving mainly indoor activities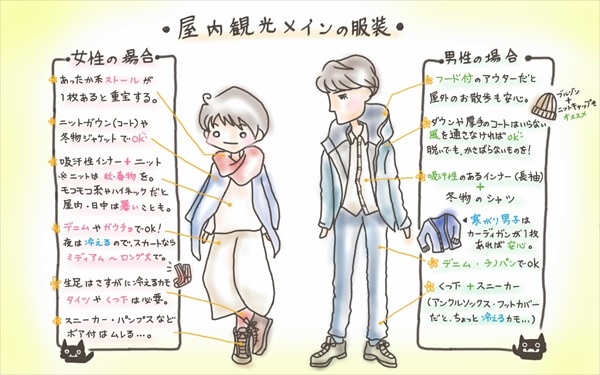 – It can get hot while out for drive when the sun is shining
The sun shines brightly in Okinawa even in winter.
On clear days, you may feel the heat while out on a drive.
Clothes that are easy to take off and put on are recommended to help you regulate your body temperature while in the car.
Girls who are concerned about tanning shouldn't forget sun protection.
– Wear an absorbent inner layer
Men and women alike should focus more on the absorbency, rather than the warmth, of their undergarments.
When the wind isn't blowing on sunny days, there is a high likelihood that you might break a sweat even when outdoors.
The temperature drops once the sun goes down though, so don't be caught off guard.
Having a shawl or a coat or jacket that covers the neck is a good idea.
– Spring and fall tops are the right idea
Knitwear and high-necked tops may cause you to sweat.
A lightweight spring or fall sweater is more than enough.
If you're someone that is sensitive to the heat, a long sleeve t-shirt with an undershirt should be fine.
– Outerwear that doesn't get in the way when you're not wearing it
If you spend a lot of time indoors, there are many instances when you might feel a bit hot.
It's good to have a jacket or coat that doesn't take up too much space when you're not wearing it.
The wind is normally the main reason you'll feel cold when in Okinawa, so an item that blocks the wind is a great idea.
– Denim, chinos, and skirts
It's unlikely that there are many situations where your legs will feel very cold, so you can wear whatever leggings you feel like.
If wearing a skirt, choose one that won't embarrassingly blow up when the wind blows.
– You will need socks.
No matter how warm it may be, sandals and bare feet are likely to cause cold feet.
Shoes and a pair of socks should be just perfect.
For women, stockings with your skirt might be a little cold. Tights are a safer option.
2.For travel involving mainly outdoor activities
– Think about wind-protection, not cold-protection.
The wind is the primary cause of cold in Okinawa. It's more of a "make your ears sore" cold than a "feet chilling cold".
That's why we recommend clothing that covers the ears and neck for those windy days.
– Choose your undergarment according to the activity!
Choose a different undergarment according to the situation – are you going to be moving around quite a bit, such as when going for a walk, or not very much, as when going on a glass-bottom boat.
Long sleeves for when you aren't going to be moving and short sleeves if you are.
In either situation, you won't need an undergarment with heat-generating capabilities.
– If your top covers your chest, you're OK
The wind hitting your chest may make you feel cold.
We recommend crew necks and shirts that button right to the top.
If you are someone who often feels warm, adjust using an easy to remove cardigan or lightweight sweatshirt.
Even when outdoors, you probably won't need a sweater or high-necked top.
– Long outerwear that closes securely
Unless you're extremely sensitive to the cold or you're going to be outdoors for long periods of time, there is no need for a down jacket.
From the point of wind protection, a long coat that reaches down to about your knees and closes securely in the front is a good option.
Protection from the wind is especially important if you are going to the beachfront!
– Don't forget to protect your legs
Wear shoes and pants that block the wind. Socks that firmly cover your ankles for men and leggings or tights for women is needed.
High cut shoes that cover your ankles can also be helpful.
If wearing a skirt, choose a longer item that doesn't let the wind in up from your feet.
3.Cardigans and lightweight sweatshirts come in handy!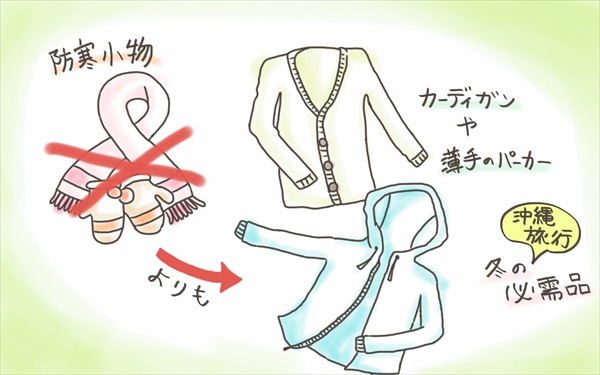 The key to winter in Okinawa is controlling your body temperature, not protection from the cold.
What you particularly want to be weary of is working up a sweat and then being chilled by the wind.
That's where cardigans and lightweight sweatshirts come in handy!
If you're cold, you can wear them under your jacket or coat, and if you feel warm you can wear them instead of a jacket or coat.
They're an item you can rely on. Also, they don't take up very much space when you're not using them.
you had better put one on quickly when that wind starts to blow.
On the other hand, scarves, neckwarmers, earmuffs and other winter gear can often get in the way.
If you're thinking about taking some extra protection against the cold, we definitely recommend a cardigan.
4.Summary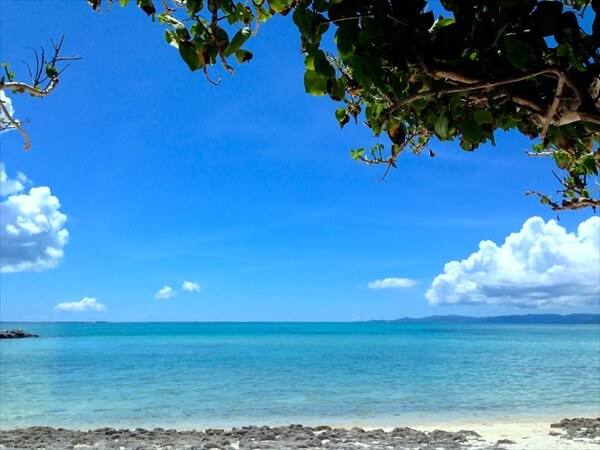 How well people deal with the cold differs from person to person, but people visiting Okinawa from areas where the cold can be extreme are likely to find the temperature warm. (Just for the record, local Okinawans call anything under 20℃(68°F) "cold").
That being said, there are two big points for choosing what to wear when you visit Okinawa in winter.
1.Block the wind
2.Something that can help adjust your body temperature and easy to put-on and take-off
Keep warm smartly and enjoy winter in Okinawa!