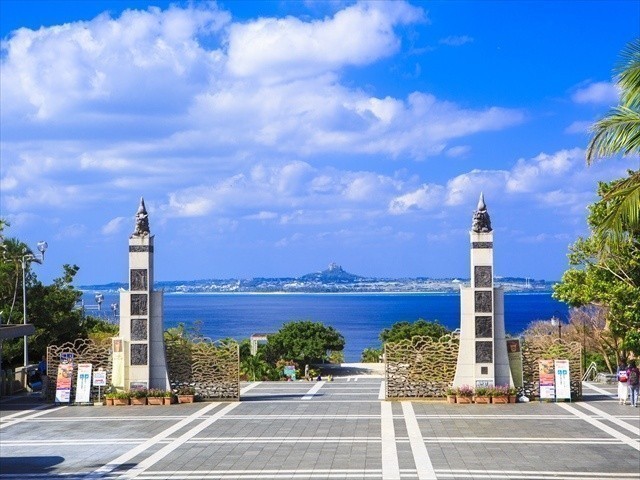 Photo courtesy of Ocean Expo Park
"Okinawa Churaumi Aquarium" the prefecture's leading tourist attraction can be found in the Ocean Expo Park. It is a must see on your travels to Okinawa, but did you know that there are other places to enjoy besides the aquarium?​ ​
In fact, it would be unfortunate to only see the aquarium, as the park is filled with other attractions to see.
So we would like to tell you about the Ocean Expo Park which can be enjoyed all year round. We will inform you of all that there is to see and do, including how to access the park etc. We want to fill you in on what makes the Ocean Expo Park so special.

<Table of Contents>
1. What is the Ocean Expo Park?
2. What is there to see at the Ocean Expo Park?
3. Things to see in the surrounding area
4. Event information
5. Best way to get around the park.
6. Access to the Ocean Expo Park.
7. Remarks
1. What is the Ocean Expo Park?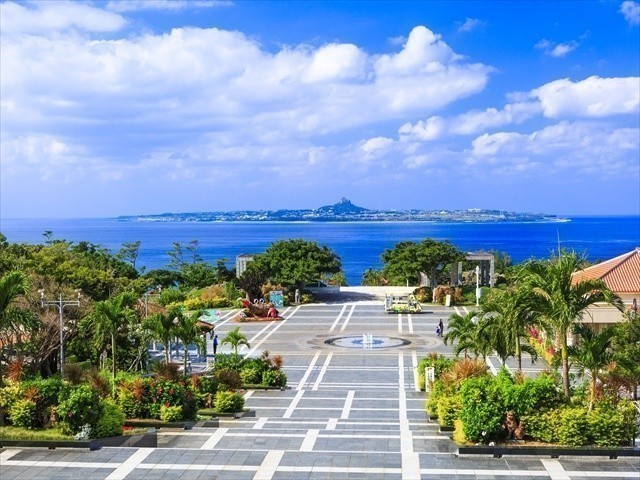 Photo courtesy of Ocean Expo Park
The Ocean Expo Park, boasting Okinawa's top tourist attraction is located in Kunigami-gun Motobu Town, and it was made on this site as a memorial to the Okinawa International Maritime Exposition, which was held in the Showa Period in 1974. It is a national park.
At that time there were no highways. The roads were initially created due to the exposition this brought road expansions and the development of hotels and resorts. The theme is(The oceans – a hopeful future) .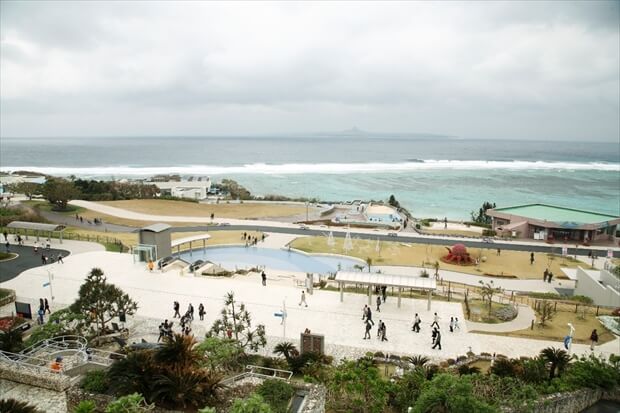 Starting from Churaumi Aquarium where you can see the planetarium and dolphin show, and Okinawa village where you can visit the botanical gardens and learn about the historical aspects of Okinawawa. It is included as one of Japan's top 100 parks.
Among them, the Okinawa Churaumi which no trip to Okinawa can be complete without a visit to. It boasts the world's largest aquarium and is famous for being home to a whale shark, rays and giant manta.
2. What is there to see at the Ocean Expo Park?
2-1. Tropical Dream Center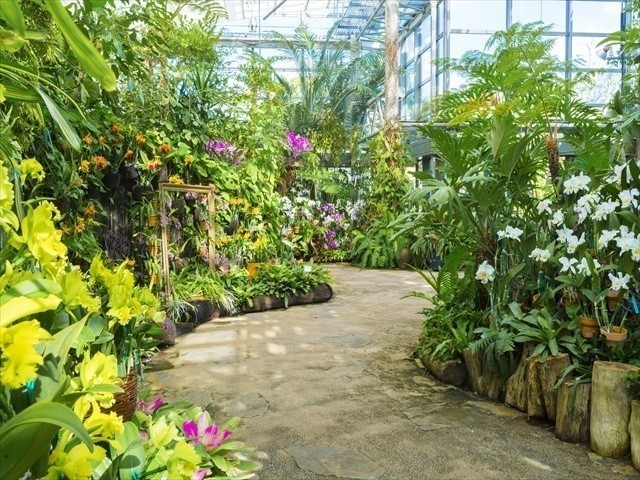 Photo courtesy of Ocean Expo Park
The tropical dream center is a flower lover's dream. There are least 2,000 orchids on display at any given time and there are three greenhouses in which subtropical flowers are in full bloom. Feel like you have stepped into a jungle, take a few more steps and feel as if the flowers are dancing around you travel further into this fantastical world with every step.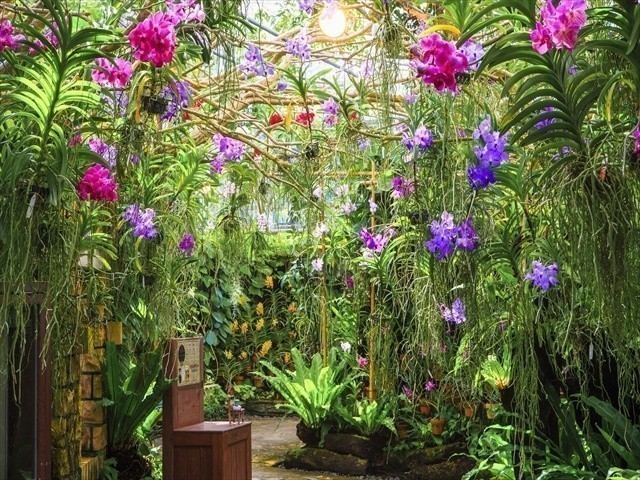 Photo courtesy of Ocean Expo Park
The greenhouse contains an amazing varieties of orchids, such as Phalaenopsis' found in the tropics of Southeast Asia, Bandas from South East Asia, India, China Taiwan and Cattleya found in Central and South America
There are many rare flowers and even flowers a florist would not be able to find. Enjoy walking through the spacious greenhouse taking pictures of your favorite orchids as you go.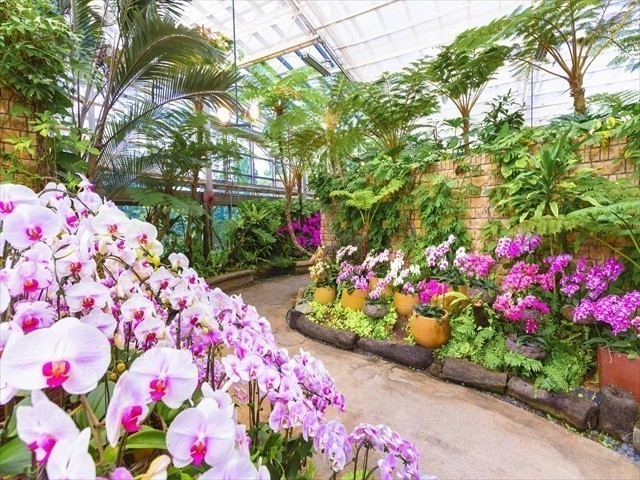 Photo courtesy of Ocean Expo Park
In the tropical dream center there is a free rest area " Urizun" with a huge window from which you can lookout into the garden. Feel free to relax for as long as you like.
If you are feeling a little peckish you should visit the tropical fruits cafe [ Skol ] and try a fruits pancake or pineapple pork bowl.
In the stained hall there is a museum shop selling original t-shirts, hand dyed scarves and orchid seedlings, etc. Items bought in the shop can be sent to your address to coincide with your arrival date. Please take advantage and continue the fun at home.
2-2. Tropical-subtropical urban greening botanical garden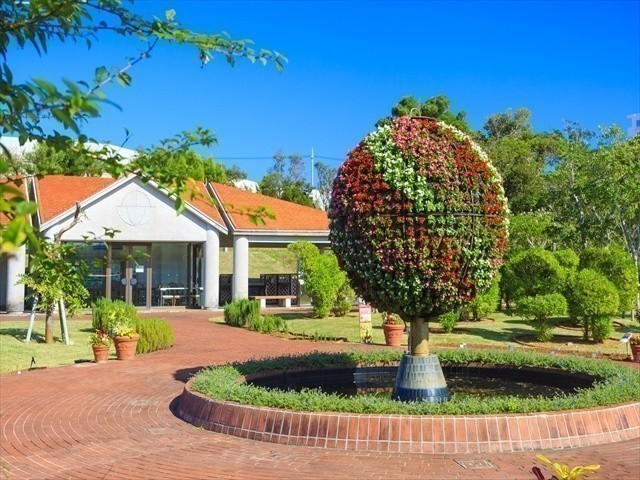 Photo courtesy of Ocean Expo Park
The tropical · subtropical urban greening botanical garden which is set on a total area of 9 hectares divided into a space of plant samples and a plant management center. There are plant exhibitions and various experiences held here
There are plenty of places to see such as low trees found only in the south, banyan mulals, coconuts and a maze of vines. There is also a herb garden growing mint, basil etc.
In the Banco Forest, you can enjoy picnics on the wide lawn and partake in making crafts using fruit from the trees. There is also an opportunity to try old pastimes such as stilt walking and water pistol games.
※The Plant Control Center will be run from a temporary building from February 22, 2016 whilst a building safety inspection is being conducted..
2-3. Native Okinawan Village and Omoro Botanical Garden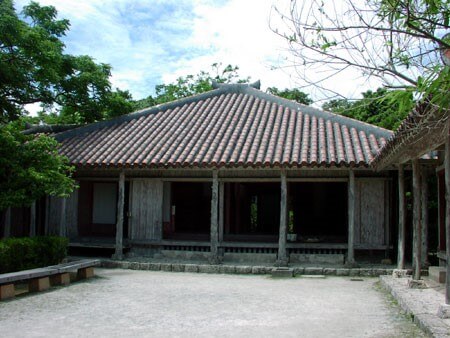 Okinawa native village was created to replicate a traditional Okinawan settlement. Traditional Okinawan houses line the streets. You are welcomed by Auntie from Motobu, a member of the village head family. She runs a Sansen (Okinawan Shamisen, a three stringed instrument) experience. The village also holds seasonal events. There are many experiences to try such as brown sugar making, Okinawan traditional dancing and many experiences tailored for children (Available: Daily from 10:00 ~ 16:00 *Registration for the Sansen experience ends at 15:30)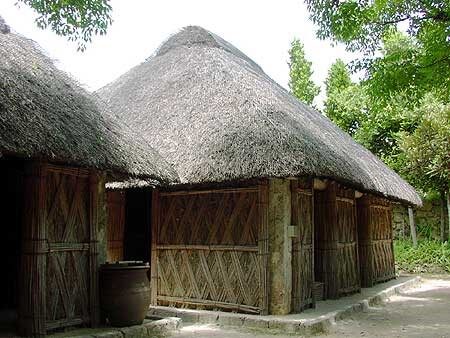 Visitors to the park will also be offered tea with cakes, so you can walk, talk and dance with auntie and the local villagers. allowing you to relax and enjoy your real Okinawan experience. There are not many opportunities to meet Okinawan natives, making this a special part of Okinawa. Enjoy experiencing Okinawan culture with your friends, and family.​ ​
2-4. Oceanic Culture Centre Planetarium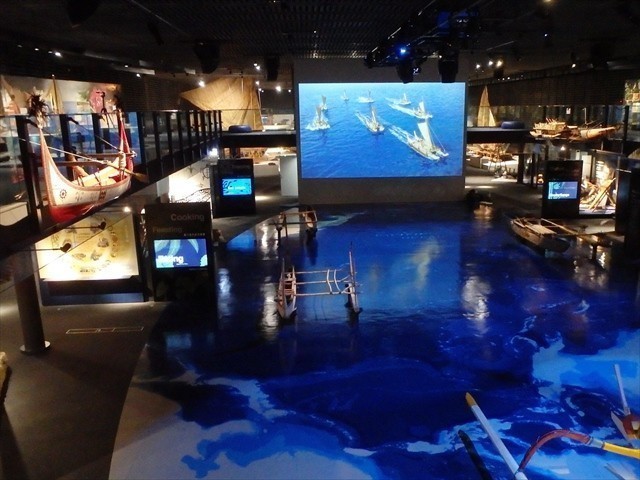 Photo courtesy of Ocean Expo Park
The Oceanic Culture Centre is a facility that introduces the history and culture of maritime people in the Pacific region including Okinawa.
It is packed with attractions such as valuable exhibition materials of about 750 points, floor maps depicting the Pacific Ocean and large-scale images using walls.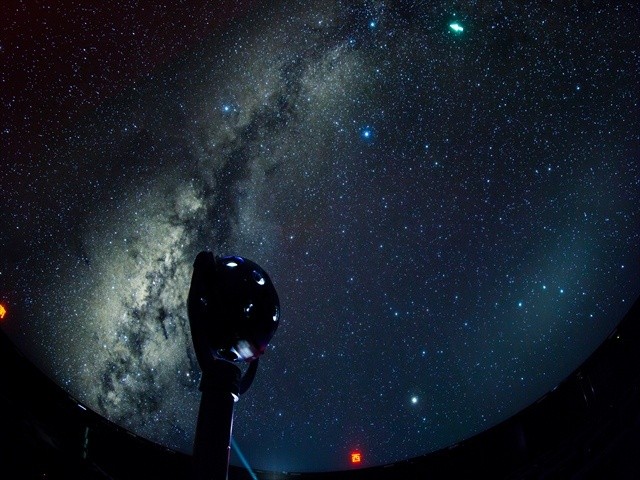 Photo courtesy of Ocean Expo Park
In the planetarium, there are about 140 million stars to gaze upon
Become engulfed in the night's sky as you gaze at the millions of brilliantly illuminated stars that seem to have been sprinkled across the sprawling planetarium screen. Use the reclining seats to sit back and get lost among the stars.
【Tourist Information】
■ Tropical Dream Center, tropical · subtropical urban greening botanical garden, Okinawan Native Village, Ocean Culture Centre.
■ Address: Okinawa Prefecture Kunigami-gun Motobu Town Ishikawa 424 (Ocean Expo Park)
■ Phone: 0980 – 48 – 2741 (Ocean Expo Park Management Center)
■ Opening Hours: Tropical Dream Center, Tropical & Subtropical Urban Greening Botanical Gardens, Okinawa Local Village,Oceanic Culture Center (General)
– March – September 8: 30 – 19: 00 (Last Entry 18: 30)
– October – February 8: 30 ~ 17: 30 (Deadline 17: 00)
Closed holiday: 1st Wednesday of December and the following day every year and the next day (may also be closed due to typhoons)
■ Price:
<Tropical Dream Center> (Applies from April 1, 2018)
Adult : ¥760 Elementary and middle school students : Free
<Oceanic Culture Centre > (Applies from April 1, 2018)
Adult :¥190 yen Elementary and middle school students : Free
※ Tropical Subtropical Urban Greening Botanical Gardens and Okinawa Native Village ENTRANCE IS FREE
http://oki-park.jp/kaiyohaku/
2-5. Oki-chan Theater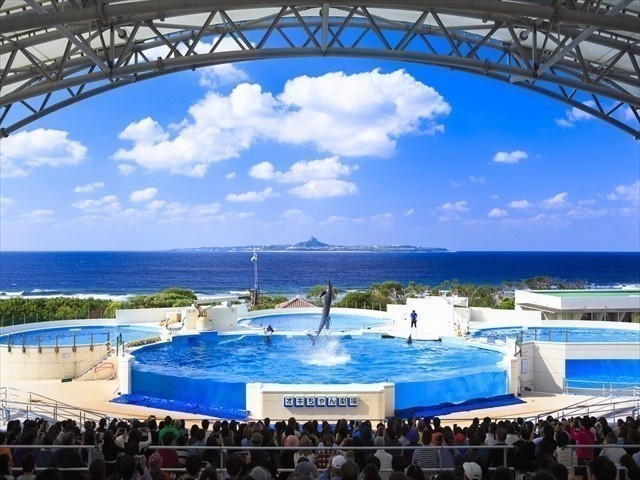 Photo courtesy of Ocean Expo Park
At Oki-chan's theater you can watch the dolphin "Oki-chan" and friends perform. They perform jumps, tricks, and even dance for the audience. Witness the height of dolphin intelligence.
The pools are divided into two, one for the show and one where you can observe the dolphins abilities up close whilst learning more about their ecology.
The bottle nosed dolphins and Oki-kondo dolphins (false killer whales) are bred and raised at the Oceanic centre which makes for a loving environment at the Oki-chan theatre. Entrance is also free.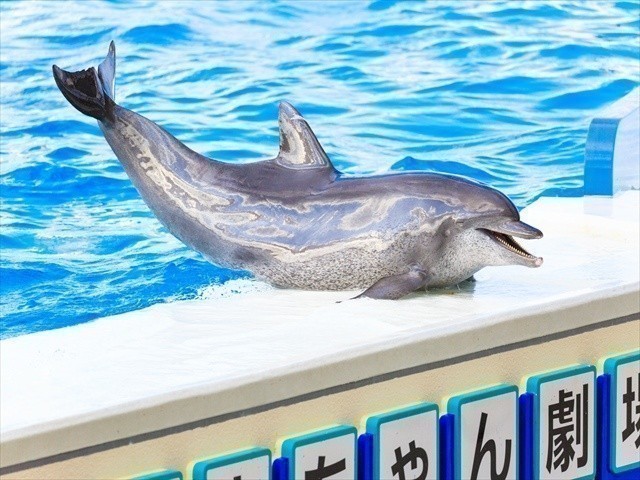 Photo courtesy of Ocean Expo Park
The show pool can keep spectators covered even when it rains, this guarantees an enjoyable experience no matter the weather. As the dolphin show is performed 4 times a day and the diver show 3 times a day, there are plenty of chances to see the dolphin Idol "Oki-chan" at the Ocean Expo Park.
※ From April to September, an additional performance has been added to the schedule at (17: 30-).
<Program>
■ Dolphin show 20 minutes each at 11:00, 13:00, 14:30, and 16:00
■ 15 minutes for each of the diver shows 11: 50, 13: 50, 15: 30
2-6. Emerald Beach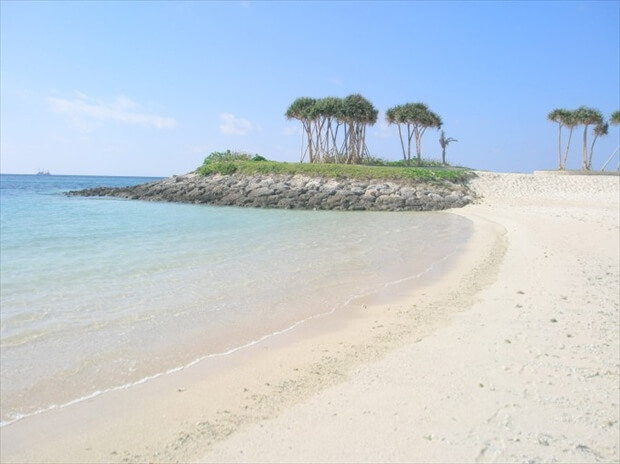 ~ The Beach of Relaxation ~
Emerald beach in Ocean Expo Park is a beach for relaxation, a beach for fun and beach with a view. It is one of only a few beaches in Okinawa situated in a lagoon. The quality of the water has earned it a position as one of the top 88 bathing spots and one of the top 100 most enjoyable places to bathe.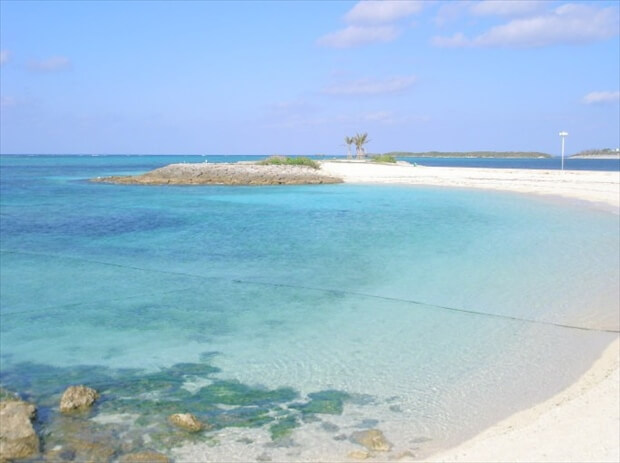 ~ The view of the beach ~
On days with lots of sun and little wind the various blues of the sea never fails to fascinate all those who are lucky enough to witness it. The white beach covered by coral sand compliments the ocean. Young children will be enticed by the small fish swimming in the shallows making this a popular beach.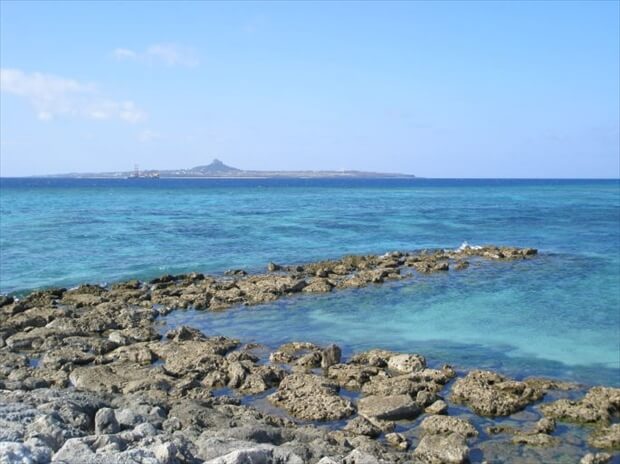 You can see Ie-jima in front of your eyes, and if you let yourself float a little out to sea you will see a small picturesque island like area. You can swim at ease as during the official swimming period, lifeguards will be looking out for your safety.
There are also a number of rent-able items. Parasols (beach umbrellas) are available at ¥515. This can also come as a set with two sunbeds for the low price of¥1,030 ※The usual price for a parasol in Okinawa is about ¥2,000 – ¥3,000.
Children's life jackets and rubber rings, etc are available to rent. * Please be aware that these are not suitable for use when snorkeling.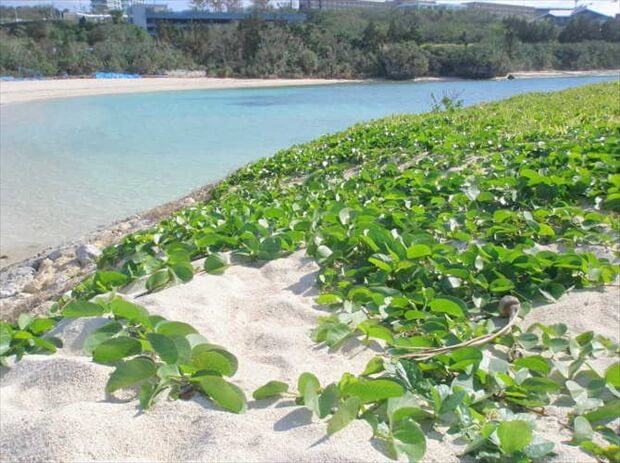 ~Wild Beach Morning Glory~
Walk along the promenade getting close to the ocean without swimming or getting yourself wet.
There are a number of staircases that can get you down to the beach, to see the reflection of the beach morning glory growing wild by the sea.
【Sightseeing Information: Emerald Beach】
Swimming Period:
■ From April 1 to September 30 from 8:30 to 19:00
■ October 1- October 31 8: 30 ~ 17: 30
Price: Swimming / Shower free · Coin locker 100 yen
Shops: Yes (yakisoba, ice cream, etc.)
2-7. Okinawa Churaumi Aquarium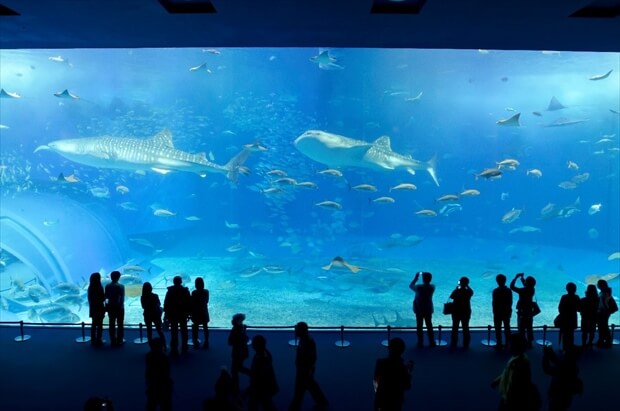 The main attraction of the Okinawa Expo Park is the Okinawa Churaumi Aquarium. It has the world's largest tank which is famous for being home to among others whale sharks,and manta. Around 3,000,000 visitors come to the aquarium per year and there are many other wildlife to see.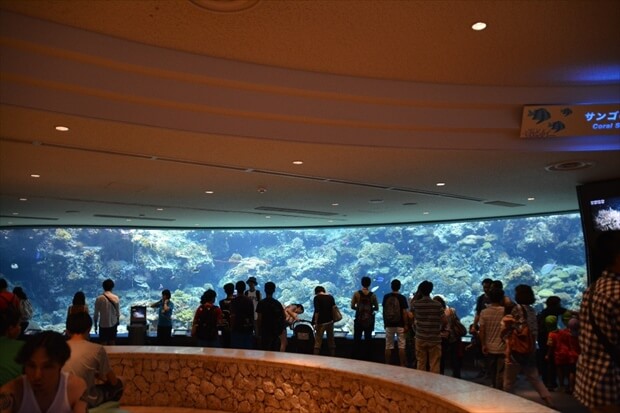 Witness the world's first coral large-scale breeding exhibition, ingenuity has been used to let you have fun learning about the ecology of coral. In reality it is extremely difficult to keep coral in a tank. After overcoming many challenges , the coral reef world that can usually only be seen by diving has become reality in Japan.
★ For more information about Okinawa Churaumi Aquarium, please click here ★
[I went to Okinawa Churaumi Aquarium with my child! Let me tell you how!
<Ocean Expo Park Information>
■ Ocean Expo Park (March to September) 8: 00 ~ 19: 30
■ Ocean Expo Park (October – February) 8: 00 ~ 18: 00
3. Things to see in the surrounding area
3-1. Bise's Row of Fukugi (Happiness Tree)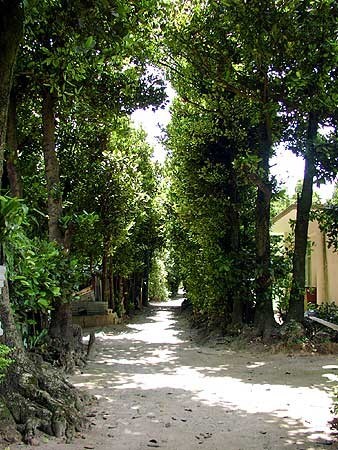 Bise 's row of Fukugi trees has seen a lot of visitors recently. It is known as a healing spot and is famous for it's unchanging scenery. Fukugi (Garcinia subelliptica); happiness trees​ are an evergreen tree with origins in Taiwan and the Philippines.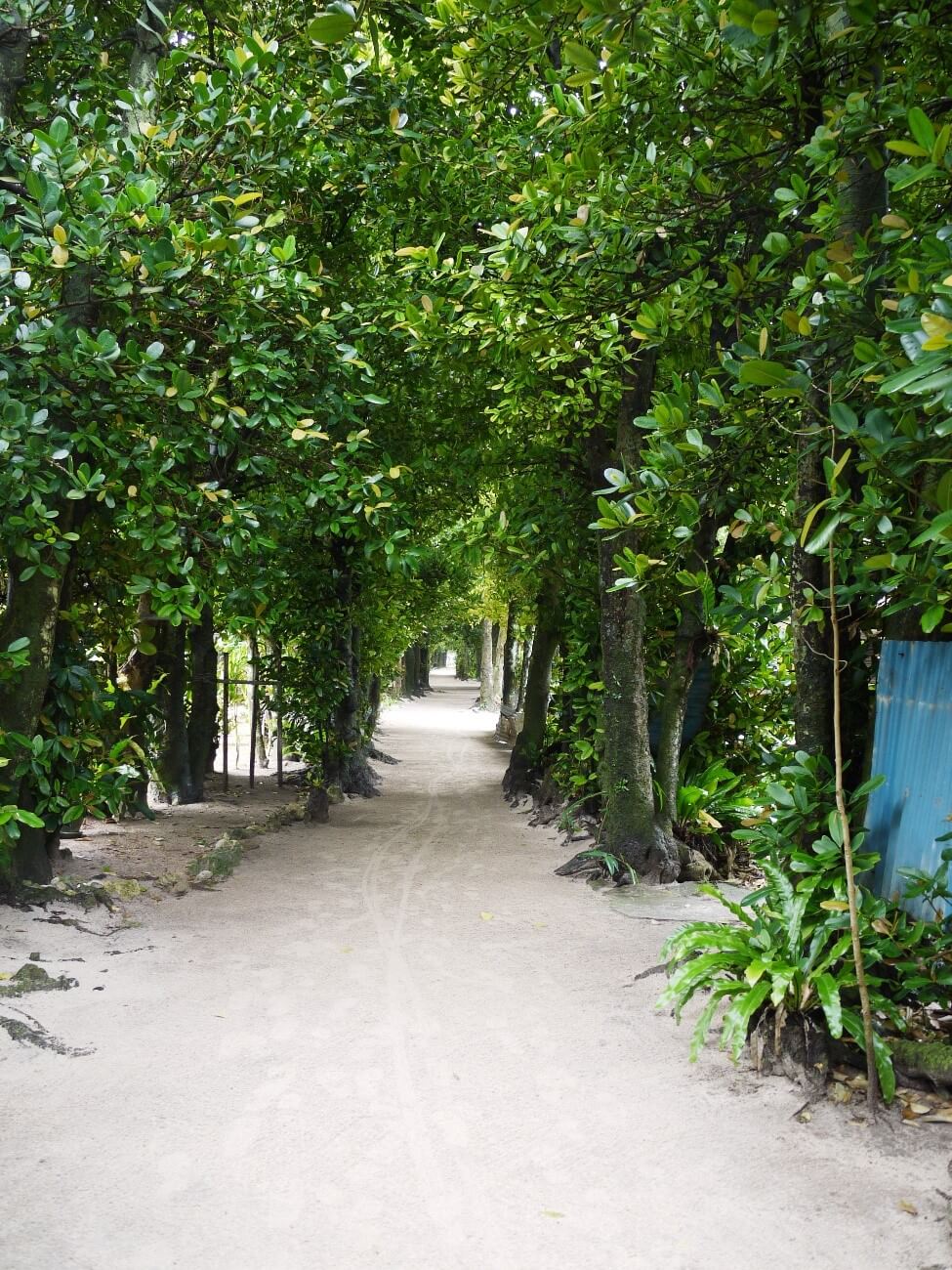 In Bise's village, there are about 250 houses surrounded by the green of the Fukugi. Tall trees can grow to about 20 meters and play a role in shielding the residents from the hot summer sun.
Originally the trees were planted to as act as windbreakers to protect villages. However, the green tunnel resembles a never ending labyrinth and feels out of this world. Take a refreshing stroll down the tree lined street for a refreshing nostalgic feeling you will not find anywhere else.
[Tourist Information: Bise's row of Fukugi Trees]
Address: Okinawa Prefecture Kunigami-gun Motobu Town Bise
3-2. Nakijin Castle Ruins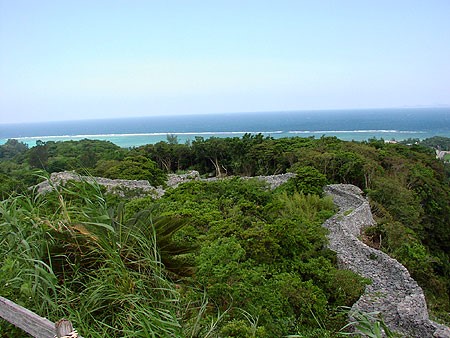 Nakijin castle ruins are part of the largest Gusuku (Okinawan fortress) of the Ryukyu Kingdom in the prefecture and is also called Nakijin Gusuku.
In 1416, Chūzan's King Shō Hashi unified the three kingdoms. After that this was a residence of the Ryukyu Kings until 1665.
​ ​You can learn about the history of this sacred place which is also registered as a World Heritage site. In Okinawa, there are many Utaki which are sanctuaries to worship God, These are usually places that are not meant for tourists.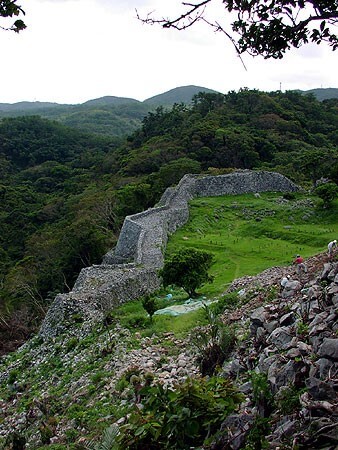 At Nakijin castle ruins, in addition to being able to visit the Utaki where its guardian god lives, it is a wonderful place with beautiful natural views on all sides.The stone wall that follows like a silk road is said to be the oldest piled stone structure.
Historic Nakijin castle ruins can be explored in 40 minutes at the shortest but if you request a free guide you can complete the course in 60 minutes. The tour with a guide is highly recommended.
[Tourist information: Nakijin castle ruins]
Address: Okinawa Prefecture Kunigami-gun Nakijin Village Night 5101
Phone: 0980-56-4400
Opening hours: 9: 00-18: 00
Closed: Open all year round
Price: Adult ¥400 · Elementary / junior high / high school student ¥300 yen · Free for elementary school students ※ Free Parking
http://nakijinjo.jp/guide.html
3-3. Kouri Island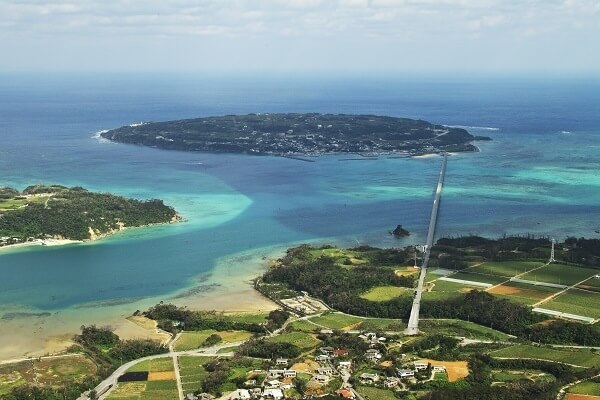 Kourijima is a remote island located in Nakijin village. As it can now be reached by bridge it has been receiving a lot of visitors due to the easy access.
The Kouri Ocean Tower is also proving to be a popular tourist site. The view that can be seen from the observation deck is like something out of a movie. Kouri Jima is also home to the the "Heart Rock".
★ Please click here if you would like to know more about Kouri Jima.
​ ​Okinawa- Kouri Jima Perfect Guide!
3-4. Sesokujima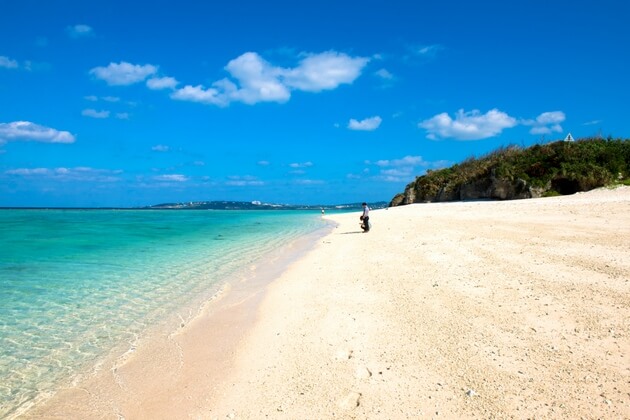 Sesokojima was once known as "the most beautiful isolated island in Okinawa", and it is still a place where tourists continue to visit. The sprawling beach is a natural masterpiece and the way that the sea changes color day by is a remarkable site.
In the villages towards the centre of the island there are rows of Fukugi trees and quaint red local houses that are symbolic of Ryukyu. You can see authentic Okinawan scenery and since you can drive there, why not make it part of your driving day trip.
★ Please click here if you would like to know more about Sesokushima ★
* Sesoko Jima ~Fascinating Remote Island Accessible from Naha!
4. Event information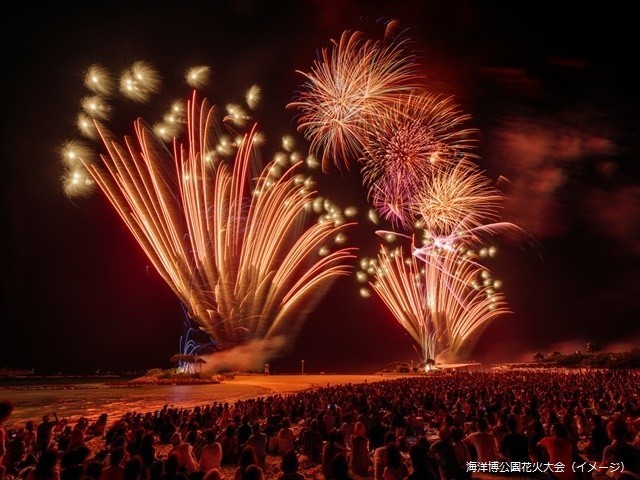 Photo courtesy of Ocean Expo Park
Ocean Expo Park Summer Festival is one of the biggest fireworks events in the prefecture held every year in July. (Is not held in severe weather conditions)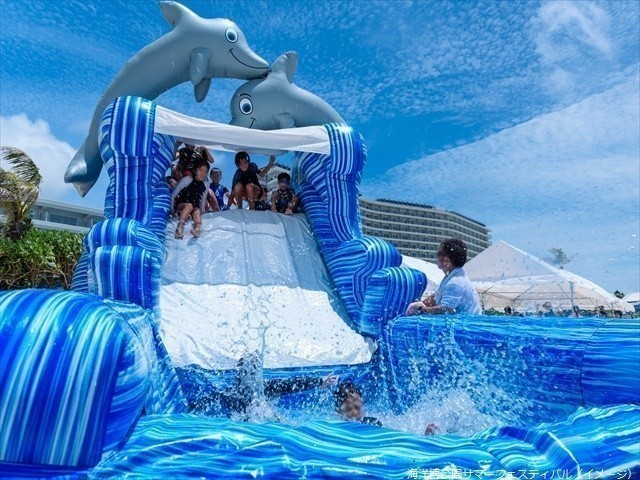 Photo courtesy of Ocean Expo Park
During the event around 10,000 fireworks are launched into the air for the enjoyment of the huge crowd of spectators.
Before the fireworks display holiday makers enjoy beach attractions and beach-side concerts.
Why not schedule this yearly event into your holiday plans.
The fireworks display is set to last an hour from 20:00 -21:00pm.
【Summer Festival 2018】
Venue: Emerald Beach
TEL: 0980 – 48 – 2741 (Ocean Expo Park Management Center)
Held on:July 14th
Official website:http://oki-park.jp/kaiyohaku/
* It is expected to be quite congested on the day
※ Will be stopped in the case of severe weather.
5. How to travel around the park efficiently
As mentioned previously, the total area of ​​Ocean Expo Park is about 15 times the size of the Tokyo Dome.
It would be extremely tiring to move around on foot.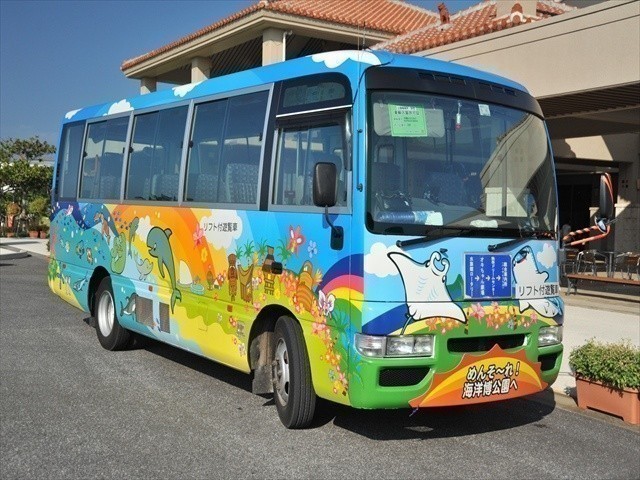 Photo courtesy of Ocean Expo Park
So for travelling around the park, we would like to recommend this sightseeing bus.
It costs 100 yen for one ride, but a day pass costs only ¥200. (Children under 6 years old can ride for free)
There are 13 stops in the park, covering all areas from the emerald beach all the way to the Tropical and subtropical urban greening botanical garden.
The bus driver will also act as a guide as they drive you around the park.
This will definitely be useful if you plan to see other attractions around the park.
* The route may change if an event is being held.
6. Access to the Ocean Expo Park.
6-1. When going by car
Many people who travel in Okinawa will use car rentals for the convenience.
Please follow these instructions for access by car.
【By Highway】 Take the Okinawa Expressway "Tomigusuku · Nagashira IC" from Naha Airport – Prefectural Road No. 231 and National Route 331. After passing Nishihara Junction, get off at "Kusuda IC", pass the national roads 58 to 449 along the sea,. Join the prefectural highway No. 114 it will take you to Ocean Expo Park. (The required time is about 2 hours.)
【In case of ordinary road】 We will arrive from Naha Airport towards Urasoe direction (line 331) – Pass through Kadena base to line 58 from Kitakami to Nago from 449 to 114. (The required time is about 3 hours)
※ Note: Since car navigation setting can not be searched by "Okinawa Churaumi Aquarium", in that case search by "Ocean Expo Memorial Park", "Ocean Expo Park" etc.
6-2. For those travelling without a car
The "Yanbare express bus" departing from Naha Airport is the best way to get to the Ocean Expo Park without renting a car.​ ​
Yanbaru Express Bus is a convenient bus that you can board from Naha Airport without the need for a transfer. As it uses the highways it takes approximately 2 hours and 20 minutes (Passengers will alight in front of the Memorial Park) Travelling during peak times runs the risk of congestion, so we recommend you plan your journey outside of these times.
* Highway buses and Rosen buses require passengers to transfer at Nago Terminal.
Information regarding access by bus for the Okinawa Churaumi Aquarium and Ocean Expo Park, please refer to the below.
Book the Yanbaru Express Bus at kosokubus.com ↓↓↓↓↓↓↓↓click!!

7. Remarks
​ ​Okinawa Prefecture has many sightseeing spots, in fact there are so many spots that I couldn't decide what to do and ended up not seeing much of anything (me)
Ocean Expo Park has more than you can fit in in one day, so it might be better to spend about two days in the area.
Okinawa prefecture has a wide variety of things to offer tourists spread over the islands. To avoid disappointment It may be best to spend time in one location and explore it fully before moving to the next.
In Okinawa, time seems to pass slowly,so relax and enjoy your stay. Enjoy your sightseeing following Okinawa time.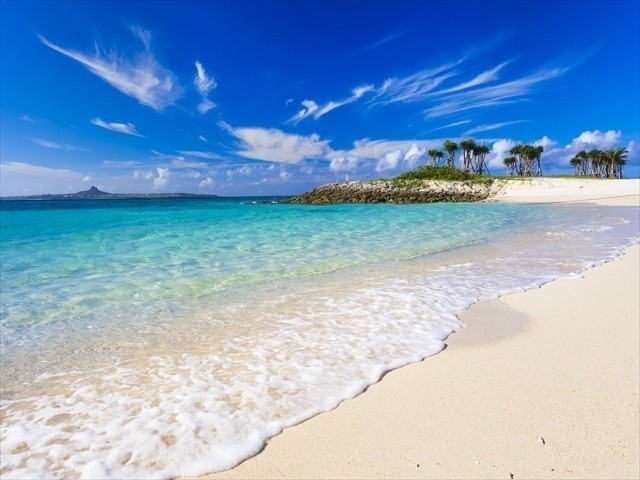 Photo courtesy of Ocean Expo Park