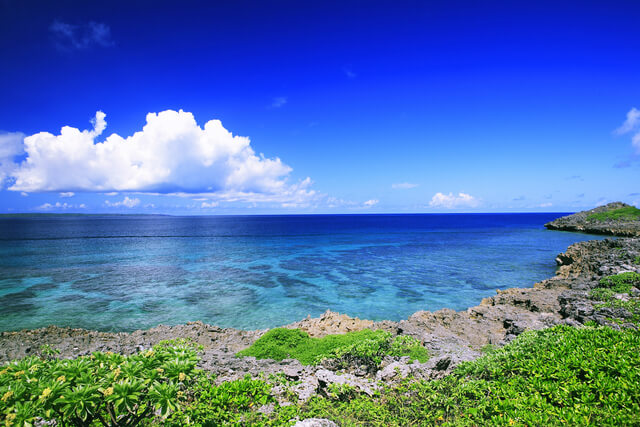 "So what places on Miyako Island(Miyakojima) are worth seeing, and where are they? How should I go around the island?"
We wrote this article for people wondering about those questions. Feel free to use this as a reference if you're thinking about a trip to Miyako Island.
1. Check This When Sightseeing!
Miyako Island tourists have all sorts of goals, depending on who you ask: "I want to go somewhere with beautiful scenery," "I want to hit the beach," "I want to buy stuff only sold on Miyako Island," and so on.
That's why we made a map for tourists where you can understand at a glance where the sightseeing spots are.
For this list, we chose only the most recommended spots on Miyako Island. Let's take a closer look at each sightseeing area.
*Click the image to see the full size version below.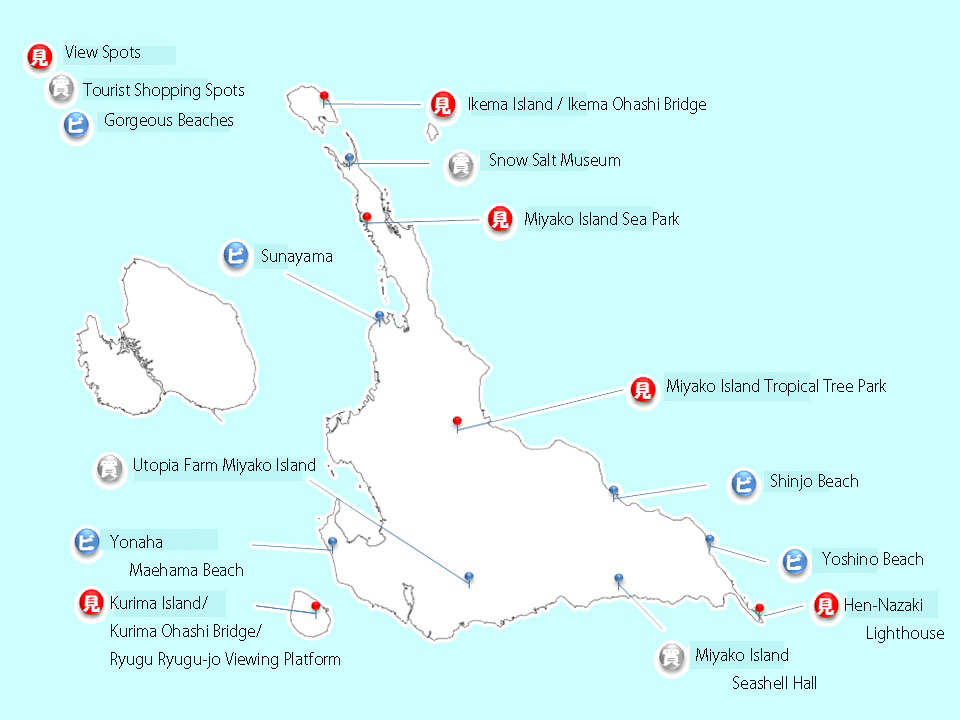 2. Gorgeous Beaches
3. Enjoy the Sights! Miyako Island's Scenic Views
4. Only Sold Here! Miyako Island's Tourist Shopping Spots
2.Gorgeous Beaches
You definitely want to enjoy the beautiful beaches when you come to Miyako Island.
*Click the image to see the full size version below.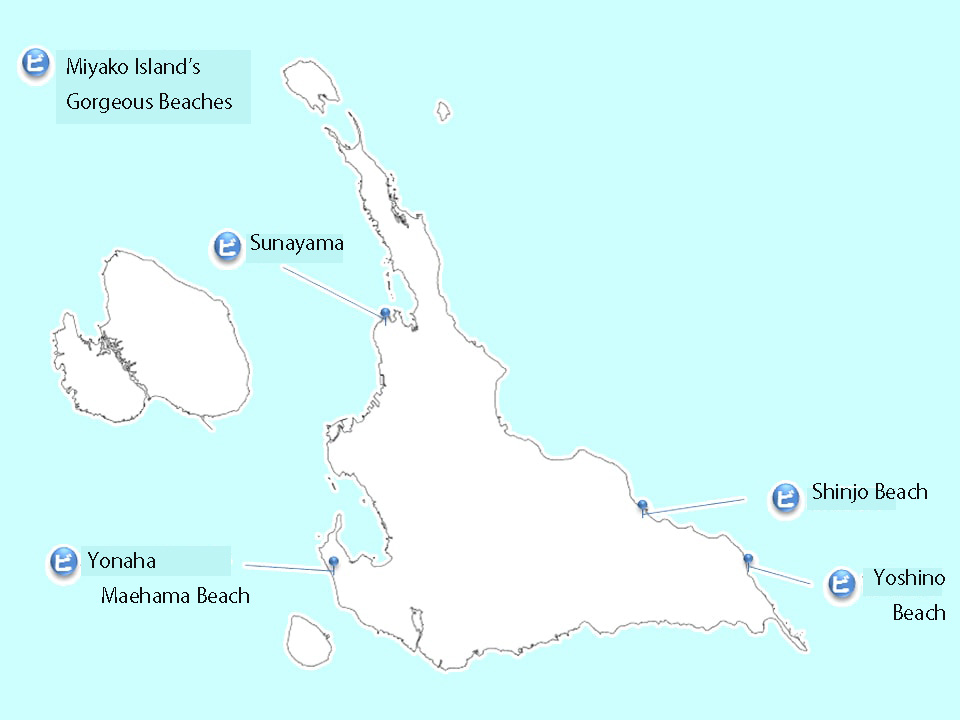 Yonaha Maehama Beach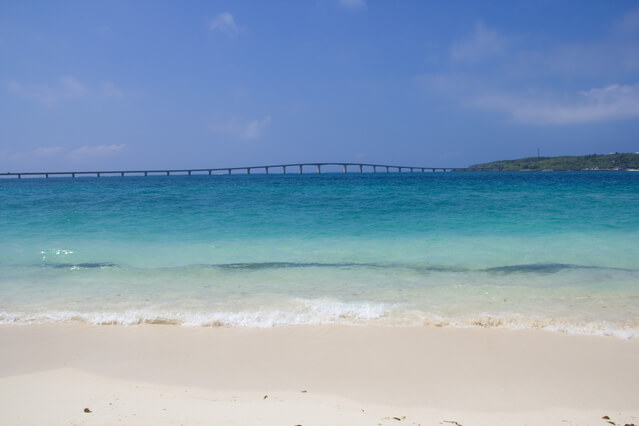 This shoal is a seven-kilometer expanse of white sahd. The contrast of the emerald green waters with the sandy beach is a sight to behold.
It's well-known as the starting point for the annual Miyako Island Triathlon.
We recommend visiting at night. The orange color of the sun, as it sets over the sea, is too beautiful to describe in words.
In addition, despite its popularity, this beach usually has no litter scattered about. The locals work hard to protect this beautiful area.
[Access] From Miyako Island Airport, head south on Highway 390 for 30 minutes Roughly 10km to the Yonaha Maehama area by car
Shinjo Beach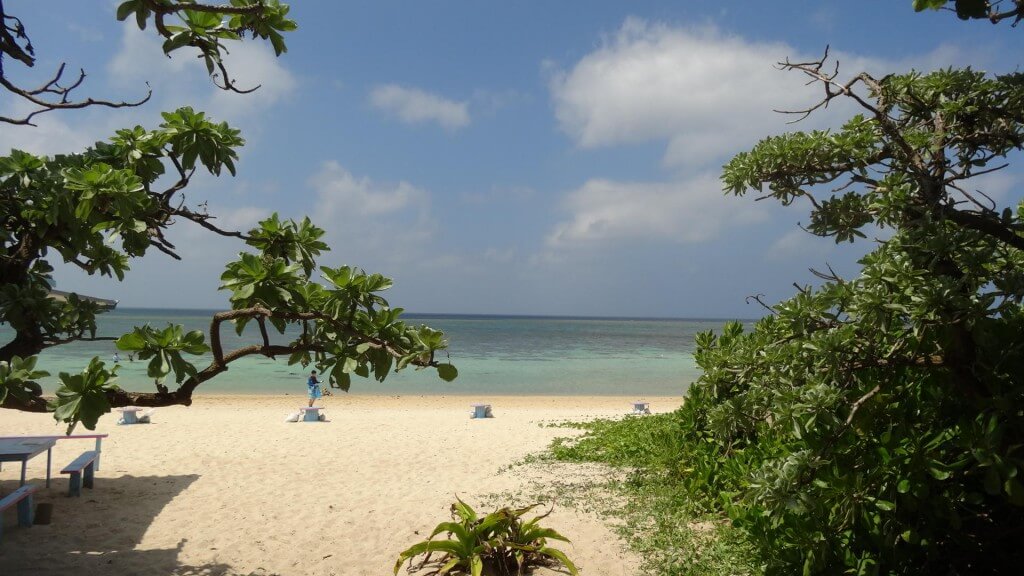 This beach is wide and shallow, so young children can play safely in the water, and many locals come here frequently.
For people who want to see fish or do snorkeling, this is the number one place to go! Despite the shallow depths, you can see tropical fish.
Plus, parking in the nearby service area is free.
[Access] 30 minutes by car from Miyako Island Airport
Yoshino Beach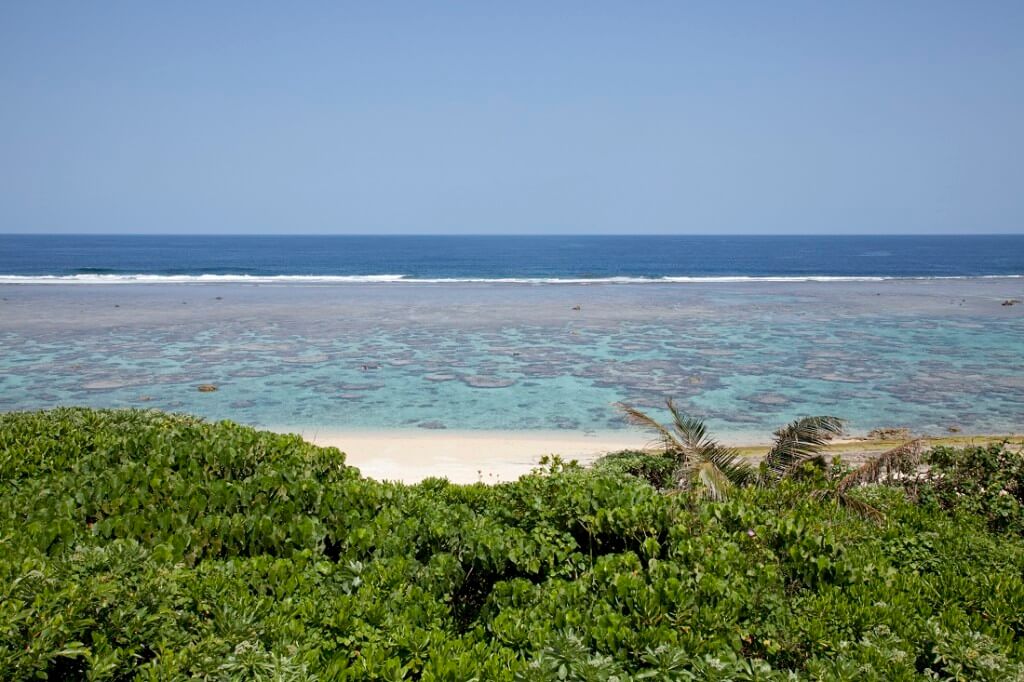 This beach has a sandy white shore and extraordinarily clear waters, filled with coral reefs.
Many tropical fish inhabit the area, which is also an egg-laying site for sea turtles.
There isn't much shade, so in the summertime, it's a must to bring sunglasses and a beach umbrella!
You can't park close by, so we recommend dropping off your car at the pay parking lot close to the entrance and hopping the shuttle bus to get to the beach.
[Access] 35 minutes from Miyako Island Airport by car Ocean Links Miyako Island Soba
Sunayama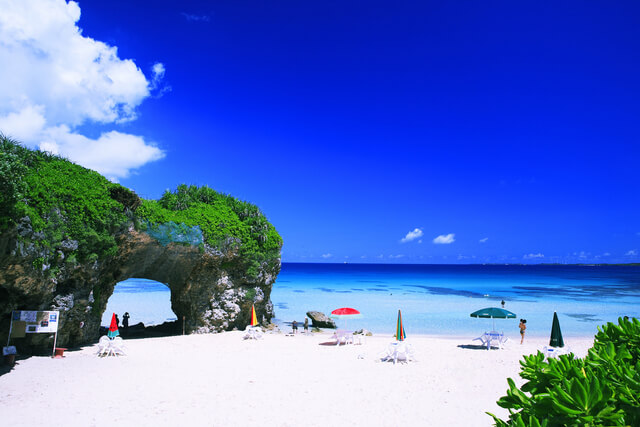 砂山/Sunayama literally means "sandy mountain." It got its name from its location, situated by a sand-covered hill.
This beach is famous even for Miyako Island, but there are some things to keep in mind.
First, the parking lot, changing areas, showers and bathroom facilities are free to use, but are a moderate distance away from the beach.
Also, as a free facility, it has no management or lookouts, so there have been a number of fatal shark attacks offshore.
These open-water Incidents have continued, and four people were killed in 2014. When heading into the open water, be extremely cautious.
[Access] Roughly 15 minutes from Miyako Island Airport by car
3. Enjoy the Sights! Miyako Island's Scenic Views
We're going to introduce you to the picturesque scenery that really represents Miyako Island, and places to see that capitalize on Miyako Island's climate and topography!
*Click the image to see the full size version below.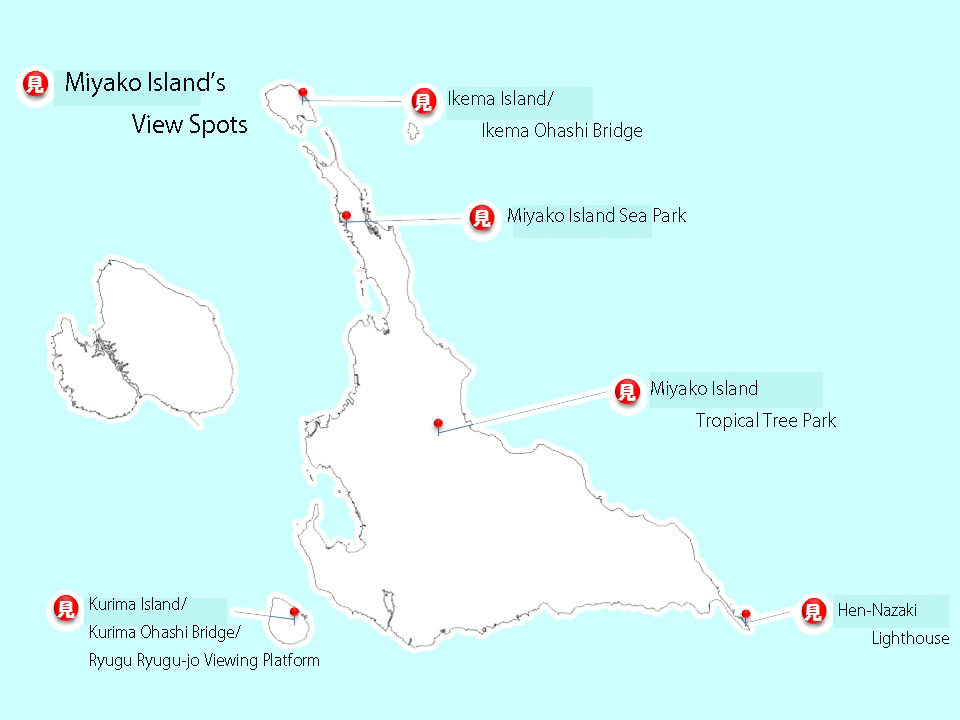 Ikema Island/Ikema Ohashi Bridge
Ikema Island, 2.83㎢ in scope, is located northwest of Miyako Island.
The 1425-meter Ikema Ohashi Bridge connects the northern tip of Miyako Island with Ikema Island. The view of the sea from above as you cross the bridge is amazing!
In addition, the gigantic coral reef known as Yabishi is located to the north, and is a popular snorkeling spot.
Several times a year, there are days when spring tide causes Yabishi to rise up to the surface of the ocean, so it is also called 'the phantom continent.'
There used to be a ferry that would head out to Yabishi, but due to its shutdown, ways to get there have been limited in recent years.
Instead, there are cruisers operating tours to Yabishi. (For 2016, make reservations at this site .
Note that there are limited dates in 2016:
4/9 (Sat), 5/8 (Sun), 6/5 – 6-6 (Sun-Mon), 7/5 (Tue), and 8/18 – 8/19 (Thu, Fri).
Recommended Spot Ikema Ohashi Bridge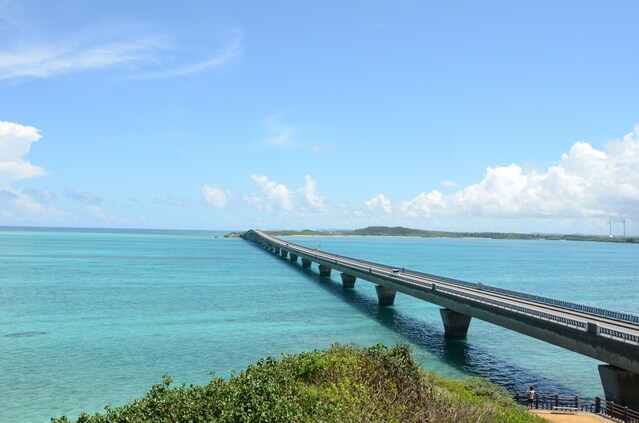 This big bridge spans 1425 meters, connecting Miyako Island and Ikema Island.
When you cross the bridge, it feels like an optical illusion where you're traveling across the sky. It's a mysterious bridge. However, since it has windbreaks attached, it's a bit difficult to see the beautiful view when crossing by car. Also, since there is only one traffic lane per side, take care to avoid any situations where you might end up saying "I thought I'd go slowly to enjoy the view, then the car behind me rushed up…!"
When the wind is blowing at speeds of 25 km a second, the bridge is closed to entry. When traveling during typhoon season, make confirmations beforehand!
Miyako Island Sea Park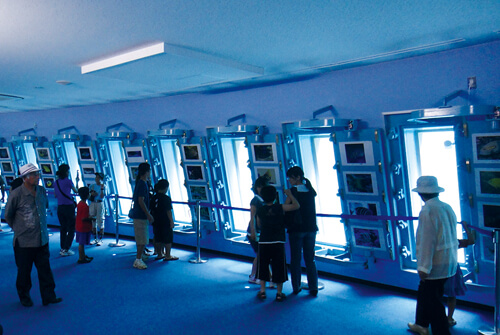 At this sightseeing spot, you can observe Miyako Island's sea life. Since it's an indoor facility, you can enjoy your visit here even on rainy days.
Looking through the 24 large acrylic panels at the centerpiece of the sea observation facility, you can see the fish of Miyako Island in their natural state.
This is a place where even people who dislike diving can easily enjoy the world under the sea.
It also offers popular sea kayak events where you can pet sea turtles!
[Address] 〒906-0002 Hirarakarimata 2511-1, Miyako Island, Okinawa
[Phone] 0980-74-6335
[Operating Hours] 10:00 ~ 18:00 (Open year-round)※Reception closes at 17:30
Miyako Island Tropical Tree Park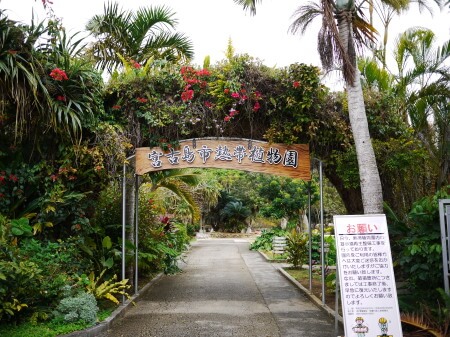 The plants and flowers which bloom in the tropics are on display at this park facility.
Admission is free.
Various flowers of different colors grow inside this 120,000m2 park.
There are four walking courses which you can enjoy while you observe the park ecology.
There are also workshops where you can try out fabric weaving, ceramics, and kaleidoscope-building.
Rather than a place to spend a whole day, it's a perfect spot to casually drop in for a visit during some free time.
[Address] 〒906-0011 Hirarahigashinakasonezoe 1166-286, Miyako Island, Okinawa
[Phone] 0980-73-2690
[Operating Hours] 8:30 ~ 18:00 (※May vary by season)
Hen-Nazaki Lighthouse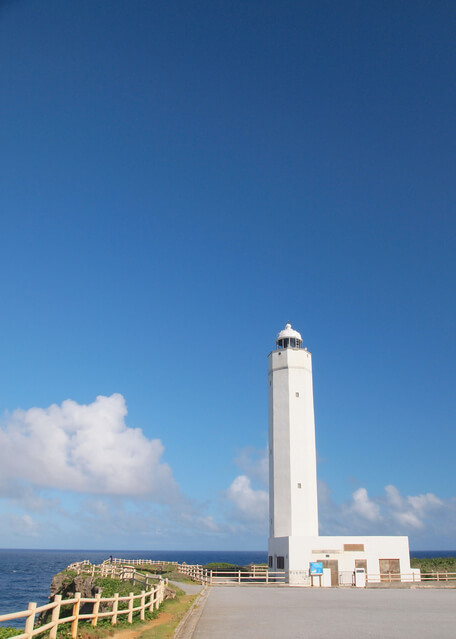 This lighthouse stands atop the Hen-Nazaki cape.
Chosen as one of Japan's 50 Lighthouses, it is normally open to the public.
Admission is 200 yen for visitors above middle school age, and free for elementary school students and below.
After climbing up the 96 steps of the spiral staircase, you can drink in the view from a 24.5 meter elevation.
We recommend you stop by at 2 PM, when the sun is at its peak! The ocean will be at its brightest, and this scene is said to be the most beautiful.
Plus, there are some who would say that the view from the high ground at the edge of the cape, not the top of the lighthouse, is actually the most beautiful.
[Operating Hours] 9:00 ~ 16:30 (roughly)
Kurima Island/Kurima Ohashi Bridge/Ryugu Ryugu-jo Viewing Platform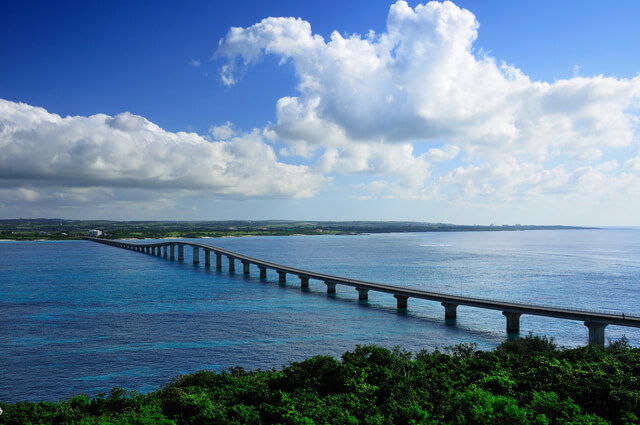 This island is 1.5 km southwest of Miyako Island, with an area of 3 km² and a circumference of 9 km. The 1690 meter-long Kurima Ohashi Bridge connects Kurima to Miyako Island.
Recommended Point Ryugu-jo Viewing Platform
This is the place to see the scenery from Kurima! Climbing up to this free viewing platform will afford you a fantastic view of Miyako Island!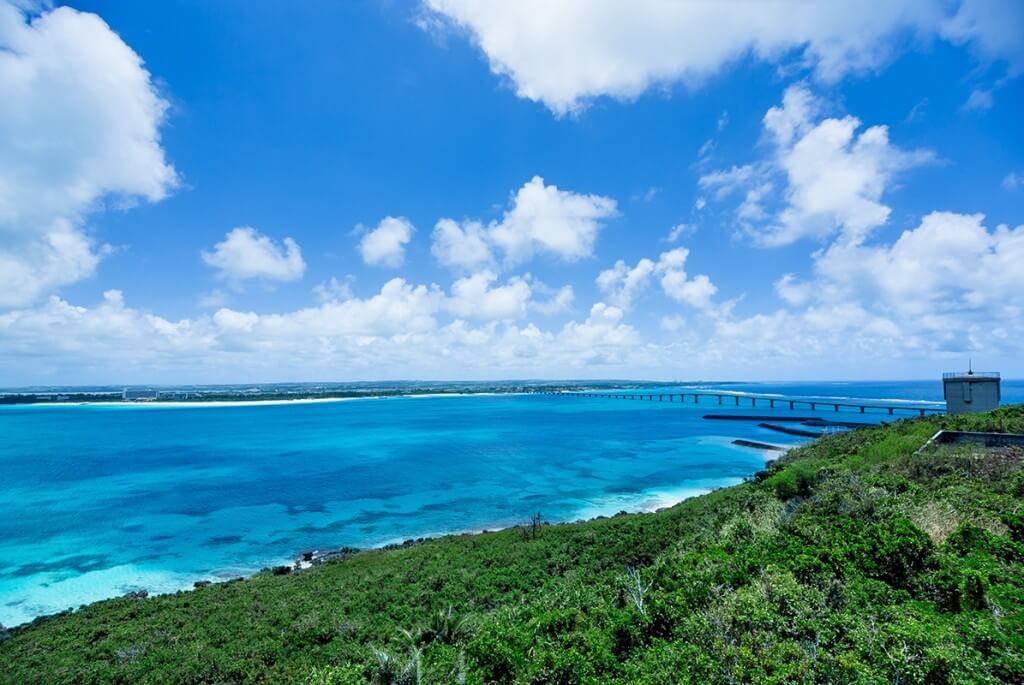 4. Only Sold Here! Miyako Island's Tourist Shopping Spots
We'll introduce you to some places you can enjoy shopping as well as sightseeing!
*Click the image to see the full size version below.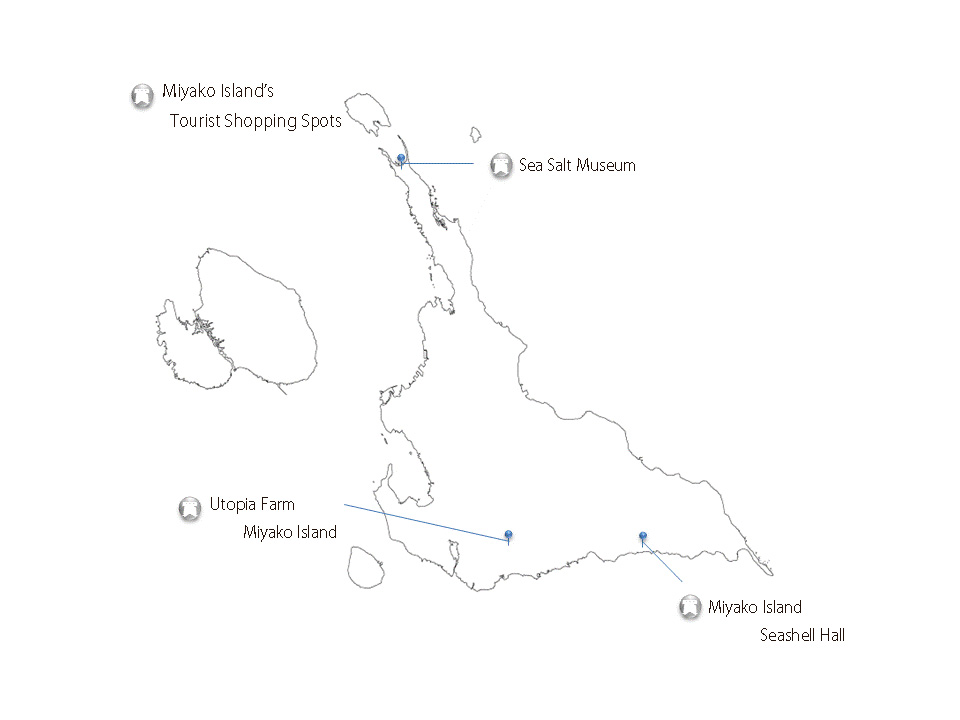 Snow Salt Museum
At this shop, you can learn about the process of making snow salt.
The shop gives explanations about uses for snow salt and about Miyako Island, and sells snow salt, as well as goods which use it.
We recommend snow salt soft-serve ice cream. The sweet taste increases with a little salt, so by all mean, give it a try!
You can sprinkle on various flavors of salt for free, too.
[Address]  Hirarakarimata 191, Miyako Island
[Phone]  0980-72-5667
[Operating Hours] April to September / 9:00 ~ 18:30, October to March ~ 17:00 (open year-round)
[Parking] Five car capacity
Miyako Island Seashell Hall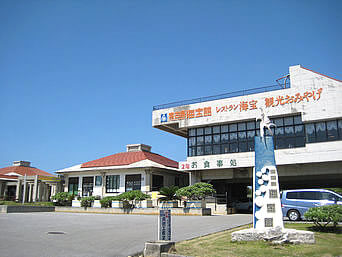 This place has exhibits of shells from all over the country. You can observe shell art and shellwork, and you can also try to make it yourself.
There are lots of accessories and other original shell products for purchase as souvenirs, too. Every shell is different, so the souvenir you choose is the only one of its kind in the world—the perfect memory!
They also conduct sea kayak expedition tours to the sacred limestone caverns in Miyako Island Bora.
[Address] Gusukubebora 591-1, Miyako Island
[Phone] 0980-77-2266
[Operating Hours] 8:00~18:00 (open year-round)
Utopia Farm Miyako Island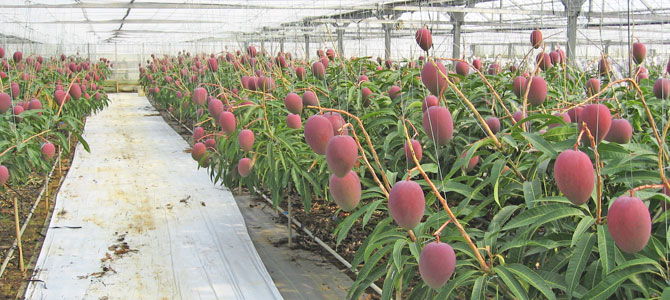 The 50 taxonomic breeds of bougainvilleas from all over the world will delight farm visitors with their blooms.
Inside the parlor (free admission), you can enjoy fruit-flavored soft-serve ice cream made from blended mangoes, papayas and other fruits harvested from the garden, as well as smoothies with papayas, island bananas and other fruits made into sherbet.
These island bananas can actually cost more than a thousand yen per bunch, and are very high-priced bananas.
By all means, give them a taste!
[Address] Uenomiyaguni 1714-2, Miyako Island, Okinawa
[Phone] 0980-76-2949
[Operating Hours] 8:00 ~ 18:00 (open year-round)
[Admission] 280yen (entry to the parlor is free)