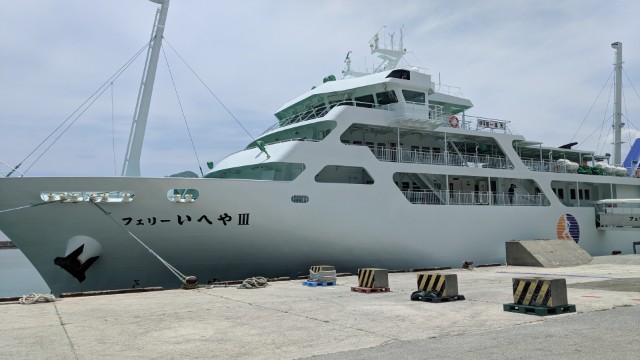 Separated from the Okinawa main islands 40km to the north, the Iheya Island only has one means through which it can be accessed – a ferry boat from Unten Port at the northern region of Okinawa.
Ferry usage is simply unavoidable when going to Iheya Island.
Though it might be because Iheya Island is still not known as a tourist location, the fact of the matter is that there are no detailed information available even if you are interested.
So on this occasion, the Author, who actually went to Iheya Island, will answer all your glaring questions!
From ferry operations info to prices and even the ferry interior, allow us introduce them all at once!
TABLE OF CONTENTS
1. Iheya Island Ferry Overview
1-1 The Ferry Terminal
1-2 The Ferry Interior
2. How to Reserve/Buy a Ticket
3. Means of Transport After Arriving at Iheya Island
4. In Conclusion
1. Iheya Island Ferry Overview
As laid down in the introduction, the one and only way to access Iheya Island would be via 2 ferries a day at northern Okinawa's Unten Port.
The first departure from Unten Port will leave at 11:00 AM and arrive at Iheya Island at 12:20 PM. The next liner will leave at 3:00 PM and arrive at Iheya Island in 16:20.
Conversely, the last departure from Iheya Island will leave at 1:00 PM, making a day trip all but impossible.
If you have decided to through Iheya Island, plan your itinerary with the assumption that you will spend a day here.
Below is an explanation divided into two parts; the ferry terminal itself and the terminal interior.
1-1 The Ferry Terminal
This is the Ferry Terminal of Unten Port located in northern Okinawa's Nakijin. It will take about 90 minutes to reach it by car from within Naha City.
Though you can reach it by without any hiccups if you follow the car navigation to the letter, please remember that you will have to cross several intersections until the port.
Accessing it is also possible via the buses that leave from Naha Airport or the Yanbaru Express.
Coincidentally, the parking lot of the Unten Port is for personnel only.
Whenever you are visiting Iheya Island for tourism, you will have to use a separate and paid parking lot.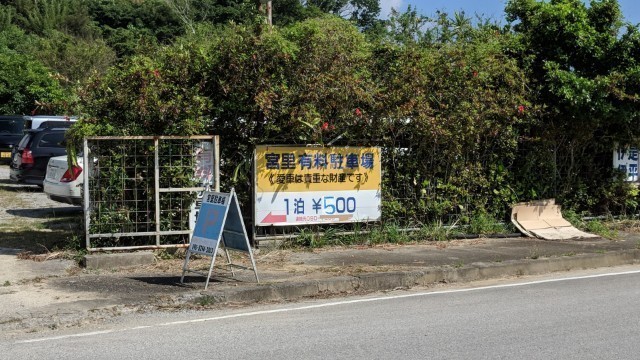 This paid parking lot is located from across the ferry and charges 500 JPY a day.
Park your car and give your car key to the reception in exchange for a Parking Card.
As this Parking Card is needed when you return for your car, please make sure not to lose it.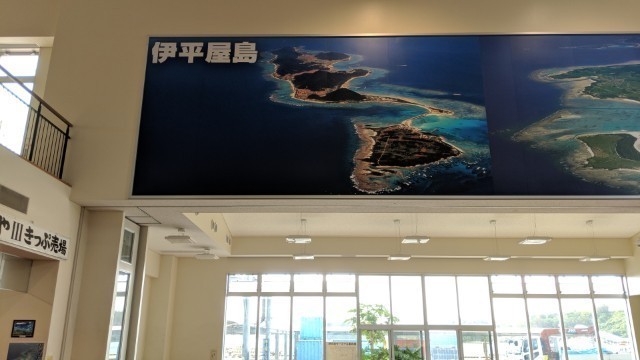 The Ferry terminal's interior looks like this.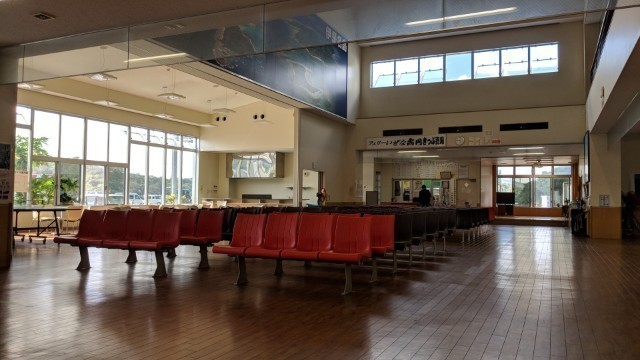 There's even a store inside!
However, only a little bit of drinks and snacks are sold here so it might be better if you do a little shopping at convenience stores and supermarkets before going to the ferry terminal.
1-2 The Ferry Interior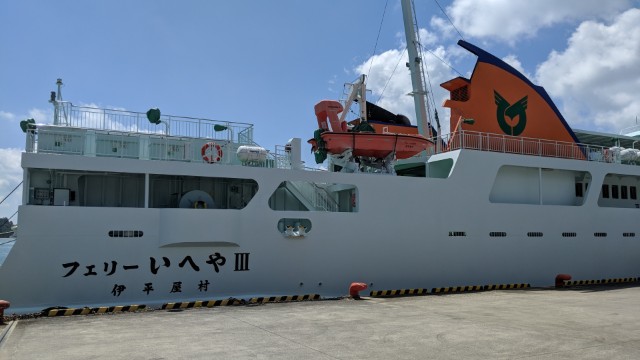 The third Ferry liner that connects the Okinawa main island and the Iheya island has 3 floors. Elevators and slopes are built in the interior, making it completely barrier-free. It was commissioned in 2014, and its extremely beautiful interior was very impressive.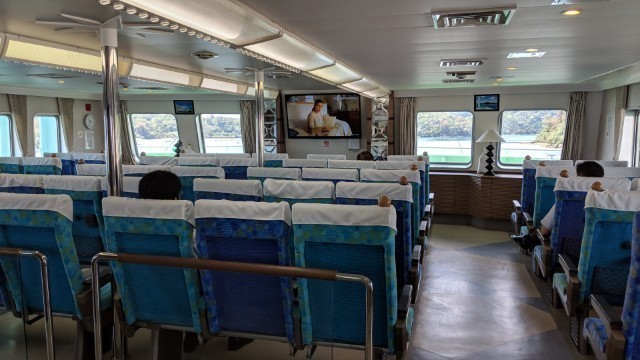 The 1st floor seating are like these; in a row, facing a large window.
If you go up to the 2nd floor, there is a flat space set up, with blankets and a little bit of duvets prepared.
As the floors are carpeted, you will be able to sleep comfortably.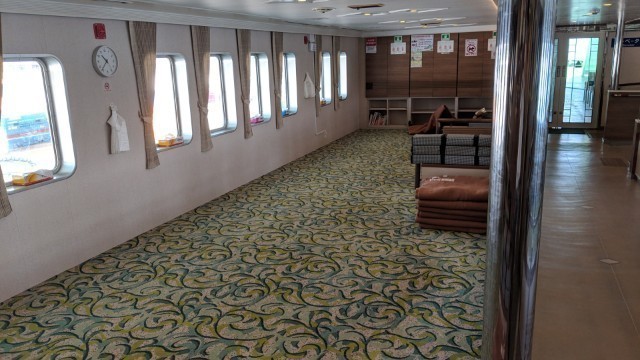 Sea-sickness is part and parcel when boarding a ship; in such cases, this space is heartily recommended.
We are sure that there are many of those who get sick from exhaust gas from the ship. For such people, we recommend that they take care to sit in front seats away from the chimney.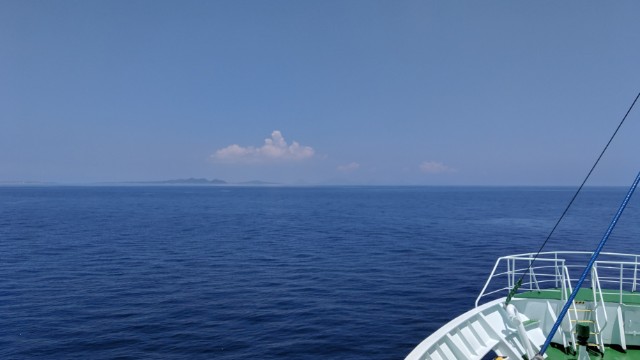 And if you want to enjoy refreshing winds, then we recommend the deck!
The Author loved this deck, and enjoyed the sky and sea by taking photos until we arrived in Iheya Island.
As the island becomes near, you will be able to see sights such as Flying Fishes jumping through the water surface and Sea Turtles swimming… truly this is the full isolated island vibe!
Since the interior is extremely wide in this way, exploring it might be fun!
Speaking of which, it is possible, for a separate fee, to bring bicycles, motorcycles and even cars to the ferry bound for Iheya Island.
A light car costs about 12,920 JPY for a round-trip. This fee includes the ticket fee for a single driver.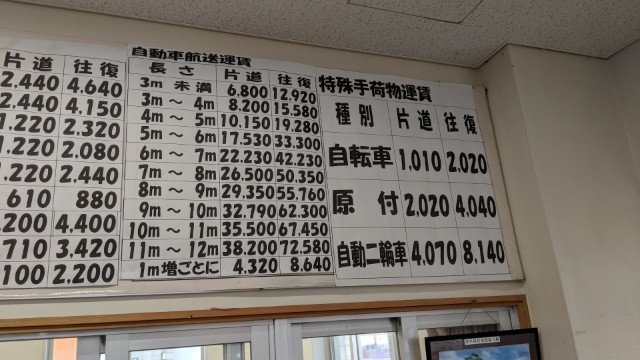 As the state of ferry operations are updated 7AM every morning at Iheya Island's public site, "TERUSHI NET", please make sure to check it at the morning of when you will go.
2. How to Reserve/Buy a Ticket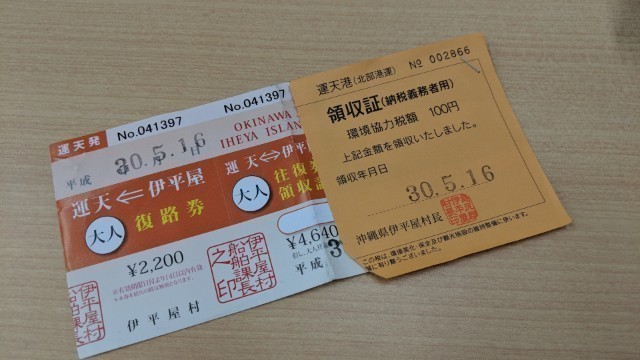 Currently, ferry tickets bound for Iheya Island can only be bought at the Ferry Terminal.
The tickets here are not ones where you can designate your liner and your seat, but are rather coupon books where you can ride at any liner within several days from when you bought them.
Reservations are essentially unnecessary, and it is quite alright if you tell the ticket seller "Adult round-trip Iheya Island tickets, (insert amount here)".
The round-trip fee for a single adult costs 4,640 JPY and has an additional Environmental Preservation Tax of 100 JPY on top of it.
Please note, however, that in case you are bringing over a car it is required that you book a reservation via phone beforehand.
3. Means of Transport After Arriving at Iheya Island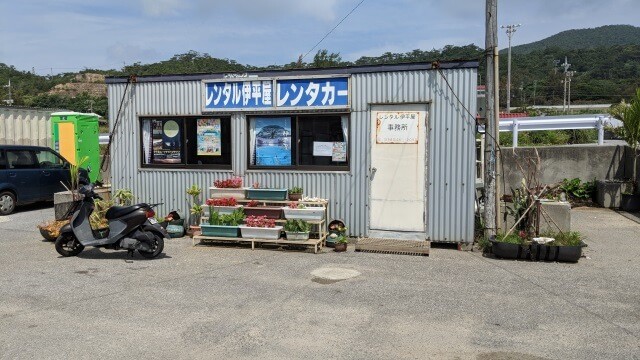 Transportation methods within Iheya Island are either by foot, rental bicycles, rental cars, rental motorcycles (mopeds) or community buses.
At the car rental directly behind Iheya Island's ferry terminal, starting with car rentals you can rent up to bicycles.
For reference, a rental car costs 4,000 JPY a day (24 hrs.) and a rental motorcycle costs 2,500 JPY a day.
Returning them with a full tank is the norm.
One thing to note are rental places that do not have staff members present before and after when you arrive and depart.
If the staff are not present, please have them proceed to the store by putting in a call. (Their phone numbers are written on the store's entrance, and they will arrive in about 5 to 10 minutes.)
In addition, community buses running in intervals cost a universal 100 yen at wherever bus stop you board at.
They're reasonable, and might be best used by those who want to leisurely enjoy tourism.
4. In Conclusion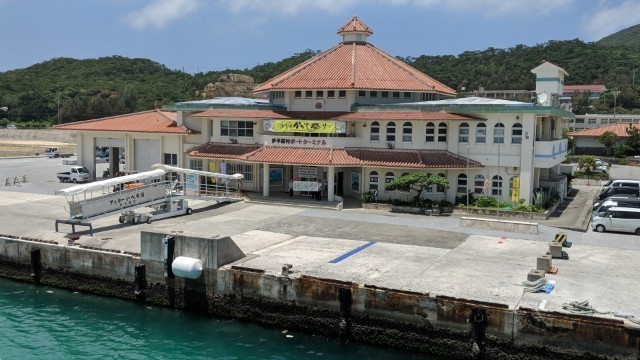 How was our guide?
The Ferry, something that must be used when going to Iheya Island. Looking up any lacking information beforehand will reassure you and make you enjoy your trip more.
Iheya Island is still undeveloped as a tourist area.
And that is the reason why its original sights are refreshingly intact.
If you have a long holiday, why not book a trip to Iheya Island?